SALT LAKE CITY — As Utah schools prepare to reopen, school districts around the state are finalizing plans to bring teachers, staff and students back to campus for the upcoming school year in the midst of the COVID-19 pandemic.
The Utah State Board of Education has a deadline of Aug. 1 to submit all plans for final approval. Two days before the deadline, they offered some guidance for establishing a safe, healthy environment for classroom instruction.
The Utah Department of Health, in conjunction with all 13 of the state's local health departments and the state office of education, released guidelines for schools as they prepare to reopen in the fall.
The most important guidelines, according to the document, are what to do if a student, teacher or employee is exposed to COVID-19, or tests positive; and how to "make a healthy learning environment and protect schools."
The guidelines were published on Utah.gov shortly before Utah Gov. Gary Herbert's weekly coronavirus response press conference, which he held with state epidemiologist Dr. Angela Dunn and superintendent of public schools Sydnee Dickson. Utah officials reported 502 more confirmed coronavirus cases on Thursday, with nine more deaths.
"Teachers are essential infrastructure to our schools, and we can't have education without them," Dickson said. "There are a variety of options that districts and charters have been looking at. For those with a high density of students, there are options, and they are utilizing those options for teachers as well."
Among the early guidelines is a new term known as "modified quarantine," stating that teachers, employees and students who have been exposed to COVID-19 may be able to return to work or school inside of the regular 10-14 day quarantine or self-isolation period — if they are not experiencing symptoms.
Student symptoms should be monitored by parents, while teachers and employees of the school will be required to monitor their own symptoms, with their medical providers. Dunn said it's the same modified quarantine that has been employed by essential workers since the onset of the pandemic.
Students under modified quarantine will only be allowed to return to class, but must still refrain from participating in extracurricular activities such as athletics.
Students, teachers and employees who test positive for COVID-19 will not be allowed to go to school or work until the health department has cleared them from isolation. If a student is confirmed positive for COVID-19 in a single class, that class will be required to self-isolate and participate in virtual learning. Benchmarks will also be set to quarantine entire schools and push learning online, as well.
"This will allow children to stay in the educational system, get the classroom setting they need, but also remain safe," Dunn said.
Those quarantines and self-isolation plans would require every student to have the same or similar access to digital and online tools for learning, however.
"We as a state and communities have to address the availability of broadband," Dickson said. "We have to think of it as an essential utility, and not all of our families have access to broadband."
As the debate over reopening schools has escalated in recent weeks, Utah officials argued that schools should reopen because they "provide safe and supportive environments" for students that offer important routines, structure and critical psychological, mental and behavioral health services to children.
Additionally, students benefit from interpersonal interactions they receive in school, as well as from certain extracurricular activities, when conducted safely. But that doesn't mean potential school shutdowns similar to the soft closure enacted by the governor's office in March can't happen again.
"We're trying to mitigate and minimize the risk by having our young people wear masks and other protocols put in place," Herbert said. "But if there is spread, there's protocol for if that happens, including closing down schools.
"But we're not going to sit back in the corner and not do anything. We can do something."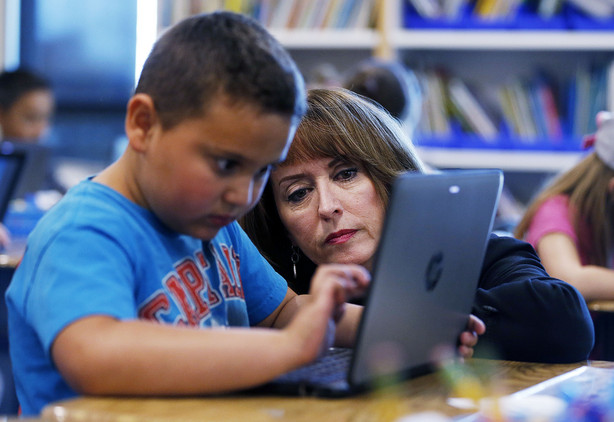 Another key recommendation is that school administrators will designate a point of contact at every school that will work with the local health department on contact tracing and to work with administrators to prevent the spread of COVID-19 in the school. Science suggests that children are less likely to get COVID-19 than adults, according to state officials, but serious cases have been reported in Utah.
Other reports suggest that different factors and symptoms affect children diagnosed with COVID-19, as well. All this to say that what works in one school district or local area may not work in another.
"Context matters," Dickson said. "Our local leaders have been working with local health directors to try to mitigate risk. I have confidence that none of our health directors would feel good about a plan that doesn't minimize risk."
Dunn said the state's latest round of testing shows encouraging signs of the pandemic, as around one in six Utahns have been tested for COVID-19. But there is still work to be done, she added, including continuing to practice social distancing, mask-wearing, sanitization and good hand hygiene regularly.
"If we continue to do these things, we can continue to lower our numbers and start school as safe as possible," Dunn said during the media briefing.
The guidelines are not set in stone, officials added.
"Guidelines may change as we learn more about COVID-19," the document of guidelines reads. "Schools and public health need to be willing to adapt to these changes as we learn more about the best ways to keep students, teachers, and employees safe and schools open for in-person learning."
Still, local officials — both in government, public health and education — say they feel comfortable with the protocols included in Thursday's document.
"Our education folks have been working literally around the clock to identify plans and make sure we have an educational system where young people can go to be taught, but also be safe and healthy," Herbert said. "It has been a significant team effort. I hope we appreciate our teachers. Our teachers, in cooperation with principals, superintendents, and local school boards, have raised the educational achievements in Utah over the last 10 years."
Contributing: Jed Boal, KSL TV
×
Related Links