SOUTH SALT LAKE — It's been nearly a month since Salt Lake County's face covering mandate went into effect, and county leaders and health experts are encouraged by the early data they've gathered so far.
Not only has the county experienced stabilization in the total number of new COVID-19 cases over the past two weeks, but it's also starting to see a leveling in the number of novel coronavirus-related hospitalizations. At the same time, they say residents have done a good job complying with the order.
Salt Lake County Mayor Jenny Wilson believes the early results mirror research and messaging from the World Health Organization, the Centers for Disease Control and Prevention, and epidemiologists throughout the world.
"Wearing masks slows the spread of COVID-19," she said during a press briefing Wednesday afternoon. "We now have evidence of that here in Salt Lake County."
Salt Lake County became the epicenter for Utah's COVID-19 cases at the beginning of the pandemic in March. Since then, it has been home to a vast majority of the state's cases. The county has 48.1% of all of Utah's COVID-19 cases from March 6 through Wednesday's numbers released by the Utah Department of Health.
But the county's share of coronavirus cases started declining around July 4 — a week after the face-covering mandate was issued. It went from 50% of new cases at the start of the month to hovering around 40-42% over the past week.
Summit County also issued a mask mandate that went into effect on June 27. Adding in data from Summit County, the two counties' seven-day running average was 259.6 cases while the rest of the state moved to 370 cases, showing a continued split over the past few weeks.
"When viewing this information from the lens of a new case count, we can see the gap between Salt Lake County and the rest of the state continue to grow," said David Schuld, intelligence section chief with Salt Lake County's COVID-19 response team, adding that the county is also conducting more tests "than we ever have before.
"Through this analysis, we're seeing a correlation between face coverings and slowing the spread here in Salt Lake County," he continued.
Not only are new cases stabilizing, so are hospitalizations. Officials provided data showing how Utah's cumulative hospitalization started slowing down compared to the rest of the state this month. While hospitalizations are still increasing, the number of Salt Lake County residents needing hospitalization dropped below the rest of the state on July 15.
The county stated there were 858 total COVID-19 hospitalizations in Salt Lake County on July 6, compared to 746 in the rest of the state. As of Monday, there were 996 total COVID-19 hospitalizations in Salt Lake County compared to 1,070 in the rest of the state. The data presented shows hospitalizations in areas outside of the county doubled Salt Lake County's new hospitalizations over a two-week period.face-covering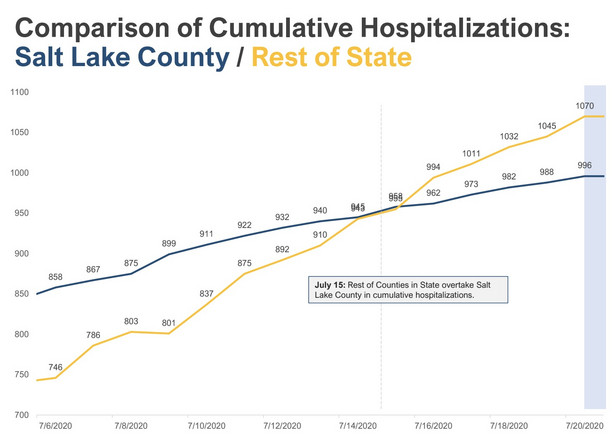 "We're actually seeing a stabilization in those hospitalization counts for Salt Lake County while we continue to see a larger increase for the rest of the state," Schuld said.
County officials wanted to see exactly how well residents were complying with the face-covering mandates. Salt Lake County Health Department Executive Director Gary Edwards said that workers visited 44 different businesses across the county to observe how customers and employees handled the face coverings.
Of the 1,094 people in Salt Lake County they observed from Sunday through Tuesface-coveringday, 96% of customers and 99% of employees were properly wearing face coverings. They also found all businesses had face covering signage upon entering the business.
They also observed an undisclosed number of businesses in Utah and Davis counties. In Davis County, 99% of employees and 74% of customers among 240 people observed were properly wearing face coverings. About 84% of employees and 53% of customers were properly wearing face coverings among the 137 people observed in Utah County.
"If they had a face covering that was not covering the nose, that counted as no face covering," Edwards explained. "This had to be covering both mouth and nose."
Officials added that residents shouldn't just rely on face coverings to stop the spread of the coronavirus. Edwards also urged residents to continue to wash their hands frequently, practice social distancing as much as possible when outside, and stay at home if they feel sick.
Earlier in the day, Gov. Gary Herbert said he does believe masks can slow the spread of COVID-19, especially considering the studies conducted about it. One of those studies, conducted by researchers at BYU, determined that masks might be the most effective and least-costly solution at preventing the spread of COVID-19.
The governor still encourages all Utah residents to voluntarily wear masks but said a statewide mask mandate was still "in the bag of tools" that could be ordered if conditions don't improve in August. He also stopped short of crediting masks for Salt Lake County's COVID-19 count decline from the rest of the state seen in recent weeks — at least for now.
"We'll have to wait and see. I'm not ready to say that's the absolute cause-and-effect of the reduction in Salt Lake County," Herbert told reporters. "I certainly don't think it's hurt the cause. We haven't seen quite the similar reduction in Summit County, so there's probably a lot of different factors at foot there."
It should be noted that Summit County experienced the second-slowest rate increase from June 25 through Tuesday's data among Utah's 13 health districts. Dr. Angela Dunn, the state's epidemiologist, later noted that Summit County's volatility in new daily cases is due to its overall number of cases.
"It's tough to really identify stable trends when there are low case counts," she said. "Our most reliable number and way to do trends in a county is with Salt Lake, just because of the population and case counts there."
She also said Salt Lake County's cases were "likely correlated" to the mask mandate because of the timing of the county's stabilization.
Wilson said she'd like to see cases continue to decrease further, but stabilization in the number of cases is helping the county's hospitals and allowing those residents to continue moving forward with elective surgeries if they need them. It's also allowing contact tracers and COVID-19 testers a moment to breathe, she said.
Officials say they want the rate of spread from one resident to another to drop below one because that's a sign that COVID-19 pandemic might be over. That could still be weeks and months away.
Should cases continue to increase, Wilson said returning to closures that happened in March and April are what she considers her "last resort." During Wednesday's briefing, she also reiterated her call for a statewide mask mandate, especially since cases can still increase with travel all over the state.
"We're a recreation state and also very connected with our economies. I would ask that (Herbert) would implement a (mandate) now," Wilson said. "There's no harm. We're all getting used to it. It's a minor convenience and has a big impact."
×
Related Stories