Estimated read time: 7-8 minutes
This archived news story is available only for your personal, non-commercial use. Information in the story may be outdated or superseded by additional information. Reading or replaying the story in its archived form does not constitute a republication of the story.
The wait for the biggest game in state history is now just a day away. Utah and BYU have never had a combined record of 21-1 going into the rivalry game. There has never been a time where both teams had so much to play for.
In 2004 the Utes had everything to play for with BYU trying to knock them off, but this year both teams are playing for a right to play in a BCS game, as well as a Mountain West Conference Championship. Utah has already clinched a piece of that title, but no team wants to share it, especially with their rival.
With all of that, the Utes and the Cougars will battle it out for the 90th time in their history. The Utes lead the all-time series 52-33-4 and also lead the series 35-17-3 in Salt Lake City. BYU has won the last two games by a combined nine points. The last time the Utes beat the Cougars at home was in 2004 to seal a trip to the Fiesta Bowl.
BYU Offense vs. Utah Defense:
The BYU offense is clicking right now after that powerful second half against Air Force. The well-publicized halftime speech by Austin Collie hit home to the whole team, but especially the offense as Max Hall threw for four touchdowns in that second half. The one worrisome factor in the BYU offense has to be the health of Dennis Pitta. He is expected to play, but the question has to be how effective he can be. If he is at full strength, the Utah defense could be vulnerable.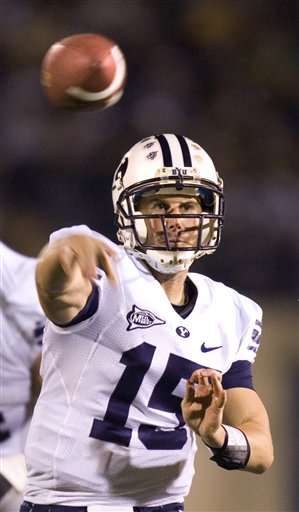 The Utah defense is one of the best in the country ranking seventh in the country in rushing, 35th in passing defense, and 11th in total defense. This defense has speed, quickness, size, and have shown the ability to shut teams down. They have also showed the ability to not give up touchdowns and force teams into field goals.
Obviously the blueprint on how to beat BYU is to start with putting Max Hall under extreme pressure like TCU did. The Horned Frogs ran stunts and twists and simply ran around the tackles to get to Hall. BYU's offensive line has been dominant most of the year, but showed vulnerability to a defense with speed rushers on the ends. This may ultimately be where the game is won. If Paul Kruger and Koa Misi can get up the field like they have routinely done this season and put hits on Hall, it could change the game and the momentum of the game in favor of Utah. If those ends become non-factors, Hall could have a big day throwing the ball.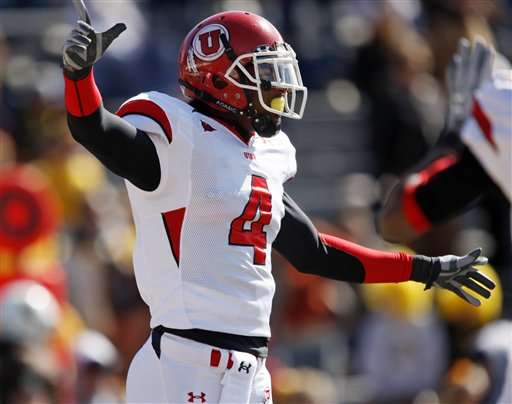 The next level of Utah's defense will be critical in making BYU's offense one-dimensional. The Ute linebackers will have to shut Harvey Unga down. The less he gets the ball, the better off the Utes will be throughout the game. This includes the extension of the running game when Hall dumps the ball out to Unga in the flat or underneath. Utah has the linebackers to stay with Unga, but Unga has showed that he makes plays. Unga's overall health could also be a factor in this game. He has been banged up with a nagging shoulder stinger and hasn't seemed to be himself the last few weeks. We'll have to see if that holds up.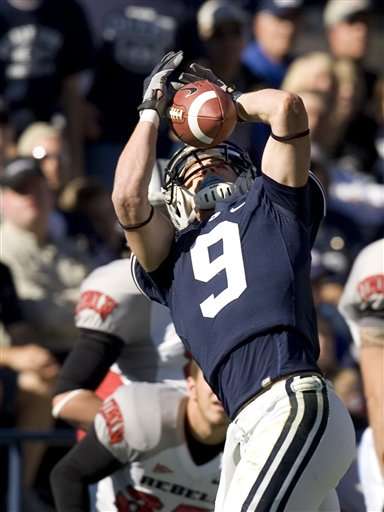 The next match-ups are the most interesting. Austin Collie vs. the Utah secondary. Collie has had an amazing season, but hasn't faced a secondary quite like Utah's. Brice McCain and Sean Smith will most likely both get a shot at Collie and both present an opposition. Both Utah corners have the speed to stay with Collie, and Smith is tough because he is so big. Collie is as good a route runner as there is in the country and has great hands to go with.
He is the single-season record holder at BYU, needs only 35 yards to become the all-time leading receiver at BYU (he is only a junior), and has caught 10 touchdown passes this year. He has had nine 100-yard receiving games this season as well. The battle within the battle to watch might be Collie and whoever is manning up on him.
Utah Offense vs. BYU Defense:
Utah's offense has been inconsistent this year, but is playing the best that it has all year. They look to have gotten it figured out. The no-huddle offense suits Brian Johnson very well as that is a situational offense that he has thrived in all year. He has also thrived in situations that have mattered most as well. There are so many weapons on the Utah offense beginning with two big, bruising, yet fresh running backs. Darrel Mack and Matt Asiata have basically split carries this season, with Asiata getting the ball 122 times and averaging 5.2 yards every time he touches the ball. Mack has gotten the ball 110 times and averages 4.5 yards when he gets it. This might be a wonderful luxury to have going up against a banged up defense, most of which is banged up in the secondary.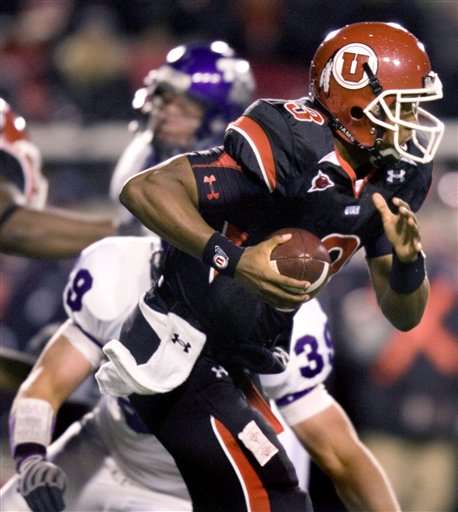 The Utes have all the speed guys as well on the outside. Brent Casteel, Jereme Brooks, Elijah Wesson, and Eddie Wide are all guys that can get around the corner. Braden Godfrey has been great this year going over the middle and Freddie Brown has emerged as a go-to guy on third and fourth downs. David Reed has also helped out opposite Brown. This offense started off very slow this year, but as inconsistent as they have been this season, they have consistently gotten better every week.
The BYU defense started off the season extremely well, having a stretch where they didn't give up a touchdown in three of its first seven games. Since then the injuries have started to mount. Jan Jorgensen has caused problems for every offensive line he faces, and David Nixon leads a good core of talented linebackers, but the secondary for BYU is where problems may occur as Utah has so many weapons and BYU will rely on second and sometimes third string defensive backs.
The defensive backfield for BYU really can't keep up with the receivers on the Utah side of the ball. Jorgensen will have to create major pressure on Johnson if this defense wants to keep the game close.
Special Teams
BYU will be looking to get the ball to Collie as often as possible, which is the reason he should be returning kicks this week. The problem for Collie is that on kickoffs, Utah's Ben Vroman kicks the ball into the end zone for a touchback at a 60-percent rate. Louie Sakoda will also be doing his best to pin the Cougars deep in their own zone, and he has had very good success with that this year. Sakoda is also 19-21 in field goal attempts this season and is up for every major kicking award.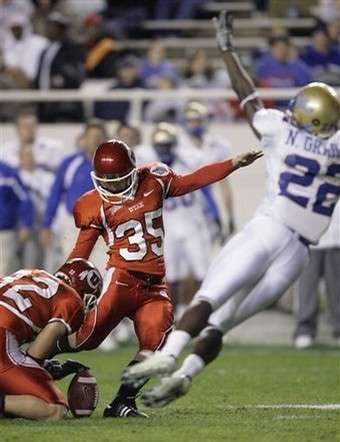 Conclusion:
With all that has been said, there is more pressure on the Utes than there is on the Cougars. These games always come down to the end as like the last few years, down to the final play. If there is an edge in this game, it has to go to the Utah side because of how good their defense is and how banged up BYU is on their side defensively. Utah can put up every bit the scoring as BYU can as the Utes have actually outscored BYU this year 401 to 400.
These rivalry games have been as good as they can possible get the past three years, and even farther back than that. As it has in the past three years, it could come down to who has the ball last. The one thing that makes this game better than any other is that the winner will receive a bid to play in a BCS game. It is only fitting that this game, with this magnitude, the number seven team in the country versus the number 14 team in the country, decides everything.
Kick-off from Rice-Eccles Stadium is set for 4 p.m. Stay with KSL.com for a live game blog beginning at 3:30 p.m.
You can also listen live online or on KSL Newsradio 102.7FM/1160AM. Pregame coverage begins at 2 p.m.
×
Most recent Utah stories