Estimated read time: 12-13 minutes
This archived news story is available only for your personal, non-commercial use. Information in the story may be outdated or superseded by additional information. Reading or replaying the story in its archived form does not constitute a republication of the story.
Utah's got the better record (11-0 vs 10-1), the better ranking (7 vs 14) and home field advantage. But has it got a better team than BYU?
KSL Sports compares the rivals and breaks down the teams position-by-position.
Quarterback:
Why? Greg Wrubell, BYU play-by-play announcer: Comparing the two, Max Hall passes for a hundred more yards per game, has a higher completion percentage (by 5-percentage points), has 14 more touchdown passes, one less interception, and while their rushing totals are inconsequential, Hall has two rushing TDs to Johnson's one.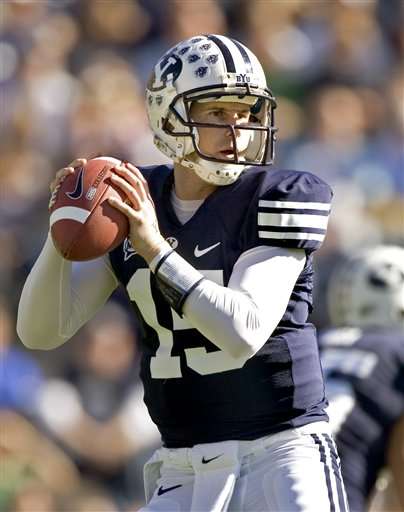 Jeremiah Jensen, KSL Sports reporter: Both Quarterbacks possess the same strengths and weaknesses. Great leadership and experience. Both are winners. Both have led their teams to outstanding seasons. Both have guided their teams to late game winning drives and come-from-behind victories. Both can be trusted with the ball in the final seconds. At the same time, both have struggled with coughing up the football when pressured in the backfield and sometimes try to force passes into double coverage. But I give Max Hall a slight edge from a statistical standpoint. Tom Kirkland, KSL Sports Executive Director: Max has huge numbers and remarkable poise and play-making ability, but Brian Johnson just wins and he's facing a defense that's maybe not as dominant as the one Hall's facing.
Mike Grant, KSL Sports Producer: Max Hall has simply shown that he is a very good quarterback. He has weapons on the offense and utilizes those weapons. He has helped make Austin Collie possible the best receiver we have seen ever at BYU. He also has made Dennis Pitta a future NFL tight end. I give the slight edge to him over Brian Johnson because of consistency. I think he has been more consistent over the course of the whole year than Johnson, but Johnson has shown that he can hit his stride as well. Johnson has shown that he wants the ball at the end of games and has willed his team to victory.
Running backs/Fullbacks:(slight edge)
Why?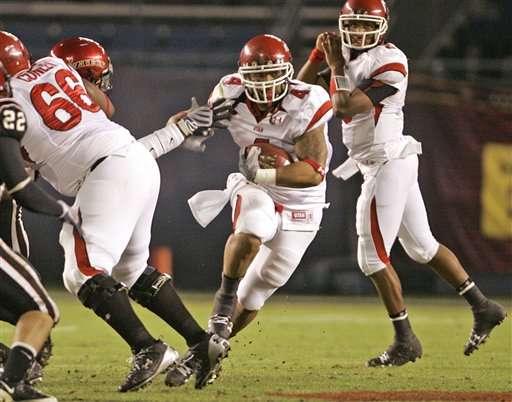 Rob Jackson, KSL.com Sports writer: Utah. As a team, Utah has piled up 1,908 rushing yards so far this season. Matt Asiata is the team leader with 633 yards and 10 touchdowns, and Darrell Mack follows with 493 yards and 3 TDs. BYU's Harvey Unga has 945 yards and 8 TDs, but as a team BYU only averages 3.9 yards per carry. The Utes average 4.3 YPC. Kirkland: Utah. Asiata didn't play last year and the tandem of he and Darrell Mack running behind the great O-line makes them a handful for BYU. Harvey Unga last year was the best back in the State, but he's a little nicked up and that might limit how much damage he can do, Fui Vacapuna is a great second back, but I like Utah's run game a little more than BYU's right now.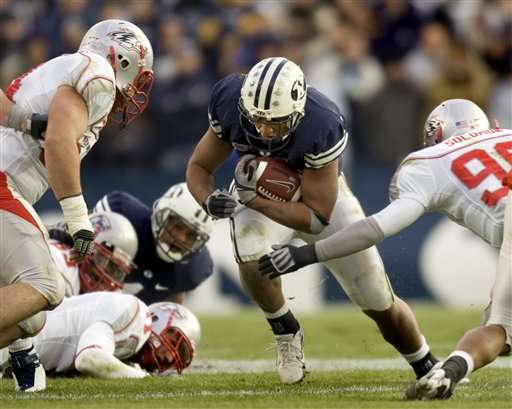 Dissenting opinion:
Wrubell: Even. Utah uses two backs (Mack and Asiata) in a one-back set, while BYU employs a two-back set, with Unga getting most of the carries and Vakapuna chipping in where needed. The two main backs' rushing totals are almost identical when taken as a tandem. Unga and Vakapuna have 16tds; Mack and Asiata have 14.
Wide receivers/Tight ends:
Why? Jensen: Brian Johnson has a talented group of receivers and Freddie Brown has taken his game to another level in recent weeks, but the Utes don't have anyone close to Austin Collie and Dennis Pitta. Collie and Pitta are legitimate All-American candidates and will receive consideration for several awards at the end of the season. They will play in the NFL someday.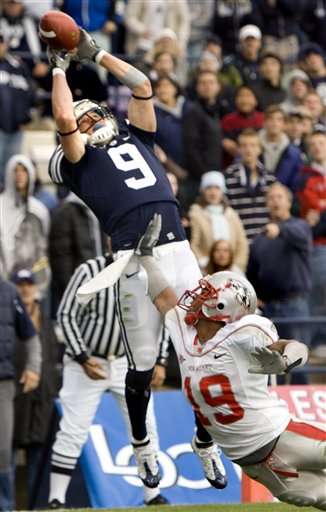 Wrubell: Austin Collie. Dennis Pitta. Enough said. Even though Pitta will not be full speed, he will do enough to make a difference, and Andrew George is no slouch. Jackson: BYU has arguably the best WR/TE combination in the country. Collie is the #1 receiver in yards per catch, while teammate Pitta ranks as third best in the MWC. Utah does have more options on offense though. Utah has seven players with more than 10 receptions this season, while BYU only has five.
Kirkland: Collie's the best wide out in this game, even though Freddie Brown might have a huge game since he's working against average cover guys. If Dennis Pita's not 100-percent it gives Utah huge coverage advantages. Utah has more varied weapons, just not as dominant.
Grant: This goes to BYU, but it is closer than I thought. Collie could be the best receiver we have ever seen at BYU, and Pitta is an NFL tight end. Enough said. The reason why it is so close is that Utah has repeatedly had seven, eight, and sometimes nine receivers with multiple catches in single games vs. BYU having Collie and Pitta. Utah will throw it all over the place to any receiver when Hall will throw at either Collie or Pitta. There is nobody else that could really cause Utah problems. 3. Offensive line:Even
Why? Wrubell: While BYU's line may be more decorated, Utah's line has been very good, allowing only five more sacks than BYU on the season.

Jensen: Both lines have had their moments of brilliance and embarrassment. The Cougar line was destroyed by TCU, while the Utes have had trouble moving the ball at different times during the season. Both teams have had trouble in short yardage situations. Utah has been more effective running the ball, but has given up more sacks. Overall, both units may be the two best in the conference. Dissenting opinions:Grant: Most of the hype for offensive lines in this state has gone to BYU and I think they are the easy pick. My reasoning for leaning towards Utah is comparing the game vs. TCU. BYU's highly touted offensive line was exposed during that game giving up six sacks. Max Hall was a different quarterback in that game. When the Utes played TCU, Jerry Hughes was not ever heard from, nor the rest of the defensive line. Brian Johnson had time to make good decisions, especially on the last drive to win the game. Kirkland: Utah worked well against better competition than BYU and didn't get overwhelmed against a quick TCU defense. The consistent run game allows them to fire out and attack more, not always in pass-blocking mode. Jackson: Although both offensive lines have had ups and downs throughout the season, you have to give credit to BYU's OL. BYU leads the league in passing offense and total offense, averaging almost 450 yards per game. Utah is 3rd in the MWC averaging 404 yards per game.
Defensive line:
Why?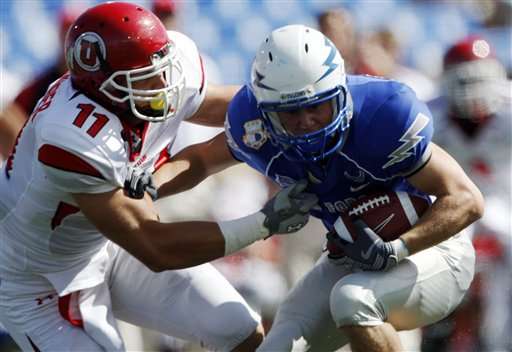 Grant: Utah's defensive line has held up the whole year while being half healthy. Now that they have gotten Kenape Eliapo back and the rest of the defensive line is healthy, not to mention the Utes have Paul Kruger, the defensive line has to go to the Utah side. Kruger and Misi always seem to be two yards in the backfield on every play. The Utes defensive line has also been very dominant on the run being ranked seventh in the country. They are ranked 11th in total defense and that doesn't happen with a shady defensive line. Kirkland: With Kruger and Misi on the edges, and plenty of size in the middle, Utah can dominate the line of scrimmage and pressure the QB. Jan Jorgensen's among the top two or three down linemen in the MWC but he's getting double-teamed and not getting a lot of help.
Wrubell: Partly because the Utes play a 4-3 as opposed to BYU's 3-4, Utah's defensive linemen are making a lot more plays. Ends Koa Misi and Paul Kruger are among the top five Ute tacklers, and have combined for 24 tackles for loss. BYU's Jan Jorgensen has had an impactful season, with 7.5 tackles for loss, five sacks, and 11 hurries.
Jensen: Both units have one of the best pass rushers in the conference. The Utes' Kruger is a converted high school quarterback who is second in the conference in tackles for loss and third in sacks. Jan Jorgensen is a converted high school quarterback who is the all time sack leader in the conference. But the Utes have been better against the run, better in scoring defense and total defense and have given up fewer first downs.
Linebackers:Even
Why? Jensen: Injuries have depleted the BYU linebacking corps while the Utes' linebackers have stayed healthy and thrived. But this matchup is much closer than you think. BYU has two Linebackers in the Top 20 of the MWC in tackles. David Nixon leads the Cougars with three interceptions, one returned for a touchdown. Nixon and Coleby Clawson are in the top 10 in tackles for loss, while no Utes' linebackers make the top 10. Nixon and Clawson are also top 10 in forced fumbles. No Utes are in the Top 10 in that category either. But the team numbers mentioned above can't all be credited to the Utes defensive line. The linebackers deserve credit as well making this matchup even.

Dissenting opinions: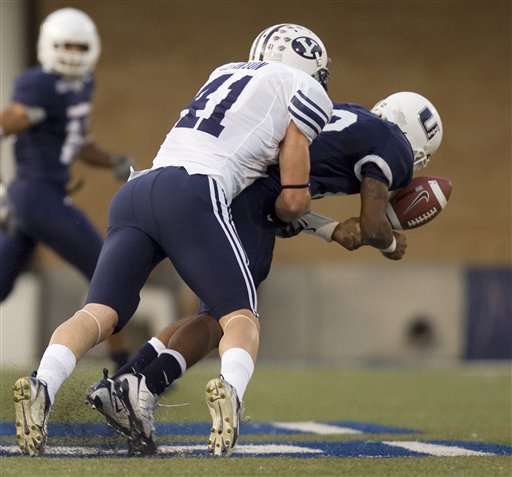 Wrubell: BYU. Again, due to the team's defensive scheme, the Cougars LBs are more involved in the backfield, with a combined 30 tackles for loss from the four starters, compared with 12 tackles for loss from the Utes' three starters. Both teams do a good job with their linebackers in pass coverage. Grant: Utah: This falls under the same statistics as I mentioned previously. The Utes are ranked seventh in rushing defense and 11th in total defense in the country. These linebackers are good and fast. They can cover and blitz, they can do it all for a good defense.
Cornerbacks/safeties:
Why? Kirkland: Utah, and it's not close.

Jensen: This is where the gap widens. Sean Smith has as many interceptions (four) as the entire Cougar secondary. The Ute secondary is much faster and more athletic, which they will need trying to slow down the Cougars passing game. Grant: With Utah typically playing a man-to-man defense in the secondary, it leaves everyone else to take care of other pressing needs like stopping the run. The Utes play a +1 defense which means that they will already cheat one man into the box to stop the run, which further leaves the corners on an island. All year the Utah corners have been… fine, thanks. A few big plays here and there, but nothing the team couldn't take care of. This comparison goes overwhelmingly in Utah's favor. Wrubell: Utah. Speed, athleticism, playmakers, the ability to cover man-to-man; the Utes have it all in the secondary. As for BYU, the Cougars are just trying to put four healthy bodies on the field and hope for the best.
Special teams:
Why?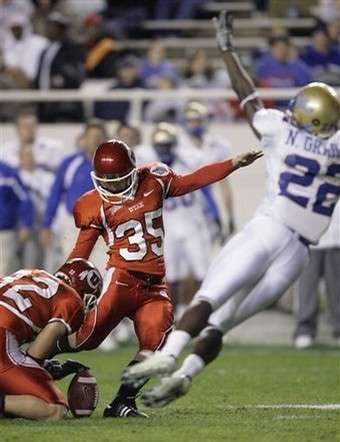 Jackson: Louie Sakoda. 'Nuff said. Kirkland: Sakoda's a game-changer.
Grant: "King Louie" says most of what I need to say. This team owes the season to Louie. He has been rock solid in whatever position he has to kick in. The other kicker Ben Vroman is an unhearalded hero for Utah. He never gives the opponent any chance for momentum as almost 60% of his kicks are touchbacks.
Wrubell: Sakoda (placekicking/punting) and Vroman (kickoffs) are the best kicking duo in the country. Returners are kind of a wash, but if BYU finally decides to have Austin Collie return punts as well as kickoffs, stay tuned...
Coaches:
Why? Wrubell: Bronco Mendenhall's record is 38-11; Kyle Whittingham's is 35-14. Bronco is a win away from his third conference championship; Kyle has secured at least a share of his first. Bronco's team has won 20 of its last 21 games, Kyle's club has won 19 of 20. Bronco is 2-1 versus Kyle.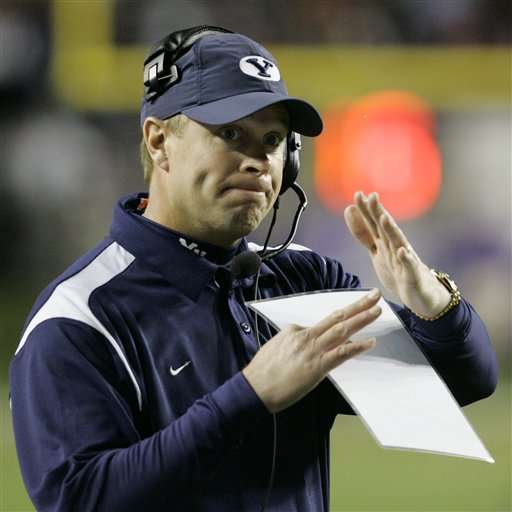 Also, based on where BYU was before Bronco and where Utah was before Kyle, Mendenhall's the man--but it's close. The nation's two best coaches hired to their first head jobs in 2005 just happen to coach 45 miles apart.
Jackson: While both coaches have done a fantastic job in rebuilding their respective programs, the edge would have to go to Bronco, who holds a 2-1 advantage over Kyle in head to head meetings.
Kirkland: Bronco has slight edge based on 16-2 record from November on against Kyle's 12-3 from November on. Both obviously have their programs right where they want them.
Jensen: Both Whittingham and Mendenhall have been money in November. Kyle has more wins against BCS opponents (Bronco 5-5, Kyle 6-3) but Legacies are determined by championships. I give Bronco the slight edge, but Kyle should be the unanimous choice as coach of the year and the gap is closing.
Fans:
Why? Jackson: Always have to go with the home team in such a heated and passionate rivalry.

Grant: The Utes are playing at home and that will help them. They will have more help from the crowd when they need it and there is so much on the line for Utah fans (as well as the team) that home field will provide an edge. Experts say that home field is usually good for three points. This game will be close as it always is and if the Utes win by three, that will be just fine for Utah fans. Jensen: Anyone who saw the TCU game knows why. I don't think there was anyone in the crowd that night with a radio on their head telling the people in front of them to sit down and be quiet. There will be a home field advantage for the Utes on Saturday. Dissenting opinion:Wrubell: While Utah is guaranteed of its best-ever home attendance this season, BYU has sold out a 65-thousand-seat stadium for 12 straight home games and has a larger statewide, nationwide and worldwide fan base. The "blackout" did look kind of cool, though.
×
Related links
Most recent Utah stories