Do you ever wish you could go back in time and finish that degree you started in college? Or, maybe you never had a chance to go in the first place. When life gets busy and bills need to be paid, education often gets pushed to the back burner.
In these uncertain times, the value of higher education is more apparent than ever to job-seekers and employers. In fact, according to a recent Silicon Slopes study shared by SkillUpUtah, 61% of Utah employers believe skill development is the most important thing individuals can be doing to increase their employability. With fall semester right around the corner, now is the perfect time to go after that degree, certificate, or better job you've been dreaming of!
Five schools, one degree, two promotions
With the rapid growth of online degree programs, there is an educational option out there for everyone.
Jason Hayes, a recent graduate from Las Vegas, Nevada, never thought he'd finish his degree. He'd attended four different colleges and collected quite a few credits—with nothing official to show for his efforts.
"Every time I went to a new university, I had to start all over again because they wouldn't accept this credit or that credit," said Hayes. When he and his family needed to move once again, Jason gave up on finishing his degree and decided to work full-time instead.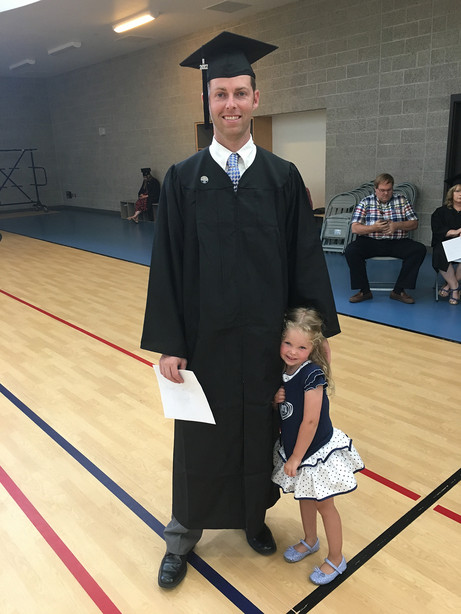 Fortunately, Hayes finally found a way to accomplish his goal by taking online courses through BYU-Pathway Worldwide. He was able to transfer nearly all of his previous credits and earned a bachelor's degree in business management. His online courses were flexible enough that he could continue working full-time while finishing his degree and, to top it all off, he also earned two big promotions.
"I could see immediate results at work after having my degree," Hayes said. "The struggle is worth it; it will pay off."
A learning experience as unique as you
Like they were for Jason, online courses are the solution for many people. According to the National Center for Education Statistics, 70.7% of all public schools that grant degrees now offer distance learning options as well.
Students who take online courses can fit them into their schedule, work at their own pace, and complete their assignments from anywhere. With part-time and full-time programs available, the flexibility makes online education a great fit for those with busy schedules or special circumstances. Remote education is available to anyone and is a great way to develop job-ready skills in any circumstances to prepare for a better future.
There are many ways to learn new skills outside of formal education, but a study from Georgetown University on job growth and education requirements predicted that in 2020, 65% of jobs will require some level of higher education.
A recent report from the Association of American Colleges and Universities confirms that executives and hiring managers have noticed a lack of important skills—including critical thinking and written communication—in new entry-level hires. Higher education is the perfect environment to develop those skills.
One step at a time
While Hayes completed his degree in business management through BYU-Pathway Worldwide, he also earned a certificate in entrepreneurship from them at no extra cost. Certificates are an innovative way to help students gain job-ready skills early in their degree. For example, BYU-Pathway students earn three certificates and a bachelor's degree for the same amount of time and money it would normally take to earn just a degree.
Since certificates are granted as soon as the required courses are completed, students who cannot finish a full degree still have something official to show for their efforts. If you don't have the time or means to pursue a bachelor's degree, or just want to improve your employment options faster, a certificate may be an excellent fit.
No matter your current situation, additional education can open more doors. It's an investment in yourself, your family, and your future. So, what are you waiting for? BYU-Pathway fall semester courses start Sept. 14. Start or continue your journey to higher education by applying today!
×