Estimated read time: 5-6 minutes
This archived news story is available only for your personal, non-commercial use. Information in the story may be outdated or superseded by additional information. Reading or replaying the story in its archived form does not constitute a republication of the story.
In a state known for ease of access to outdoor recreation, Utah's residents spend a lot of time in the sun. Utah's elevation only adds to problematic sun exposure, as every thousand feet above sea level increases the intensity of ultraviolet light by approximately 4%.
"It's particularly shocking when patients move here from southern California to Park City," says University of Utah Health dermatology specialist Keith Duffy, MD. "They get 30 percent more UV intensity living at that higher elevation."
Duffy sees a significant number of young people with skin cancer in his clinic, where he performs Mohs surgeries. Named after surgeon Fredric Mohs, Mohs is a surgical technique that removes basal cell carcinoma, squamous cell carcinoma, and some superficial melanomas while leaving as much of the healthy surrounding tissue as possible. The primary sites tend to be on the head and neck and the cure rates are as high as 99% for most lesions.
For people in their 20s-40s, learning from a provider they have skin cancer can be shocking. In part because until then, they haven't typically had any health problems, Duffy says, and this is often "their first real interface with healthcare." Typically, he continues, patients with their first skin cancer diagnosis are "very deer-in-the-headlights."
That was the case, to some degree, for 40-year-old Jodi. When she was a child, she had an accident and hit her upper lip, leaving a blemish she describes as "a funky, weird thing." In her late 30s, she noticed that the mark had become a spot, or perhaps a small scar. It was not something she felt she needed to worry about.
Three years later, Jodi changed her mind and went to her doctor, who diagnosed the lesion as a subtype of skin cancer called basal cell carcinoma, something that has cropped up in her family history. Her father died of complications from skin cancer and both her sisters had Mohs surgeries to remove skin cancer, after which they would, on finding concerning skin lesions, go to dermatologists to treat them in the office with superficial techniques rather than have to undergo surgery.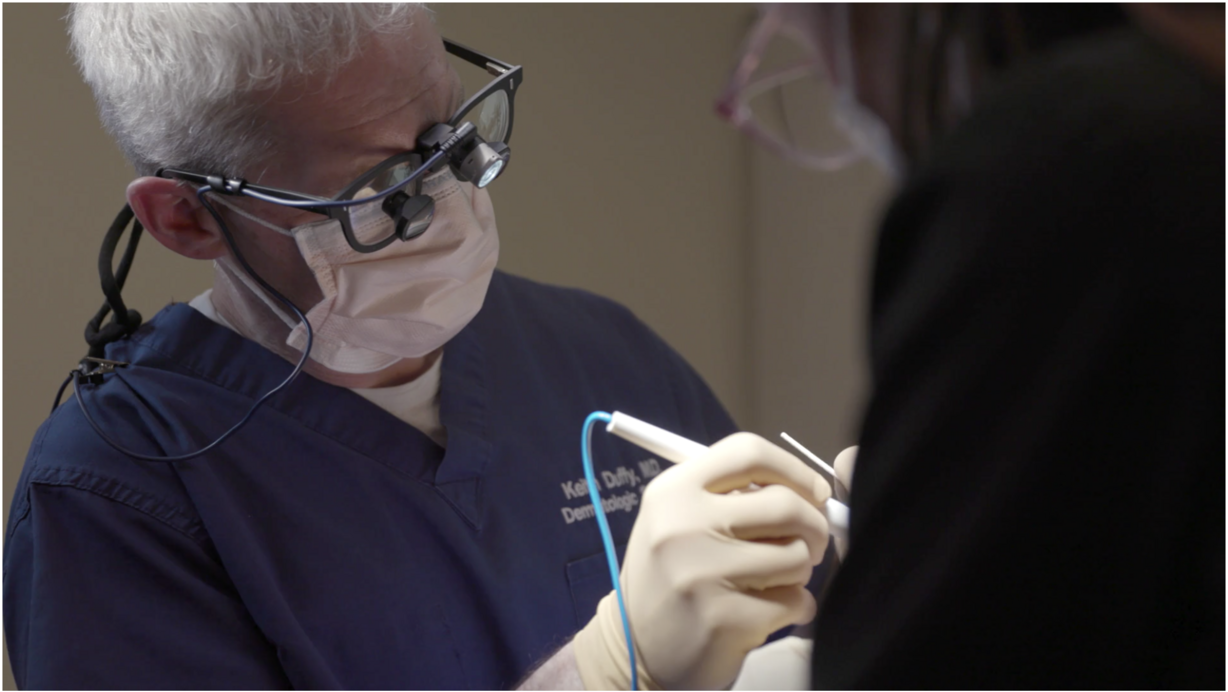 Jodi had the benefit of her sisters' experiences to draw on to prepare her for what was to come. Having followed her sisters' recovery processes, and talked to them about her diagnosis, their experiences and insights helped relieve her stress. That said, the procedure still proved challenging.
Her doctor referred her to Duffy, who she saw in January 2020 to discuss a Mohs micrographic surgery procedure. Duffy told Jodi he would numb her upper lip with local anesthesia and then perform a careful superficial excision, checking each layer for cancer and stopping when it was all gone. Learning it would take up to nine months before her face felt normal again after her reconstruction, she felt scared.
Reassuring concerned patients about scarring is an inevitable part of Mohs surgery, even though most surgeries "leave the smallest, most minimally noticeable scar," Duffy says.
Duffy asked her to choose what music she would like, and she elected for the Provo-born band, Imagine Dragons. "Dr. Duffy and I jammed out," she says with a laugh. "It made it feel lighter, more fun. It wasn't as scary."
Duffy performed two layers of Mohs surgery before reconstructing the wound with a local flap. She then went to lunch with her mom at a nearby café, more than aware of people staring at her.
Seven months on, she has recovered well. People close to her tell her she looks the same as she did before the surgery.
After their first experience with skin cancer diagnosis, patients tend to fall in to two broad categories. Some, Duffy says, "become hyper-sensitive to the sun, using sunscreen and hats, totally avoiding the sun. Others still go out and recreationally tan and don't take those precautions."
However, sunscreen doesn't actually do its job if users don't apply it correctly. "People constantly under-dose and don't reapply," Duffy says. If they've applied the sunscreen at 8 a.m., by 10.30 a.m. "the sunscreen has lost its ability to do what it does," he says.
Duffy and his team focus some of their efforts on explaining the roots of skin cancer to particularly younger patients along with habits that will make a difference in their lives. With older patients, he focuses more on close surveillance to detect skin cancers earlier, recommending visits to their dermatologists for complete skin examinations every six to 12 months.
Young people who catch a new mark or lesion on their skin but choose to ignore it should think again, Jodi says. "Taking care of it earlier is so much better than letting it wait."
If she had gone to the doctor when she first spotted the change, she could potentially have had it treated in the office with more superficial techniques and saved herself the subsequent surgery.
In the end, she made the right decision, even if it was a few years later. "It's better to go and take care of it," she says. "I was grateful my sisters were there to say 'Just do it.'"
×