HERRIMAN — Utah's win streak is no more in the NWSL Challenge Cup.
So, too, is OL Reign's goalless streak.
Bethany Balcer scored the lone goal of the match in the first minute of stoppage time, helping OL Reign hand Utah Royals FC its first loss of the NWSL Challenge Cup, 1-0, Wednesday at Zions Bank Stadium.
The reigning NWSL rookie of the year headed home a cross from Yuka Momiki just after the fourth official signaled for five minutes of stoppage time in what was then a scoreless match.
"It was a good first contact, and a great ball in," Utah defender Elizabeth Ball said after the match. "We just needed to be tighter. But a great goal by her." Michelle Betos made five saves to earn the clean sheet for the Reign, who improved to 1-1-1 and a tie for second place in the league standings with four points.
Utah goalkeeper Nicole Barnhart also made five saves, and the Royals (1-1-1, 4 points) blocked six shots — but couldn't keep tabs of Balcer on the only goal the Reign have scored in the Challenge Cup tournament to date.
The 5-foot-10 goalkeeper made an initial touch on Balcer's header, but couldn't divert the shot enough to keep the Reign from scoring their first goal of the tournament.
"It feels like it's been a long time coming," Balcer said. "Our first two games, we didn't really show who we feel like we are. So it feels great to get the win.
"I knew that opportunity would be there. I thought it would be a good opportunity to get there, and saw the goalkeeper get a touch — but when it rolled in, it was one of the best feelings ever."
Reign looked like a different side than its first two matches, a 0-0 draw with Sky Blue FC and a 2-0 loss to Houston. So, too, did Utah Royals FC — but the biggest takeaway, as head coach Craig Harrington clearly stated it, was simple: his team lost.
"I'd like to see us have more courage and belief with the willingness to take things on," Harrington said. "Over the last two games when the game speeds up, we just need to do what we worked on. I don't know if it was the heat or just the individual decision-making, or the collective let us down. But overall there were spells in the game where we dominated.
"One team won and one team lost today."
Reign held 58% of possession in the first half, and outshot the Royals 6-5 — but were held without a shot on goal. The Royals' three-player back line blocked three shot attempts in the opening 45 minutes to keep the scoreless draw against a Washington state-based side that had failed to register a goal in the first two matches of the eight-team tournament.
Still, something was missing — a connection between midfielder and forward, defender and midfielder, and side-to-side all around, Royals midfielder Vero Boquete admitted frankly.
"I think the first half, we were in the fight," the Spanish international said. "But the second half, we dropped too much, didn't find those spaces, and didn't have possession of the ball. That really hurt us — and the late goal made it worse."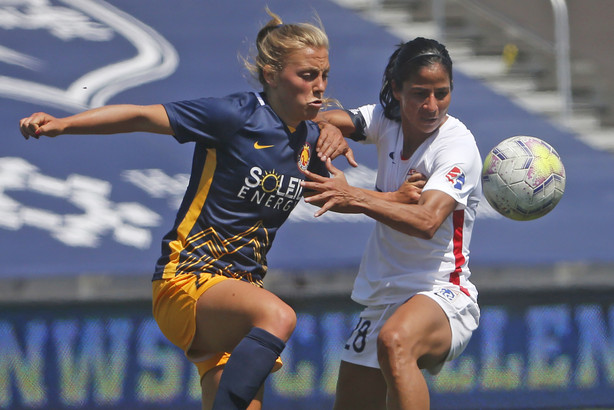 Recent acquisition Aminata Diallo made her debut for the Royals as a halftime sub. The French midfielder joined Katie Bowen and Taylor Leach in replacing Maddie Nolf, Michelle Maemone and Rachel Corsie at the break.
The near-wholesale changes, which also included Raisa Strom-Okimoto and Diana Matheson in the second half for Utah, were meant to spark offense for the Royals — who scored four goals in their first two matches, including a 1-0 win over Sky Blue FC.
Weber, Rodriguez, Boquete and Ratcliffe each finished with two of the 11 shots for Utah, which did not put a second-half shot on target.
"This was definitely an eye-opener; I'm glad it happened now, instead of in the quarterfinals or semifinals," Ball said. "We definitely know we need to come out way harder, and have that mindset to fight and win.
"They brought a whole different level than we've played against so far. Their aggressive mentality was something we tried to match, but we didn't do that well enough."
Barnhart, who started her first match of the tournament, didn't make a save until the 70th minute. The long-limbed, 38-year-old netminder pushed a shot over the bar, then corralled the ensuing corner kick to keep the match scoreless just before the 74th-minute hydration break.
But the Reign only increased offensive pressure from there, finally spilling over in the 91st minute with Balcer's goal.
Utah's defense could only hold for so long. Reign's defense, on the other hand, has allowed just two goals in three matches.
"If you don't concede a goal, you are closer to winning the game," said Boquete, pointing to an obvious remark on her team's defense that also applies to the opposition. "Obviously we are always focusing on defending and not letting the other team create chances. But today, we didn't create too much; I think as a team, we didn't find those spaces, we didn't combine enough, and we didn't win the game."
Utah will close the four-match preliminary stage Sunday against the Chicago Red Stars. Kickoff is scheduled for 8 p.m. MT on CBS All Access.
Reign will close the preliminary stage next Monday, July 13, at 8:30 a.m. against Cascadia rival Portland Thorns FC.
Sky Blue 2, Houston Dash 0
At Herriman, Paige Monaghan and Nahomi Kawasumi each scored a stunning first-half goal, and Kailen Sheridan made one save to help it stand up as Sky Blue shocked the Dash in the late game.
Monaghan opened the scoring for Sky Blue, giving the New Jersey side its first goal of the tournament to go up 1-0 in the 17th minute.
Kawasumi doubled the advantage just after the half-hour mark with a 40-yard strike that caught Houston goalkeeper Jane Campbell outside of her penalty area.
No one: ...

Absolutely no one: ..........

Nahomi Kawasumi: 😱 😱 😱 #NWSLChallengeCuppic.twitter.com/2Ky6hlGuNt

— Salt City FC (@saltcityfc) July 9, 2020
"I think we just really did what we've been doing well in training on the field tonight," Monaghan said. "Last game we struggled with that, and went away from what we do well. But tonight, we did what we do well."
Sky Blue's shocking win clinches the No. 1 seed in the tournament's knockout round for North Carolina, the only team that is a perfect 3-0-0 (nine points) with one game remaining in the preliminary stage. Sky Blue, Houston, OL Reign, Utah and Washington are all tied for second with four points apiece, followed by Portland (two points) and Chicago (one point).
×
Photos
Related Stories