MOUNT PLEASANT, Sanpete County — On the final day of his gubernatorial campaign before the Republican primary, Spencer Cox didn't do much out of the ordinary.
He woke up, and rather than embark on the 200-mile round-trip drive to Salt Lake City, the state's current lieutenant governor assigned chores for each of his sons on the family farm in rural Sanpete County.
Cox joined them in the field — he had a sprinkler pipe to fix, after all — and the furthest thing from his mind was the vote-by-mail ballots that would be submitted throughout the rest of the day, signaling who would be the GOP candidate for governor to face Democratic nominee Chris Peterson in November.
Well, maybe almost the furthest thing.
"We did some Zoom calls, and some social media to reach out to people," Cox said. "It's certainly been a different campaign."
Cox knew that the primary race probably wouldn't be wrapped up last Tuesday, and he estimated that if his campaign — which is joined by state Sen. Deidre Henderson, R-Spanish Fork, as his running mate — got more than 130,000 votes, they'd be in a good position against fellow challengers like former governor Jon Huntsman Jr., former Utah Speaker of the House Greg Hughes, and former Utah GOP chairman Thomas Wright.
So he went out on his farm and waited. Several hours later, he dragged his stiff limbs and starched suit out of his car as he and his wife Abby greeted supporters at the local drive-in theater for a social-distance-style campaign party in Mount Pleasant.
And a week later, his worrying — or lack of it — paid off.
The Associated Press called the GOP primary for Utah governor Monday, nearly a week after Hughes and Wright dropped out and the same afternoon that Huntsman called Cox to concede in what the rural Utahn called a "gracious call."
That response, which Cox posted on Twitter, was the second-such response he had to the AP's final call. His first didn't include a word, though: It include an 👀 emoji and a tweet by an AP reporter calling the race.
July 6, 2020
It was, in many ways, the kind of response you'd expect from an average Twitter user who peruses the service equally to search for Utah Jazz updates and new recipes to try on the Traeger grill.
And that's what supporters claim Cox to be: a regular Utahn from rural Sanpete County who's a Jazz fan, an Aggie grad and a small-town devotee.
"The word is genuine," said Brand Reynolds, a North Salt Lake resident who drove most of that same 200-mile round-trip stretch Cox has been making for one election-night watch party. "He's a genuine person; down to earth. You can talk to him — anybody can talk to him — and he's very compassionate. He has these hometown, small-town values of helping your neighbor, loving your neighbor, and nothing else matters."
Cox's path to the Republican nomination was delayed by a week, but included endorsements from the likes of current Gov. Gary Herbert and Utah congressman John Curtis, among others.
His path also took him on the road. Not the road to the Capitol, which Cox has driven regularly enough; he and his wife Abby still raise their boys in Fairview, where the two North Sanpete High graduates both grew up.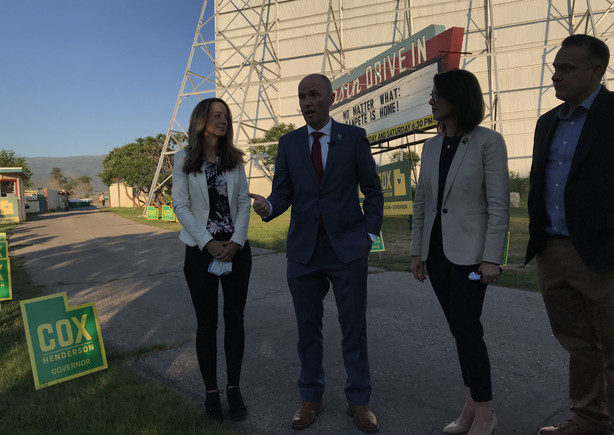 The road he drove went through all 248 cities and towns in Utah, and if he wasn't driving a John Deere tractor through them all, you'd be forgiven for forgetting; Cox's vehicle of choice during the road trip was a green-and-yellow motorhome, with a giant portrait of his glamour shot plastered on the side of the vehicle. He looked at home in his photograph, and seemed to be equally at home as he became the only gubernatorial candidate to visit each one, spending hours on Utah's rural highways for days at a time.
"All of that work really paid off," he said. "And of course, I'm the only candidate that doesn't live on the Wasatch Front. We knew rural Utah would be good for us. That's an important piece.
"We haven't forgotten about rural Utah, and we're working really hard there."
Rural Utah didn't forget Cox, either. He won large swaths of the state from early returns in rural counties, including a nearly 3-to-1 cascade of support from Emery County on election night.
Many of these rural Utahns spoke to the "genuine" nature of Cox as he made that campaign trip, too.
"Some politicians, there's an in-person and a public face, and they're very different," said Adam Robertson, who splits time between homes in Provo and Fairview. "There's behind-closed-doors discussion, and when the doors are open, they're different.
---
I've seen him in his personal life, political life, behind closed doors, at church, at the grocery story; you get the real deal all the time. It's just who he is.
–Adam Robertson
---
"He's not that way. I've seen him in his personal life, political life, behind closed doors, at church, at the grocery story; you get the real deal all the time. It's just who he is."
Robertson attends church services with Cox in Fairview, where he and his wife Tina watch him as he leads small children during singing exercises in the local primary of their ward of The Church of Jesus Christ of Latter-day Saints.
And they say he's the same person in that chapel as he is on the campaign trail, or on Capitol Hill.
"He's very grounded," Tina Robertson said. "He's the real deal; who you see is his face value."
Cox agrees he tried to keep an honest assessment of himself on the campaign trail. He said he tried to run an honest race, and took pride in not engaging in negative campaign strategy.
When opponents tried to use his position on Utah's coronavirus response task force, he told supporters in a livestream he was "stepping away" from day-to-day public interaction with the committee because it was becoming political fodder for his opponents.
"It would be hard for me to get beat up all the time, and not come back at it; I don't have that kind of personality," said James Hudgins, a North Salt Lake resident who was at Cox's first campaign rally in South Jordan. "But he told me a long time ago that he would stay positive. If they go negative, he would stay positive.
"That's what I think Washington needs. That's what state politics need. For opponents to go down on him, it's what they're doing in Washington, and I completely disagree with it."
The June 30 primary saw one of the largest rounds of voter turnout in Utah Republican primary history. Those votes may have been aided by groups of Democrats and unaffiliated voters who made the one-time switch to the GOP, some outside observers have contended. It was an outpouring of the political culture in a state that hasn't voted for a Democratic governor since Scott Matheson in 1985, and Cox will be favored going into the November race against Peterson.
Cox said he tried to run the primary race on the issues, not waging campaign battles.
"I believe that politics is downstream of culture," Cox said. "I believe that our elected leaders are a reflection of us. If we want our state and our leaders to do better, it's incumbent on each of us to do better. But as the leader of the party, if I'm given an opportunity to be governor, I can work on unifying — bringing people together. That's what I've done as lieutenant governor — I've reached out to communities who feel like they are underrepresented, those who feel like they don't have a voice.
"I'm running to be the governor of all of Utah, and not just the governor of the Republican party."
×
Photos
Related Stories