SALT LAKE CITY — Here are 10 stories you may have missed over the weekend. As always, click on the headline to read the full story.
1. Evacuation orders lifted in Lehi, Draper after 500-acre fire sparked by fireworks
A fast-moving fire enveloped the hills surrounding the Traverse Mountain area Saturday night and into Sunday morning, evacuating residents in neighborhoods threatened by the fire.
2. Shoppers react to face mask mandate in Salt Lake, Summit counties
Saturday was Day 1 of mandatory face mask usage in Salt Lake and Summit Counties. The order applies to public places, inside and outside, where consistent social distancing is not possible or reasonable.
3. 'Glamping' resort proposed near Zion National Park
A sprawling network of camping resorts soon could begin unfolding in the Kolob highlands on Zion National Park's northern boundary, potentially resulting in an influx of overnight use in a remote and scenic part of southern Utah.
4. 'We need your help': With Dixie Regional Medical Center's ICU nearly full, chief doctor asks people to wear masks
The intensive care unit at Dixie Regional Medical Center nearly reached capacity this week, and is still in danger of doing so, because of a continued upsurge in COVID-19 infections and hospitalizations in the region.
5. A new normal: What you need to know about the new mask requirements
Salt Lake County Mayor Jenny Wilson had a simple comparison when speaking about the new health order requiring all in Salt Lake County to wear face coverings while out in public.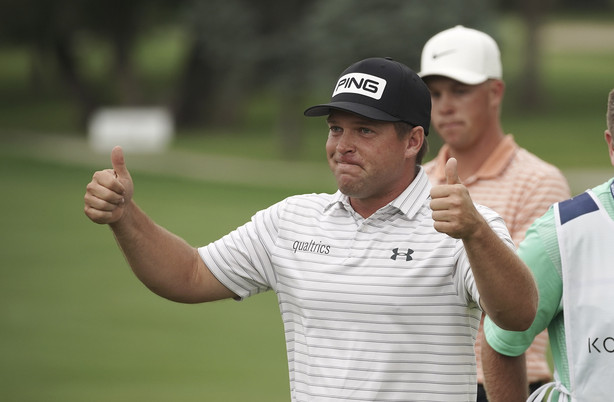 Sports
1. Daniel Summerhays' storybook ending to 13-year career nearly comes true as runner-up at Utah Championship
After a brilliant final round, though, the former BYU All-American golfer will temporarily postpone his decision to retire.
Summerhays shot a blistering 9-under-par 62 to finish tied for second in what will likely be his last Utah Championship on the Korn Ferry Tour Sunday afternoon at Oakridge Country Club.
2. After kneeling to support racial equality, North Carolina tops Portland 2-1 in NWSL Challenge Cup opener
Nearly every player from the Courage and Thorns kneeled in solidarity with the movement as a saxophone played the U.S. national anthem prior to Saturday's 10:30 a.m. MT kickoff. Match officials, coaches and some staff members also joined the players on bended knee in observing a pre-match moment of silence prior to the first competitive game in North American professional team sports since the coronavirus pandemic shuttered significant portions of the U.S. economy.
3. Wasatch Academy forward, ex-Utah signee Caleb Lohner signs with BYU
After a winding world of basketball recruiting, Lohner, the No. 2-rated recruit in Utah and No. 34 power forward in the country by 247 Sports, has signed with BYU basketball, Cougars head coach Mark Pope announced Friday.
4. Reopening Day: Utah Jazz will play in 1st game of NBA restart in Orlando
On March 11, the Utah Jazz walked off the court in Oklahoma City in worry. Rudy Gobert's positive COVID-19 test had not only postponed a game but eventually postponed an entire league.
In a bit of poetry, the Jazz will be the team to start things back up.
On July 30 in Orlando, Utah will play the New Orleans Pelicans in the first game of the NBA's restart.
5. Source: Patriots sign QB Cam Newton to replace Tom Brady
The New England Patriots have reached an agreement with free-agent quarterback Cam Newton, bringing in the 2015 NFL Most Valuable Player to help the team move on from three-time MVP Tom Brady, a person with knowledge of the deal told The Associated Press.
×