SALT LAKE CITY — Local businesses have a new way to show patrons they are doing their part to stop the spread of coronavirus.
The Salt Lake Chamber this week announced the launch of "Stay Safe to Stay Open" — a drive to educate and encourage businesses to adhere to guidelines from the Utah Department of Health in the fight against COVID-19. The initiative was introduced Thursday with a call for businesses to pledge to abide by best practices aimed at protecting employees and customers during the pandemic.
Businesses that accept the challenge will receive a "seal of approval" for display in their commercial locations and be included in a searchable online database, Salt Lake Chamber President and CEO Derek Miller said.
"In recent days we have been reminded of the need to focus on the health imperative when it comes to coronavirus. Along with that imperative is the need to appropriately support economic engagement and job creation" he said. "'Stay Safe to Stay Open' seeks to balance these imperatives in a way that supports businesses as they support their customers, allowing them to pledge that they are complying with guidelines set out by the Utah Department of Health and contained in the Utah Leads Together plan."
"This is not regulatory, it's not mandatory and it's not mandated, but it's the private sector leaning forward and saying, 'Hey, we have a role and responsibility to play in keeping people safe and and keeping our community strong,'" he said.
The idea for the campaign was developed well before the conversation between the county and the state about mandating masks, he noted.
"That really speaks to the public, (whereas) our campaign is really focused on businesses and what they should do with their employees and how they communicate to their customers," Miller said. "This county issue is more about what everyone else public at-large should be doing."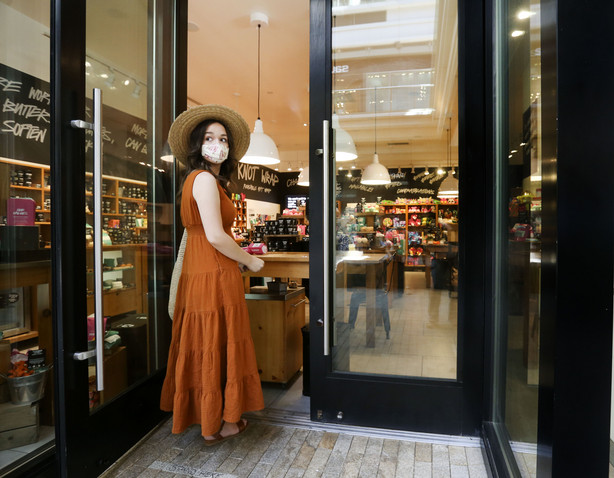 The campaign is a collaboration between the Salt Lake Chamber and the Utah Department of Health, with support from leaders in government, business and the community.
"Combating this virus requires vigilance from all parts of our community. As important as it is for individuals to follow health guidance to protect themselves and their families, it is equally as important for the businesses they visit to provide an environment they can have confidence in," said retired Maj. Gen. Jefferson Burton, Utah Department of Health acting executive director. "We applaud the Utah business community for their commitment to follow our health guidelines and give their customers confidence that they can engage safely."
The campaign can serve an important part of trying to help consumers understand what steps businesses are taking to help make people safer during the pandemic, said Linda Wardell, general manager of City Creek Center in downtown Salt Lake City.
"In the past few weeks, we've certainly started to see our traffic build. It's building a little bit every week, and so we certainly hope that by uniting together in a campaign like this — not just in downtown, but hopefully statewide — that people will start to come out again," she said. "It's important that consumers are careful when they do this, that they wear their masks, that they remember to be socially distant. But we do hope that they will come out and visit us again."
For small-business owner Richard Holman, co-owner of Bean Hive Gourmet Coffee Service, he believes participating in the effort is a way to assure his customers that he is "taking care of them by virtue of coming on their property and being safe and not representing a risk to them."
"I'm 68 years old and I'm a disabled veteran, so I have to be diligent not just for their sake, but for my own," he said. "That's kind of why I signed up. It parallels basically what we were doing already."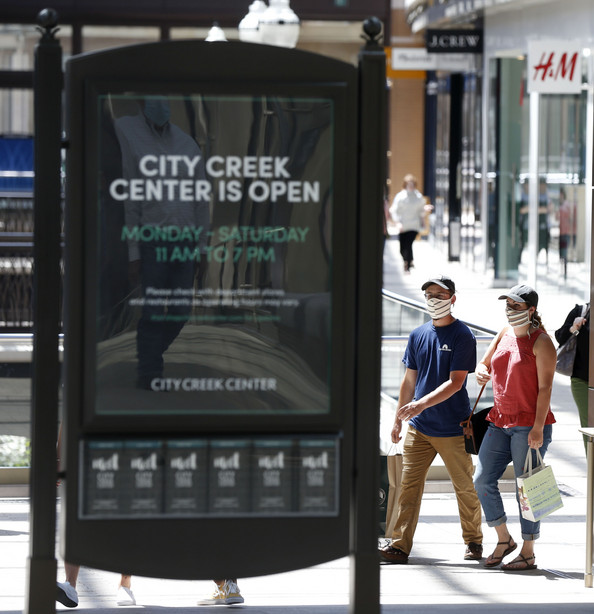 Information and updates for commercial enterprises and consumers can be found at stayopenutah.com. Other well-known firms have also joined in the campaign, committing to promote the idea of responsible community stewardship.
"The safety and well-being of our employees and our customers is paramount. It is important to prioritize best practices in our places of business so that we can continue to serve our customers and provide opportunities for our employees," said Steve Starks, CEO of the Larry H. Miller Group of Companies. "We not only want to comply, but we want to provide a level of comfort for our guests. The more businesses who take this pledge, the better our public health and the greater our ability to keep our economy going."
'Stay Safe Stay Open' business guidelines
1. Conduct temperature checks before work and stay home when sick.
2. Wash hands frequently and avoid touching face and eyes.
3. Practice physical distancing including wearing face coverings in close common areas.
4. Learn about high-risk groups and help protect them.
5. Cover mouths when coughing or sneezing.
6. Clean high touch surfaces frequently.
7. Follow public health guidance as updated.
×