HERRIMAN — A player from the National Women's Soccer League has tested positive for COVID-19, the NWSL confirmed Thursday evening.
The affected player and club, neither of which have been identified, are following all appropriate medical and contact tracing protocol established by the league prior to its announcement of the NWSL Challenge Cup, which will kick off in less than 10 days at Zions Bank Stadium in Herriman.
"The health and safety of the players and staff is of utmost importance and the NWSL is doing everything to ensure the affected player is receiving proper care," the league said in a news release. "The NWSL will continue to follow its COVID-19 positive test protocol and CDC guidelines to ensure the health and safety of all teams and staff."
All players were tested prior to the start of preseason in the days leading up to traveling to Utah, according to the league's protocols, which also call for additional testing upon arrival and throughout the tournament. That includes an antigen polymerase chain reaction (PCR) test for active infections, as well as antibody (IgG) blood testing to assess if the body has built up antibodies that have been used to determine previous infections.
Each player will continue to be tested throughout the already-begun preseason and tournament. Team physicians and/or athletic trainers must confirm that testing has occurred and inform the players and staff of their results, according to NWSL protocols.
Additional staff and trialists may be tested throughout the preseason, at each team's discretion.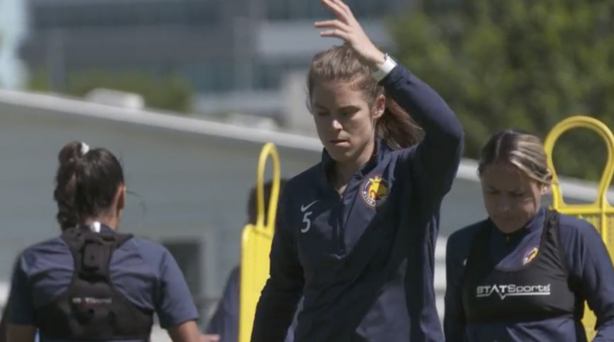 All players who had recently traveled internationally were isolated for seven days at home upon returning to their home markets and not integrated in team activities. Teams will also be tested and isolated in a "bubble" upon arriving in Utah, as well.
All tests in Utah will be conducted by ARUP Laboratories in Salt Lake City.
Among the tournament's other protocols are a requirement for players and staff to wear masks "any time outside of your apartment or room (except when exercising, training, playing or eating)."
Social distancing measures will also be enforced, as well as extensive hand-washing and sanitization measures.
Once arrived at the Zions Bank Real Academy in Herriman, players will not be allowed to leave the team village without permission, and only designated staff personnel may perform outside functions such as grocery store runs.
Every player has been designated her own room in the village, as well.
All medical, health and safety protocols from the NWSL can be found on the league's website, or by clicking here. Participation in the tournament is also optional, and not tied to player contracts, salaries or health benefits, according to an agreement ratified by the league and the NWSL Players' Association.
"If players feel that they are unsafe, it's not required or mandated they participate," Utah forward and captain Amy Rodriguez said. "For players who have concerns that aren't addressed, they can opt out. At the end of the day, we want everybody safe and comfortable."
Teams have been invited to begin arriving in Utah when convenient. Most participated in a limited preseason in their home markets, though OL Reign, which is based in Tacoma, Washington, elected to conduct preseason training in Missoula, Montana, to adapt to the altitude of just over 3,000 feet.
No changes have been planned for the tournament, which kicks off Saturday, June 27, with a doubleheader featuring North Carolina against Portland followed by Orlando against Chicago.
The host Utah Royals FC open the tournament Tuesday, June 30, at 10:30 a.m. MT against former BYU star Ashley Hatch and the Washington Spirit.
All games are closed to fans, and will be streamed live on CBS' subscription service CBS All Access.
Earlier Thursday, the Royals added to their ranks by signing two draft picks from January, North Carolina State's Tziarra King and Illinois State's Kate Del Fava.
Utah also added midfielder Marissa Sheva, a second-year professional played collegiately at Penn State. Also a member of the Nittany Lions' track and field team, Sheva spent time most recently with Deportivo Alavéz in the Spanish second division.
"I'm excited to be here in Utah and I feel grateful to the club for the opportunity," Sheva said in a club statement. "It's definitely shaping up to be a unique first season in the NWSL, but I couldn't be more excited for the 2020 Challenge Cup to get underway here in Utah."
×
Related Stories