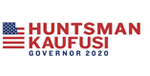 This is a paid political advertisement from Huntsman for Governor 2020.
The Huntsman/Kaufusi Campaign recently released a list of more than 100 business and community leaders who are supporting Jon Huntsmans's candidacy to be the next governor of Utah.
In addition to his years of experience, Jon Huntsman has released a plan to double Utah's economy. Scott Anderson, President of Zion Bank, believes that Jon Huntsman and the Utah Unlimited plan is exactly what Utah needs.
"We need Jon Huntsman to lead our state — we need his vision, his leadership and his ability to bring people together if we're going to tackle what's ahead of us," Anderson said in a statement. "Jon Huntsman has changed the landscape of Utah's economy once before. As a state, we are ready for his leadership again."
The list of Huntsman's supporters appears below this statement:
As business leaders in Utah, we endorse Jon Huntsman to begin the next wave of economic activity to make Utah the Crossroads of the World. We've seen Jon Huntsman in action. The completion of his 10-point economic development plan during his first administration resulted in 15 years of unprecedented economic growth for the state of Utah. Now we are supporting him again.
In our post-Covid reality, states — even countries — will all be vying for opportunities to rebuild, sustain and grow their economies in a meaningful way. From supply lines to energy resources, what lies ahead for Utah depends on the leadership in the governor's office. With a Huntsman administration, we can count on a small-government, pro-business environment spurring on quality, high-paying jobs for the next generation of Utahns.
Jon Huntsman has a proven track record as a business and political leader to execute this strategy. His strengths in international trade and diplomacy, his contacts with the world's leading companies and industries, his state and federal experience all lead to putting Utah ahead during this critical time in our history.
If you want small ball, little ideas, or a plan to just get back to normal, Jon Huntsman is not your governor. If you want someone with bold ideas, the ability to challenge the status quo, and a big vision of Utah as the Crossroads to the World, there is only one choice.
Other prominent figures who have endorsed Huntsman include: Don Salazar, founder, president and CEO of CTI Construction; former Utah Jazz legend and NBA Hall of Fame member Karl Malone (who owns Utah businesses); and Steve Price, founder of Price Real Estate.
"It's encouraging to hear from so many voters who are filling in their ballots for Huntsman/Kaufusi," Huntsman said. "This is a critical election for our state. Utah is an amazing place full of people with vision and hopes. I am grateful to be able to be a part of bringing to reality Utah's continued success."
The Utah Fraternal Order of Police, the state's largest police labor organization in Utah, also gave Huntsman its endorsement. Huntsman also became the first Republican gubernatorial candidate in Utah to receive the endorsement of Equality Utah.
Ballots for the Republican primary election started being mailed to voters in early June and only voters who are registered as Republicans are eligible to participate. Voters should check with their county clerk if they haven't received a ballot.
Voters throughout the state are facing significant challenges arising from the COVID-19 pandemic, economic uncertainty and social unrest. Now is the time to make your voice heard. Former Gov. Jon Huntsman and Provo Mayor Michelle Kaufusi ask you to join Utah's business and community leaders in voting for Huntsman/Kaufusi.
×