SALT LAKE CITY — As cleanup continues from a protest that turned into a riot Saturday, there's another mess brewing around Salt Lake City.
Salt Lake City Mayor Erin Mendenhall said Monday she is "sincerely sorry" if her call for residents to report cases where police treated them unfairly offended any officers but defended her action to ask for reports. It comes as the president of Utah's largest police union who claims the mayor was fishing for complaints against police officers who were dispatched to quell the riot.
"I'm incredibly grateful for their professionalism, particularly as we watch what has unfurled across our nation," she said, in an interview on KSL NewsRadio's Dave and Dujanovic. "If there's any police officer who took my words for criticism against their actions Saturday night, then I am sincerely sorry. My sole intention was and still is that the public knows that Salt Lake City police are here to protect and serve and our department is willing to hear from the public in a spirit of transparency.
"It's not about taking sides with the protesters or soliciting criticisms of our officers, it's about running a department that's accountable and transparent and that's something we've always strived to be."
In all, nearly 50 people were arrested as a result of the protest and the ensuing curfew the city enacted when a protest against the death of George Floyd got out of hand. No deaths or serious injuries were reported as a result of the protests.
Salt Lake City Police Chief Mike Brown said Sunday that 21 officers were treated for medical reasons — most officers were treated for heat exhaustion — but he said one officer was attacked with a baseball bat and was able to avoid serious injury because of his helmet.
Brent Jex, president of Utah Fraternal Order of Police, also appeared on the program Monday and said he was aware of other officers who were also injured but kept going.
At the same time, a video of an officer appearing to shove an elderly man to the ground amid the protest went viral online and drew strong criticism. Another video posted on Reddit appears to show an officer bending over to shoot someone lying on the ground with a rubber bullet. Some of the cases are already under review, according to Brown.
On Sunday, Mendenhall called for a "thorough after-action review" of how officers handled the riot and she asked any citizen who felt they were treated poorly by police to file a complaint so the Citizen Review Board could look at any inappropriate use of force.
Related:
That irked members of the Utah Fraternal Order of Police, who criticized how Mendenhall handled the situation. Jex said it was "a slap in the face" for officers who arrived to patrol the area in downtown Salt Lake City. Officers from more than a dozen agencies, including from outside Salt Lake County, were dispatched to help Salt Lake police.
"You see on-duty officers responding throughout the county through neighboring counties — you saw off-duty guys that left their families; they left barbecues; they left everything to rush down there," he said. "We watched troopers without any riot gear come down the steps to defend the Capitol and to stand there stoically. It was a remarkable scene to see the sacrifices seen."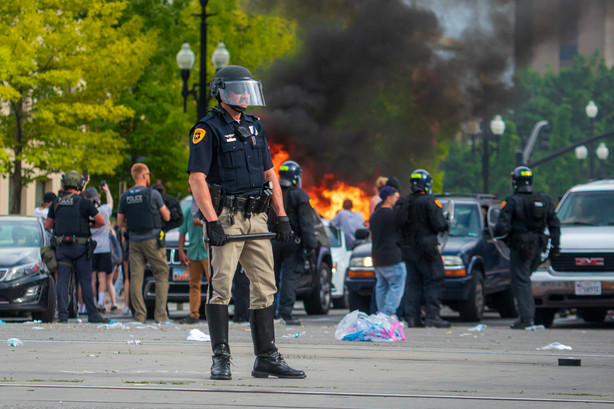 The union also criticized Mendenhall for holding virtual press conferences away from the scene instead of being there in person. She responded by saying she didn't want to distract police from their jobs and said it was "a little bit laughable" to suggest that the mayor be there "between the guns."
Mendenhall also explained Brown was given coordination of how police responded downtown, which was done in coordination with the Utah National Guard. A swarm of officers arrived about 5 p.m. Saturday — about two hours after some protesters flipped over and burned a Salt Lake police squad car.
Mendenhall reiterated Monday that she and police have suspicion there were people who came to the protest to incite violence and destruction. She said the city will help as much as it can to prosecute those who created damage, and also thanked those who have helped clean up the damage.
As for the police union, Jex said he wished Mendenhall showed "a little bit more appreciation" for the officers who helped rather than siding with a "propaganda machine." The union posted on Facebook more criticism after both Mendenhall and Jex appeared on the radio program Monday, The union called for Mendenhall to stop asking for complaints from rioters and to thank officers and their families and also say all the agencies that helped by name.
That said, Jex doesn't think any disagreement or anger toward the mayor will change how officers respond to help Salt Lake City.
"Cops are going to race in there because we have brothers and sisters in Salt Lake City and we're not going to leave them hanging," he said. "It doesn't matter what politicians feel about us. We're not there for the politicians, we're there for the citizens."
Contributing: Dave Noriega and Debbie Dujanovic, KSL NewsRadio
×