ST. GEORGE — The National Weather Service-Salt Lake City office has issued both a red flag warning and wind advisory for various parts of Southern Utah over the weekend.
The two alerts come on the last day of an excessive heat watch in Washington County that is forecasting triple digit temperatures in Utah's Dixie and Zion National Park. The heat watch is set to expire Friday at midnight.
According to the National Weather Service-Salt Lake City office, the red flag warning goes into effect Saturday at noon and will last through Sunday at 8 p.m. The warning is forecasting "critical fire weather conditions" in the central and Color Country West Desert, as well as the Mojave Desert and Grand Staircase. Relative humidity is expected to drop as low as 9-12%.
Accompanying the red flag warning will be a high wind advisory from noon to 9 p.m. Saturday that will affect west-central and southwest Utah, including the cities of Cedar City, Fillmore and Delta. The wind advisory is forecasting south winds of 25-35 mph, with gusts up to 50 mph.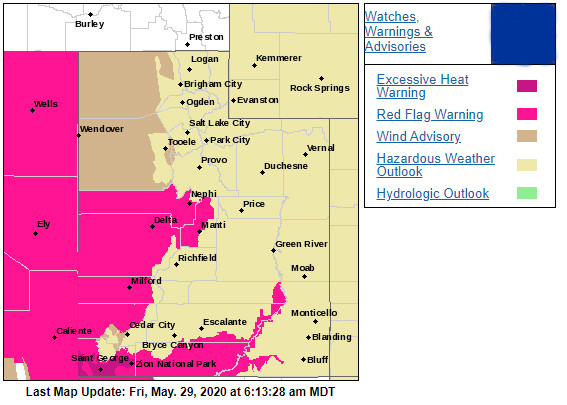 Temperatures along the Wasatch Front are expected to be in the mid-90s Friday, close to 20 degrees above average, KSL TV meteorologist Grant Weyman said. Get his forecast at www.ksl.com/weather/forecast.
×