DRAPER — Hayden Roberts knew his graduation from Corner Canyon was going to be different; the COVID-19 pandemic guaranteed that.
He also knew it would be special. He's seen how friends and other schools have conducted virtual ceremonies to honor their graduates.
But graduating in a stretch limo by Hummer, rented by his parents, as he got up early Thursday morning to proceed through the Chargers' "Celebration of Graduates"? That caught him by surprise.
"It was completely their idea. You've got to make an impression, right?" Roberts said with a laugh. "I realized it was real-world time; it was definitely great."
Nearly 600 seniors filed through Corner Canyon beginning early Thursday morning, and each one earned a social distance-acceptable walk across the stage. Across the six schools in Canyons School District, from Alta to Brighton to Jordan, Hillcrest an everywhere in between, family members honked and screamed and blared air horns from the nearby car.
It was definitely abnormal for this time of year.
But it was definitely memorable, too — "one for the books," Roberts kept repeating.
"It's better than sitting in a room for three hours with the heat and all that stuff," he joked. "This was definitely one for the books."
Even a few of the cars graduated, like Eliza Casper, whose brother Brandon decorated the family's SUV with a giant four-corner hat, matching the gray cap she wore for graduation.
"He talked about making it, but I didn't think he'd actually do it," Casper said. "I thought it was awesome; such a fun idea."
The procession started at nearby Willow Springs Elementary, and wound through 0.8 miles of residential neighborhood to the high school, with friends, teachers and faculty lining the route.
It all had the feel of a parade along Charger Way in Draper. A lot of high schools have turned to the community for drive-thru graduation celebrations during the pandemic; Corner Canyon's just extended down the street.
And if his daughter was going to march in a parade, then Alyssa Brown's father was going to make her parade royalty. So he brought out his low-riding sports car, sat his graduate on the edge of a backseat, and filed family members and siblings around her like a grand marshal.
It wasn't a normal graduation ceremony. But it didn't have to be to be special.
"When I first heard about this (soft school closure), I was sad to have a lot of things taken away from me," said Brown, whose senior season of lacrosse was also canceled due to the pandemic. "But what they put together for graduation is awesome; and in some ways, it's better to not have to sit through those long talks all day. It's cute to see what our school is doing for us to make us feel loved."
Brown missed her senior season of lacrosse, and nothing will ever take that away. But even that sorrow was replaced by a drive-by "senior night" celebration from her team as the Utah Valley-bound senior prepares for college, with designs on serving a mission for The Church of Jesus Christ of Latter-day Saints.
"It's something I'll never forget," Brown said.
COVID-19 didn't allow for a normal graduation. But it did allow for the 790 graduates of Lone Peak High School to reunite for one final celebration Thursday afternoon in the state's largest school district. The 10 high schools in Alpine School District wrapped up two weeks' worth of graduation festivities with a county-wide fireworks show Thursday night.
But the best part of the Knights' three-day, 21-hour diploma drive-thru was seeing the individual excitement on students' and parents' faces as they experienced something that hasn't happened before — and may never happen again.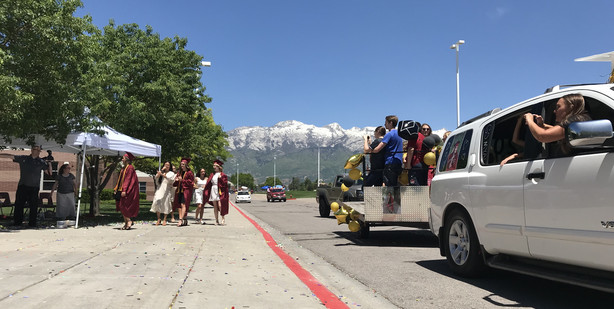 "We're here for hours, but each of these families, it's their first time," Lone Peak principal Scott Sumner said. "We're enjoying each moment just like they are — individually."
It was't perfect — nothing caused by the pandemic is. But it was a memory.
"It was certainly memorable, to say the least," said senior valedictorian Elliott Detjen, who will study government and economics at Harvard in the fall. "I'm very grateful for the actions of the administration in all this, and I'm grateful to be surrounded by such a great student body as we all go through this together. I'm nothing short of impressed with how the community has rallied around seniors, and I'm looking forward to the future."
At the very least, the Class of 2020 seemed to get what they wanted out of their graduation. For most, that included one final memory with their friends, like Macie Amberry, who strolled across Lone Peak's stage with best friends Mya and Grace. The trio were immediate besties when Amberry moved to the Highland area four years ago, so departing high school together only seemed right.
Lone Peak's faculty was happy to oblige, while all four carloads of family, friends and relatives watched the whole thing. Even the teens' brothers held off on dousing them with poppers and silly string for a photo op.
"At first, I was really bummed that I wouldn't get to participate in a traditional graduation like everyone else," Amberry said. "But this was almost better, being with your friends, your family, being outside."
Family and friends were the focus of graduation. Maybe that's how it should always be.
"I think it's crazy how different it is from the traditional graduation," Casper said. "But being able to go up with your family makes it more special, and everything about it just makes it different from other graduations."
That's a tribute, not just to the Class of 2020, but the teachers, faculty and administrators who made it all possible.
"I think the faculty did way more than I expected," Lone Peak senior Megan Mickelson said. "Everyone should be celebrated on their graduation, even though the circumstances are not ideal."
×
Photos
Related Stories