SALT LAKE CITY — Thursday is game day for the Utah Jazz.
At least, it is for Utah Jazz Gaming, the team's third-year affiliate in the NBA 2K League.
After an extended hiatus due to the novel coronavirus pandemic pushed the start of the league season back, and with two bye weeks, Jazz Gaming will officially tip off the 2020 NBA 2K League season Thursday at 7 p.m. MST against Magic Gaming.
They'll also be hoping to tip off to a gain a few more fans from a sports-starved public. While most professional leagues have been on hiatus during the COVID-19 pandemic, esports have mostly continued unabated; Jazz Gaming even took part in a 3-on-3 tournament hosted by 2K League several weeks ago.
And another reason to be hopeful for the growth of the league? Friday's game, which will tip off at 5 p.m. MST against Heat Check Gaming, will air on ESPN2 as part of the network's surge in live esports programming during the pandemic.
"We need sports — whether esports or actual sports — and it's great to turn on the TV and see some live basketball with live commentary," Jazz Gaming coach Jelani "Comp" Mitchell said. "I'm looking forward to getting some ESPN games on the schedule, and see how it pans out."
In addition to sporadic ESPN broadcasts, all games are streamed live on the NBA 2K League's channels on Twitch and YouTube.
Esports represents a multi-billion dollar industry. But the NBA 2K League has failed to take off in its first two seasons to truly rival established titles such as League of Legends, Call of Duty or Overwatch. It's hoped that playing during the pandemic — and the exposure aided by an ESPN network in need of live sports programming — can help change that.
No matter when or where they play, Comp's team is ready for it. Jazz Gaming were one of four teams in the league to sit idle during the first two weeks, meaning there's plenty of ground to make up.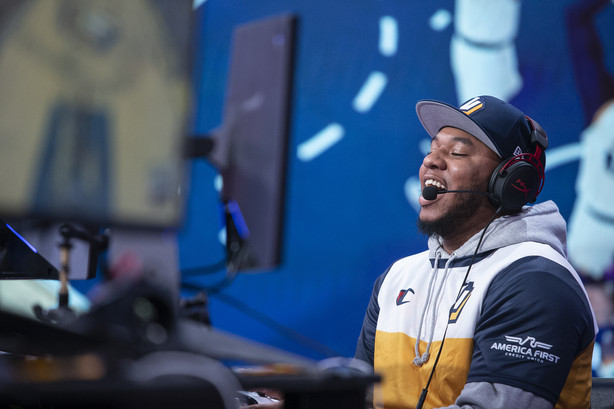 "I think Week 1 was the most anxious week," Mitchell said. "Everyone was calling me and hitting my phone up, wanting to get back out there.
"As time went on, we were able to sit back and take it for what it is. We got to focus on the positive side of it, and we got a bunch more film to watch on both of our opponents, Heat Check and Magic.
"We'll be more than ready when the time comes. We had all that extra preparation."
Jazz Gaming is also another year older. That means another year for team captain Shaka "Yeah I Compete" Browne, who is returning to Utah for his third season.
It also means another season for Lytel "Lotty" Martin, the other guard out of Mount Vernon, New York, who was primarily a shooting guard last season.
The Jazz also return second-year Spencer "Ria" Wyman, last year's No. 1 overall pick at center, as well as a trio of rookies in Brent "Lord Beezus" Aasgaard, Freddy "Get On My Level" Whelan, and Kimanni "Splashy" Ingram. With no travel to the NBA 2K studios in New York City on the immediate horizon, the rookies will be able to settle into pro gamer competition in the state-of-the-art Jazz Gaming Lounge at Vivint Smart Home Arena, sharing playing space (to an extent) with their NBA counterparts.
"We drafted a team that we knew could have a strong impact on this stage," Mitchell said. "There's no adjustment, but we were very ready to get going on that stage.
"We're really rearing to go."
Martin averaged 8.3 points, 1.0 rebounds and 1.8 steals per game on 63.6% shooting last year, while Browne averaged 7.0 points, 7.0 assists and 3.0 steals on 40% shooting while playing as the team's primary point guard.
The veteran duo will slide out to the wing's in Mitchell's system, leaving the point to Splashy, who was drafted with the No. 10 overall pick of last year's NBA 2K League draft.
And the co-captain duo have taken Splashy under their wings, with Browne even acting as his roommate during the offseason and quarantine due to the COVID-19 pandemic.
"He gets him used to life in Utah and how to be that point guard for Utah Jazz Gaming," Mitchell said of Browne's leadership. "He's showing the young guys the ropes, even though he's only a third-year guy himself."
×
Related Stories