SALT LAKE CITY — Let's face it: Unlike the '20s of the last century, the 2020s are not off to a "roaring" start.
While there's no shortage of sad and scary news out there these days, there's also cause for optimism as lockdowns lift and Americans try to — slowly, cautiously — adjust to the new normal. And even though things are tight for a lot of families, their generosity is still shining through.
In this week's Uplifting Utah, we find sports stars donating to local food banks, young volunteers helping Utah fight COVID-19, a big donation from an unexpected location, and a man who's been fighting for Utah's forgotten animals since long before the pandemic began.
Here are four stories to brighten your day:
Jazz giving back
It's the final day of #DrivenToAssist where we're collecting contributions for the @UtahFoodBank at LHM locations across Utah.

Details + locations here » https://t.co/5Zf4KqB4q8pic.twitter.com/GUfv2FuUco

— utahjazz (@utahjazz) May 6, 2020
Thanks to Georges & Joe for their donations ❤️ pic.twitter.com/zhrgzwOWOY

— utahjazz (@utahjazz) May 6, 2020
Prudential honors 2 Utah youth volunteers, donates $2,500 to local COVID-19 response
From a Prudential news release:
"Utah's top two youth volunteers of 2020, Sydney Ward, 17, of Salem and Owen Hughes, 14, of Bountiful, were recognized this weekend for their outstanding volunteer service during the 25th annual, and first-ever virtual, Prudential Spirit of Community Awards national recognition celebration.
"In recognition of the spirit of service that they have demonstrated in their communities, Sydney and Owen – along with 100 other top youth volunteers from across the country – were also each given $2,500 to donate toward the local COVID-19 response efforts of a nonprofit organization of their choice. These funds come in addition to the $1,000 scholarship and engraved silver medallion they earned as Utah's top youth volunteers of 2020."
U. receives PPE donation from Chinese province
From a University of Utah news release:
"A shipment of 10,000 masks arrived Thursday, April 30, 2020, the boxes scribed with messages of solidarity and friendship alongside a panda graphic—Sichuan's provincial icon and a traditional symbol of peace and good luck.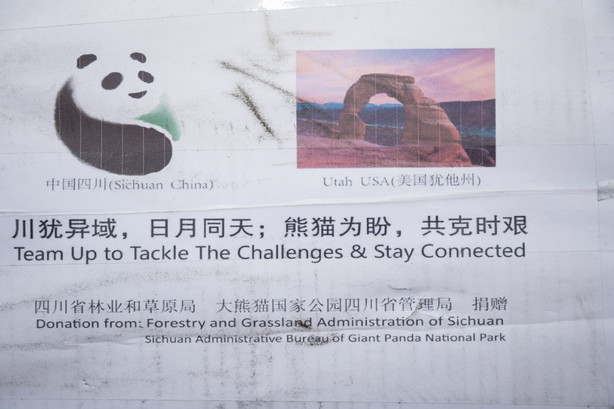 "'We are very grateful for this act of generosity and friendship by the Sichuan Provincial Forestry and Grassland Bureau,' said Ruth V. Watkins, president of the University of Utah. 'It underscores the long-term partnership the university and the Sichuan province have developed to train national park administrators in best practices. It also signals what I hope will be an ongoing collaboration. We want the people in Sichuan province to know their gift is deeply appreciated.'
"The state of Utah and the U both maintain long-held collaborative relationships with China. The U is in its second year of training Chinese land management officials, including staff with Sichuan Forestry and Grassland Bureau, to support China as the country launches its first national parks program. Over the past four years, the U has also trained hundreds of athletic coaches from across China through its Pac-12 China Coaches Training Program.
"This type of long-term collaboration has initiated close personal relationships and, as COVID-19 has challenged countries across the globe, Sichuan leaders sought out ways to support their friends in Utah.
"'This is truly about people helping people and it's the result of long-standing relationships. We are very grateful,' said Franz Kolb, director for international trade and diplomacy with the Utah Governor's Office of Economic Development.
"The masks will be used to protect health care providers, patients and visitors to the U's health care facilities."
— Cecily Sakrison, U. Office for Global Engagement
Utahn is finalist for national Petco Foundation honors
Click here to vote for Darrell.
×
Related Stories