Estimated read time: 4-5 minutes
This archived news story is available only for your personal, non-commercial use. Information in the story may be outdated or superseded by additional information. Reading or replaying the story in its archived form does not constitute a republication of the story.
In the face of the COVID-19 pandemic, University of Utah Health's Virtual Prenatal Care program is more relevant now than ever for expectant mothers.
The program was the brainchild of Erin Clark, MD, U of U Health's chief of the Division of Maternal-Fetal Medicine. She and her team deliver approximately 4,000 babies a year.
Because of the pandemic, Clark knew she had to protect her patients from the virus. She credits University of Utah Health's administration with supporting her push to grow the telemedicine program, one she founded and launched two years ago. While little is known about pregnancy and COVID-19, pregnancy does result in the mother's immune system changing to tolerate the fetus, making them more susceptible to some viruses, like influenza.
Prior to COVID-19, growth in the virtual prenatal care program had been driven by women who were early adopters of mixing telemedicine with face-to-face visits. They appreciated saving gas money and time on travel while not having to hang out in the waiting room if their physician was busy with a birth.
Before the virus, 10 to 20% of Clark's and her clinic's patient population used telemedicine services. Now, the majority use the program.
"The messaging is different," Clark says. "For your own safety and the baby's safety, we need to reduce the number of face-to-face contacts if we can and replace some visits with telemedicine."
One convert to the virtual prenatal program is Annie Mast, who works as a fourth-grade teacher and lives in Green River, Wyoming. Mast is a type 1 diabetic and sought a high-risk pregnancy specialist to care for her when she had her first baby. She found Clark at U of U Health and says she and her husband "fell in love with her," during their first visit. Compared to the 12 times she and her husband made the three-hour drive to Salt Lake City to see Clark, the opportunity to stay at home and talk to her online through the virtual prenatal care program was a welcome respite from the travel.
Mast first learned about the program 12 weeks into her second pregnancy. She and her husband drove to Salt Lake City for an ultrasound and a nurse asked if they'd be interested in doing some of the visits virtually. That was just before the COVID-19 outbreak.
Virtual prenatal care requires that the patient has access to technology. The vast majority of people in the state have a smartphone, Clark says, which allows patients to take advantage of telemedicine. A simple phone call "can also be a fine substitute," she notes, "since it gives you a lot of the same information and also time for counseling." Patients use home monitoring devices to measure blood pressure, weight, and the baby's heartbeat.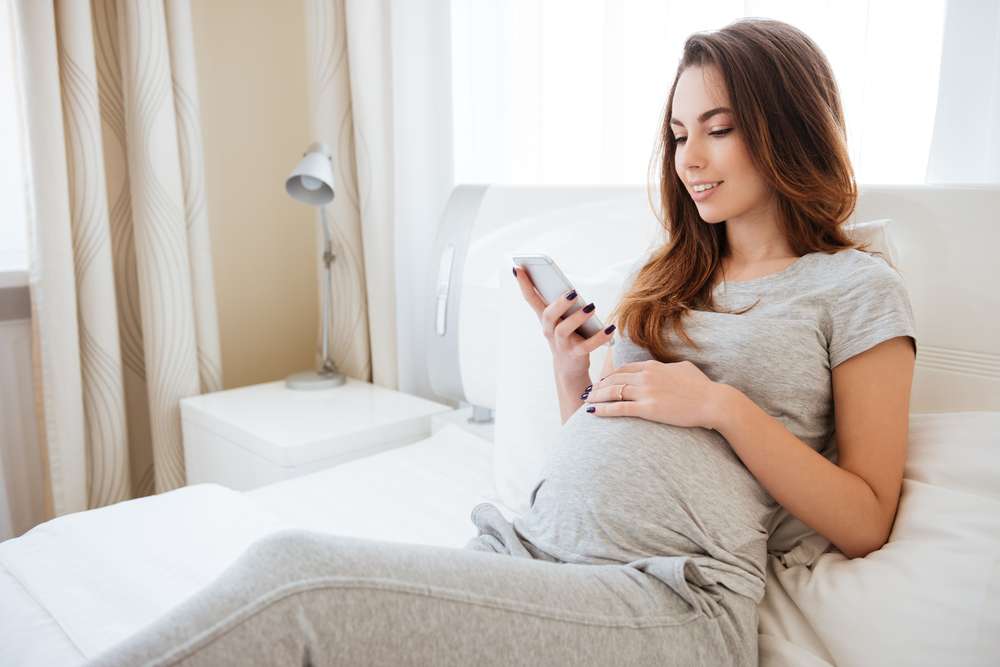 Ideally, patients have five face-to-face visits and seven with telemedicine. But with the flexibility of the system, Clark says, "There's always more variety in real life." The first time Mast did virtual prenatal care from her Wyoming home, she took her own weight, blood pressure, and fetal heartbeat and entered them into the online chart. The convenience of telehealth became clear to Mast as she waited to talk with Clark, who was busy delivering a baby. Rather than having to pick up a magazine in Clark's waiting room, Mast put her computer screen on mute and washed the dishes.
"As far as the appointment itself, the conversation was pretty much the same as always," Mast recalls. After that virtual visit, she drove down to Salt Lake City to see Clark with her family in March 2020, as it had been two months since the first ultrasound.
"We're supposed to have another ultrasound in a month," Mast says. "We'll play it by ear. It's definitely a concern to be in the clinic at this point, but for our baby's health, it's concerning not to be there as well. I trust Dr. Clark and her team and know that they would not put me in harm's way."
For Mast and so many of her other pregnant patients, Clark has felt some of the burden fall away thanks to telemedicine. "Annie is an example of us providing care for people where they are, something that as an industry health care is not famous for," Clark says. "We can connect at their kitchen table."
Mast agrees. The telemedicine program, she says, "is a wonderful opportunity for people to get the care they need, have questions answered and concerns addressed, and still stay in the safety of your home."
Clark admits the success of her program has been bittersweet, given it took the virus to ramp up usage. Nevertheless, she says, "It's been rewarding to me that the program we conceived is having this innovative benefit in a time of crisis."
×