SALT LAKE CITY — Here are 10 stories you may have missed over the weekend. As always, click on the headline to read the full story.
1. Community leader Robert H. Garff dies of coronavirus
Former legislator Robert "Bob" H. Garff, 77, died from COVID-19 on Sunday, according to a Facebook post by his daughter Rep. Melissa Garff Ballard, R-Utah.
2. Beauty salons, spas close while grocery, pet stores 'essential' in Salt Lake County public health order
Salt Lake County Mayor Jenny Wilson and the Salt Lake County Health Department issued a new public health order Sunday for the county after the state's "Stay Home, Stay Safe" order issued Friday.
3. Health officials report 719 COVID-19 cases in Utah
The Utah Department of Health released the latest figures for COVID-19 infections in Utah on Sunday, revealing 719 positive tests.
4. New York state surpasses 1,000 coronavirus deaths
New York state's death toll from the coronavirus outbreak surged Sunday above 1,000, less than a month after the first case was detected in the state.
5. Krispy Kreme is giving out a free dozen doughnuts to healthcare workers
Mondays may have just gotten a little sweeter, particularly for healthcare workers battling the ongoing coronavirus epidemic.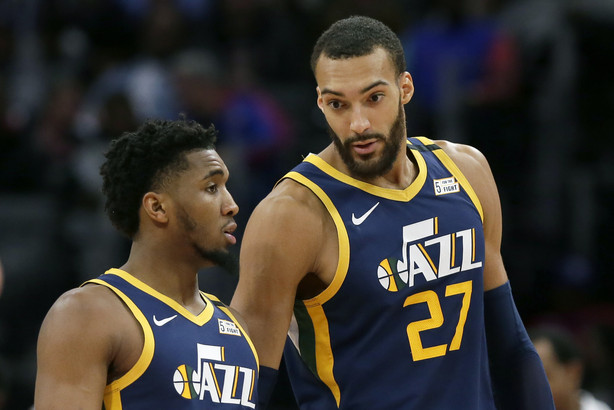 Sports
1. Donovan Mitchell and Rudy Gobert cleared of COVID-19
On Friday, the Utah Jazz announced that all players and staff — including Gobert and Donovan Mitchell — have been cleared of COVID-19. The team will continue to practice social distancing while limiting time outside of their home to essential activities.
2. Who's Zooming? Van Noy, Dolphins newcomers get virtual introductions
As linebacker Kyle Van Noy visited with reporters for the first time since joining the Miami Dolphins, he wore headphones — not for noise canceling, but to hear the questions.
3. Vote: Reno Mahe challenges Kalani Sitake, BYU coaches to dance-off and the results are exactly what we need
It started with a challenge: a dance-off from former BYU and NFL standout (and one-time Cougar running backs coach) Reno Mahe. The Brighton High alum challenged his compatriots to a "throwback dance-off" by posting video of himself, his wife Sunny and their children busting a move (and maybe something else) to New Kids on the Block's "The Right Stuff."
4. New captain Amy Rodriguez, Utah Royals FC offer leadership while NWSL on hold for virus
New Utah Royals FC coach Craig Harrington knew exactly why he wanted to name forward Amy Rodriguez as the first captain of his first head coaching job.
It took less than a day of training to see why he wanted that leadership, too.
5. NCAA Transfer Tracker: Zdor out, GCU's Isiah Brown in at Weber State
On the same day Weber State lost another player to the transfer portal — the Wildcats' fourth since the season ended — another came committing through the open door.
×