SANDY — Justin Meram has been to plenty of cities and stadiums in his Major League Soccer career.
The 31-year-old Iraqi international from Michigan has played with Columbus, Orlando and Atlanta before most recently signing with Real Salt Lake to begin his ninth season in MLS. He knows the value of a crowd, a home stadium, an atmosphere that can push the hosts to a win — the difference between three points and an unsatisfying draw.
Fans have power in MLS, like those who booed him upon his return to central Florida for last week's season-opening 0-0 draw at Orlando City SC.
"It's sports; players get booed all the time in different venues," Meram said after training this week in Herriman. "I was there before with Atlanta and knocked them out of the semifinals. Maybe they're still bitter from that."
Meram doesn't expect many boos this Saturday, when RSL welcomes the New York Red Bulls to Rio Tinto Stadium (12 p.m. MT, KMYU). Good thing, too, because RSL fans have a bit of a reputation.
"The fans are fantastic here," Meram said. "I've been here over the years, and they definitely make it hostile. When you add in the altitude and the way RSL plays, you get a little bit under it. You're facing all the circumstances, and it's kind of difficult."
For the first time in his career, Meram will get to see the support — not the hostility — the RioT fans can give.
"It'll be good to be on this side of it," he said. "I've felt the altitude the last couple of days here, which is good. It puts your body through a different type of stress and you build more fitness. I'm just trying to use it to my advantage in the short time I've been here."
Justin Meram a healthy smattering of boos last Saturday in his return to Orlando. How did he handle it?

"That's sports." #RSLpic.twitter.com/ZwKc43YKaK

— Salt City FC (@saltcityfc) March 3, 2020
He'll need it, too. So will RSL, which is still searching for its first win following opening week after several seasons opening up on the road.
The Red Bulls (1-0) won't make it easy. The New York side took a 3-2 win over FC Cincinnati with three different goal-scorers last week, hitting the ground running on offense in Chris Armas' third season as manager.
RSL's job is to halt it at home.
"We know Rio Tinto is our fortress," RSL defender Aaron Herrera said. "It always has been; last year it was, and the year before that it was. I think teams are a little intimidated to come in here, and that's due to the elements and the fans. We're always excited to come home."
Salt Lake (0-0-1) is in a slightly different position than New York. The club had just five shots, including one on target, in holding the Purple Lions scoreless over 90 minutes.
First-year head coach Freddy Juarez knows his offense is still a work in progress. It's still early, and health plays a role in that, too. Each of Meram, the attacking winger, new acquisition Giuseppe Rossi and forward Corey Baird came off the bench last Saturday — all as they work their way back to full fitness.
Meram knows it, too. He was recently kicked out of the Zion's Bank Real Academy training facility after everyone had gone home — the groundskeeper, the cooks, the equipment managers, everyone.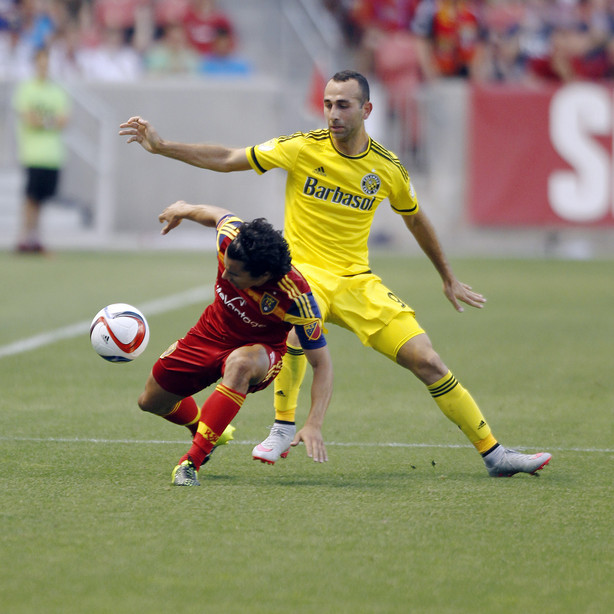 "I was cleaning the dishes," he joked of his late night in the facility.
RSL is hoping Meram's new-found love of fitness pays off with more minutes — and maybe even some goals — by the weekend.
They're also hopeful for a swift integration of Jeizon Ramirez, the 18-year-old Venezuela striker who signed with RSL from Deportivo Tachira in the offseason. The dynamic attacker made his professional debut with Tachira at just 16. He scored five goals with seven assists in two seasons for the Copa Libertadores qualifiers prior to signing as a young designated player — and he's eager to get on the field after finally arriving for training Tuesday in Utah.
"I'm really happy. It's a big step in my career," Ramirez told reporters in Spanish, "and I need to take advantage of it as much as possible.
"My style is unique, like everyone else's. But it's just a matter of adapting to my coaches. What they tell me to do, that's what I'll do."
"He put a smile on a lot of people's faces."

The Boss on Ramirez's first day. #RSL || #DaleRSLpic.twitter.com/NX3X49eXhn

— Salt City FC (@saltcityfc) March 3, 2020
Ramirez is also excited to work with his teammates — in particular, Rossi, the former Italian international who has been without a club for more than two years. Rossi rose to fame as the New Jersey-born standout who ascended to the highest levels of Italy's Serie A.
The young Venezuelan had a moment to pinch himself Tuesday when he approached a penalty-kick drill and realized he was lining up to the one-and-only.
He wasn't the only one happy to be here.
"It put a smile on a lot of people's faces," Juarez said. "He had a nice touch, and I think you guys are going to like that. He's very quick, but what we really liked was when he was trying to get into a position to score, or he was shooting at goal.
"When you put players like him around Albert (Rusnak) and others like that, they get more excited. Now you can play with a bit more connection, with that free, fun soccer that we are looking for. It's fun to have talented players around you."
×
Related Stories