Estimated read time: 4-5 minutes
This archived news story is available only for your personal, non-commercial use. Information in the story may be outdated or superseded by additional information. Reading or replaying the story in its archived form does not constitute a republication of the story.
Editor's note: This article is a part of a series reviewing Utah history for KSL.com's Historic section.
SALT LAKE CITY — Jose Valdez was just 20 years old when his outpost was attacked by German forces outside Rosenkrantz, France, during the waning months of World War II. Outmanned, he fought back anyway, keeping the enemy at bay until reinforcements could arrive.
Valdez was a private first class in the Army during the Jan. 25, 1945, attack. He died 75 years ago Monday and was posthumously awarded the Medal of Honor — the most prestigious military honor — shortly after in 1946. He was Utah's first Latino recipient of the Medal of Honor. On Thursday, Rep. John Curtis, Utah Attorney General Sean Reyes and even a few military veterans were on hand to remember Valdez's heroic efforts.
There aren't many records or even photos of Valdez. He was born in New Mexico in 1925. By 1944, he was living in Pleasant Grove when he enlisted in the Army at 19 years old. On Jan. 25, 1945, he and five other soldiers were at an outpost near Rosenkrantz, France, when enemy forces began a fierce counterattack.
The soldiers were 500 yards beyond the American lines when a German tank was spotted a little more than 200 feet away, as well as encroaching enemy forces.
Armed with only a rifle, Valdez killed three enemy soldiers and shot at the tank as the attack grew larger in size. According to his Medal of Honor citation, two full companies of infantrymen were dispatched; Valdez "immediately volunteered" to stay back while his comrades went to warn Allied forces of the incoming attack.
Valdez was shot in the stomach and the bullet went through his back. It was noted during his Medal of Honor ceremony that Valdez "regained control of himself and resumed his firing position, delivering a protective screen of bullets until all others of the patrol were safe" while he was in "agonizing pain." Using field telephone, he called for artillery fire to thwart the enemy attack.
"By himself, he held off 200 infantrymen for 15 minutes so his other five companions could escape to get back to American lines," said Senate Majority Whip Daniel Hemmert, R-Orem, who reflected on Valdez at Thursday's event. "He was wounded, but he still was able to drag himself back to American lines himself."
Valdez was taken to a hospital in nearby Houssen, France. He later died on Feb. 17, 1945.
"Through his valiant, intrepid stand and at the cost of his own life, PFC Valdez made it possible for his comrades to escape, and was directly responsible for repulsing an attack by vastly superior enemy forces," his Medal of Honor acknowledgment letter read.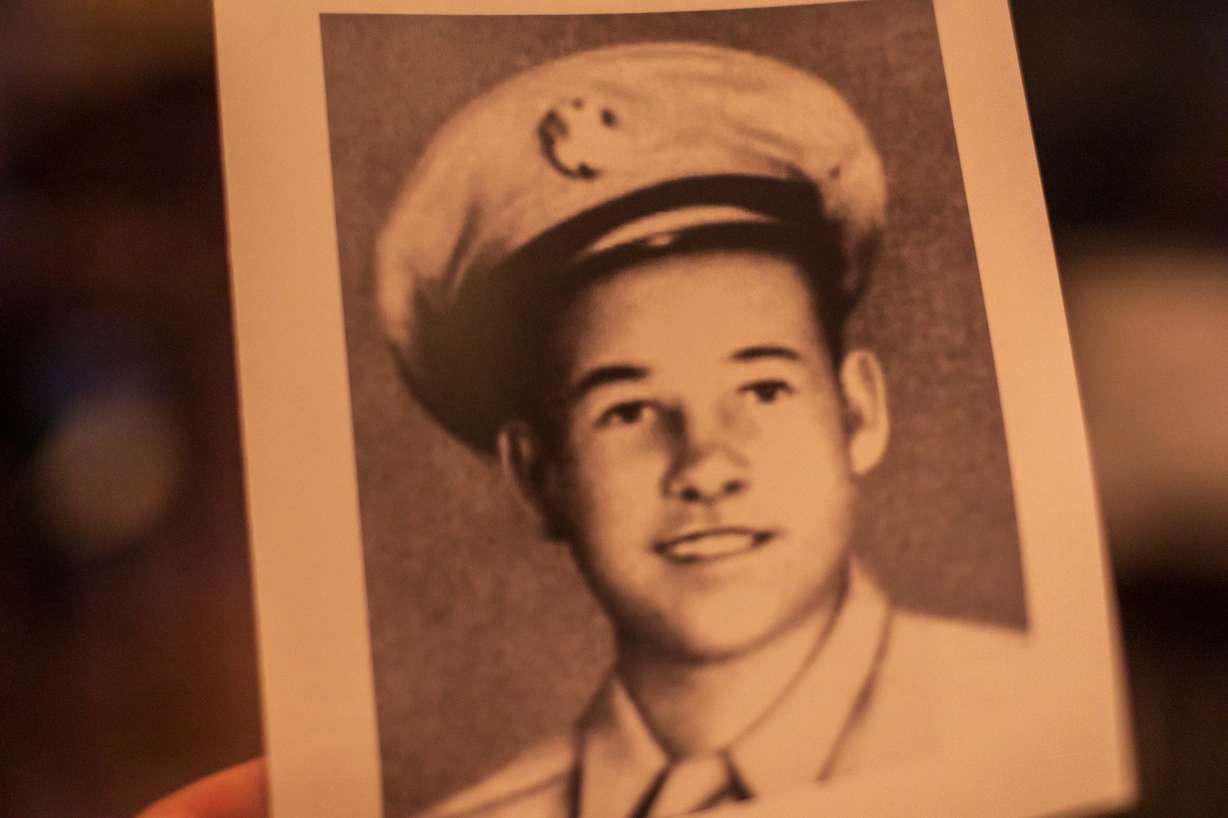 Since Valdez's death, efforts have been made to keep his memory alive. In 1988, an Army center in Pleasant Grove was renamed in his honor, according to the Deseret News. A portrait of Valdez was commissioned in 2015 so that there would be more than just three existing photos of him.
About a half-dozen of those portraits were handed to representatives of schools throughout the Wasatch Front on Thursday, so the portraits can be displayed in their schools.
There were also a couple of military veterans in attendance, as well. Robert Therron Bates, 92, of American Fork, who served in the military during World War II and the Vietnam War, was honored during the event. He said he was happy that students had the opportunity to learn about World War II veterans, especially as so many of them have died in recent years.
"(Valdez is) one that should be really looked after and memorized," he said. "I'm glad to see that the schools are at least getting a portrait and getting some history about veterans, which they're not teaching in schools. And I really appreciate being here today. It was an honor."
Reflecting on Valdez's sacrifice 75 years later, Curtis he hopes there will soon be a way to honor Valdez and everyone who has received a Medal of Honor since the Civil War. He said he's helping put forward a bill that would create a monument in Washington, D.C.
"This is one tiny little thing that I can do to express my appreciation and show my support," he said.
×
Photos
Most recent Historic stories