Estimated read time: 4-5 minutes
This archived news story is available only for your personal, non-commercial use. Information in the story may be outdated or superseded by additional information. Reading or replaying the story in its archived form does not constitute a republication of the story.
PROVO — The BYU men's basketball team, currently ranked No. 23 in the country with a top-20 KenPom rating and riding a six-game winning streak, has an important game this week.
But it's not the one you might be thinking about.
It's not the one with Gonzaga, the perennial West Coast Conference power with a "No. 2" affixed to its name in the latest AP Top 25 college hoops poll.
It's not the one that already has a sold-out Marriott Center crowd awaiting it.
It's not the one where the Cougars are hosting the only team guaranteed to finish ahead of it in the WCC standings, with three games left in the regular season.
It's the one before it: Thursday night against Santa Clara, the 18-9 team with a sub-.500 record in league play in the penultimate home game of the 2019-20 regular season (7 p.m. MST, CBS Sports).
That's the most important game of the week.
Santa Clara?
"I think we've done a great job this year of taking it one game at a time, and taking the game in front of us as the most important game that we've played," said BYU senior Jake Toolson, who averages 15.3 points, 4.5 rebounds and 4.3 assists per game. "That's the case right now. This Santa Clara game is the most important game that we'll play so far this season. We're going to approach it that way, and then, once we're done, then we'll take on the next challenge in the same exact way.
"But we've got to take care of Santa Clara on Thursday, and keep it rolling from there."
Borrowing a page out of BYU coach Mark Pope's book, the Cougars — as Toolson explained — are focused on the next game.
You can't win two without winning the first one.
And a win over the Broncos (18-9, 5-7 WCC) matters for BYU, which could win its seventh straight in league play.
With a win, BYU will clinch a top-three finish in the West Coast Conference. Combine it with either a win Saturday against No. 2 Gonzaga or next Saturday at Pepperdine, and the Cougars can carry the No. 2 seed into the conference tournament — booking a bye into the WCC tournament semifinals March 9 in Las Vegas.
The Cougars have won nine of the last 10 against the Broncos, including five straight in Provo. A 31-6 series record in favor of BYU might exude confidence.
But the Cougars are also carrying the emotions of the final homestand of the season for a senior class that includes Toolson, TJ Haws, Yoeli Childs, Zac Seljaas, Evan Troy and Dalton Nixon, who is unlikely to play with an ankle injury.
Focusing on the next game may be the best way to handle the challenge of an emotional week in the Marriott Center.
"We try to keep it as normal as possible, to approach it like any week," Toolson said. "Our goal is to win, and we're focused on that. But having these be our last home games, I think it does add a bit of a different feel than a normal week.
"But we're focused on winning this game against Santa Clara. We're definitely enjoying every moment of this journey, and not taking any of it for granted."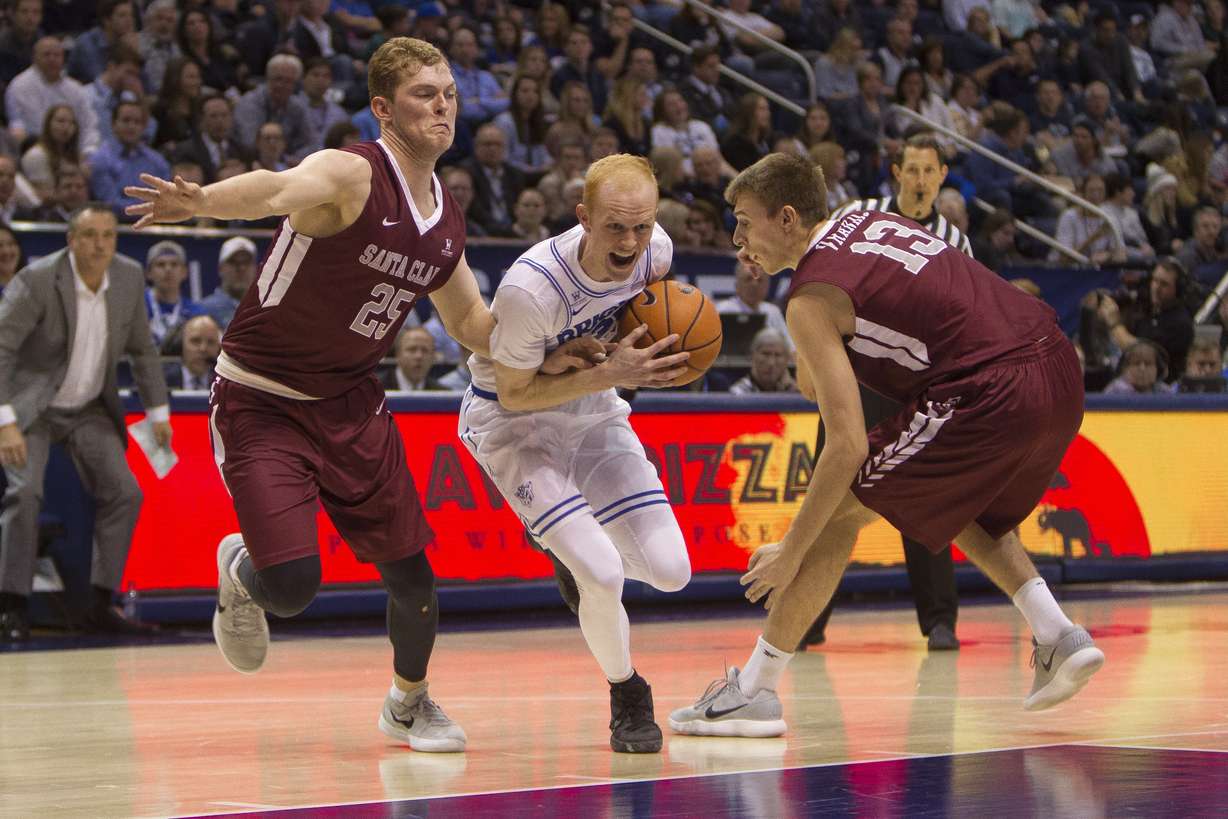 The Broncos are led by former Wasatch Academy standout Josip Vrankic, who averages 11.9 points and 5.4 rebounds per game, and Trey Wertz's 11.9 points per game.
Thursday's game will be the first meeting between BYU and Santa Clara, a byproduct of the West Coast Conference's shift to trimming two games from each team's schedules.
"It's a little bit different. But we've been watching them; they're good," Pope said. "They're really scary; the 15th-longest team in the country and they've won big games on the road this season.
"They can really shoot it, and they're good at ducking off ball screens and in transition. It's different that we haven't played them, but it doesn't change the magnitude of the game."
Santa Clara (18-9, 5-7 WCC) at No. 23 BYU (21-7, 10-3 WCC)
When: Feb. 20 at 7 p.m. MST
TV: CBS Sports Network (Michael Grady, Ryan Hollins)
Streaming: CBSSports.com
Radio: BYU Radio 89.1 FM, KSL 102.7 FM/1160 AM (Greg Wrubell, Mark Durrant)
Series: BYU leads 31-6
×
Related stories
Most recent BYU Cougars stories