Estimated read time: 4-5 minutes
This archived news story is available only for your personal, non-commercial use. Information in the story may be outdated or superseded by additional information. Reading or replaying the story in its archived form does not constitute a republication of the story.
PROVO — Drew Brees is coming back to the NFL.
While the future of the New Orleans Saints star quarterback remains uncertain — he'll be a free agent in March — the likelihood of him leaving the Big Easy seems dubious, at best.
Without revealing his destination — which also remains tied up in contract negotiations between Brees, his agent, the Saints, and other interested parties — Brees revealed his intentions to return to the NFL for his 20th season.
"I look forward to the grind and the journey, for the reward at the end will be worth it," he wrote on Instagram. "Love you, WhoDatNation. Let's make another run of it."
What does that mean for the Saints' other quarterbacks, particularly former BYU star Taysom Hill, who will be a restricted free agent in March?
The Pocatello, Idaho, native shed a little light on his situation during an interview with The Adam Schefter Podcast on ESPN — but mostly, he shed some light on the unique, symbiotic relationship the third-string quarterback had with his team's starter the past three years.
"I have so much respect and admiration for Drew," Hill told Schefter, just moments after Brees' big announcement Tuesday. "I will support him for as long as I can. I hope he continues to play.
"I would love to play with Drew again. I think having three years behind him has been the best thing for my career."
Hill pointed to being in the huddle with Brees on game day, either as a tight end, running back, H-back or otherwise, as being invaluable to his three-year NFL career.
One day, he'll be his own quarterback, and maybe even a full-time NFL starter. For now, the BYU product is content to live and learn from one of the greatest signal callers to ever play in the National Football League — if that's what the Saints decide, and what Hill's representation feels is best for his career and his family, including wife Emily.
"Drew has been a great asset to me," Hill said. "I have so much respect for him that I told him he should play for as long as he wants, and I would love to continue to be his teammate. I have so much respect for him; it doesn't bother me."
Hill is in "no hurry" to leave New Orleans, he told Schefter. But he's also cognizant of the business of the league, and the 29-year-old QB wants to take a long look at the development of his career.
New Orleans coach Sean Payton has compared Hill to another former BYU star — longtime San Francisco quarterback Steve Young — in his athleticism and mobility, both inside and outside the pocket, as well as his ability to make plays with his legs and arm on the fly.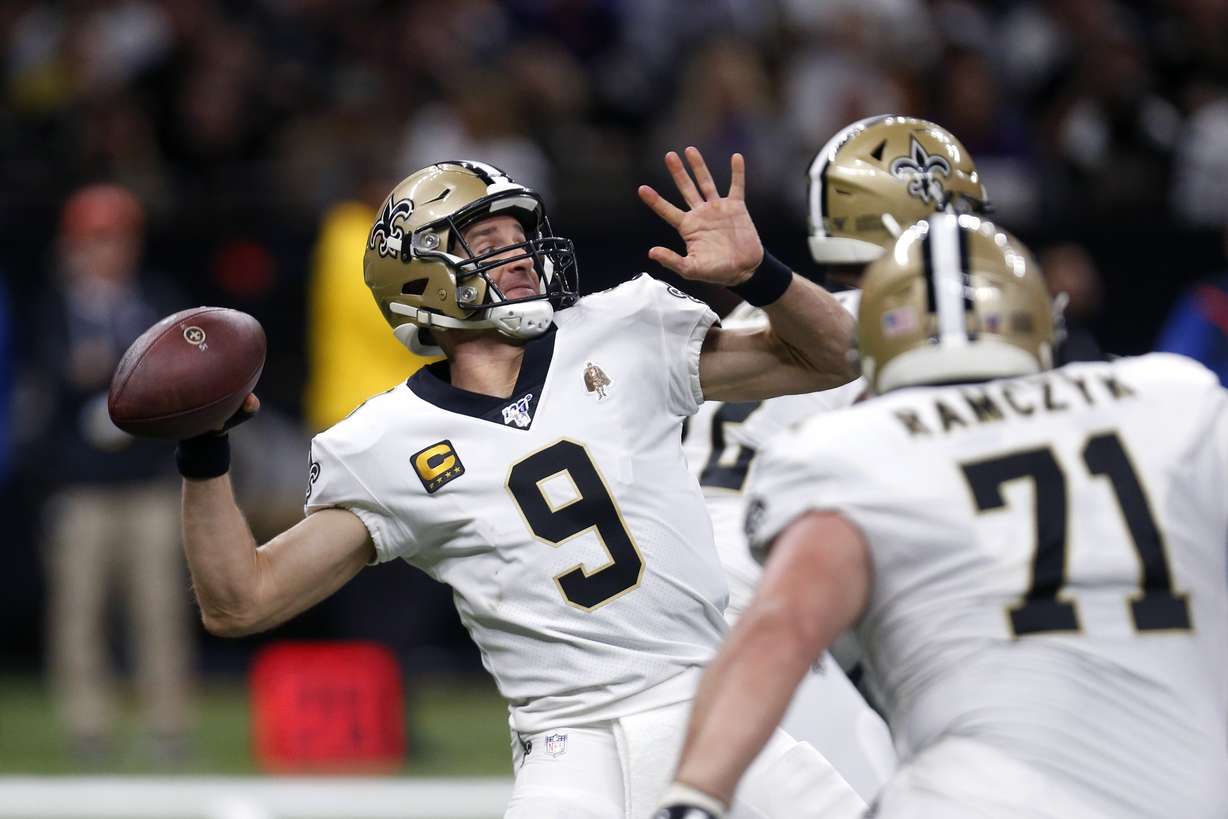 Hill called such comparisons "humbling" for his own career, even as he approaches his 30th birthday in August — and as a fan of Young, he doesn't take the comparisons lightly.
"Having played at BYU, Steve has been a great ambassador of the university," Hill said. "And he's also taken on this role of being a big brother. He's reached out to me multiple times … and he's been a great mentor that I've been able to talk to."
What Brees' likely return to New Orleans means with more certainty than Hill's own future is the departure of fellow backup Teddy Bridgewater. The Saints will be hard-pressed to retain all three signal callers on the roster, and Bridgewater's value to another franchise will likely push him elsewhere.
"I have a lot of respect for Teddy," Hill said. "It's not easy to come in and back up a guy like Drew, and when he goes down, to step into that role. Teddy handled it like a champ.
"I think he's a great leader. I think he's a great locker room guy … and he's a smart player."
×
Related stories
Most recent NFL stories