Estimated read time: 3-4 minutes
This archived news story is available only for your personal, non-commercial use. Information in the story may be outdated or superseded by additional information. Reading or replaying the story in its archived form does not constitute a republication of the story.
SALT LAKE CITY — Both directions of I-15 in Lehi have reopened and Big Cottonwood Canyon has reopened for uphill traffic after icy road conditions and crashes affected travelers Monday morning.
All northbound lanes of I-15 reopened at Main Street in Lehi about 8 a.m., according to Utah Department of Transportation spokesman Jeff Dupaix.
As of 9:45 a.m., all lanes of southbound I-15 were reopened after a crash near 2100 North, according to UDOT.
Those traveling in the area are urged to slow down and consider alternate routes.
A large amount of traffic moved through I-15 in Lehi about 5:30 a.m., which was about the same time that temperatures dropped and moisture on the road turned to ice, Dupaix said. Roads in the rest of Utah County were mostly clear as of 8 a.m.
In Salt Lake County, state Route 190 in Big Cottonwood Canyon was closed to uphill traffic from about 11:15 a.m. to 1 p.m. due to extreme congestion, according to UDOT. Traffic was shut down at the mouth of the canyon, but buses and canyon residents were still being allowed through, UDOT said.
Little Cottonwood Canyon reopened shortly after 9 a.m. after being closed for avalanche work, according to UDOT; it had been closed since 4 a.m., the agency reported.
As of 10:30 a.m., chains, 4-wheel drive or approved traction devices were no longer required for vehicles heading up Little Cottonwood Canyon and state Route 190 in Big Cottonwood Canyon, UDOT said.
U.S. Highway 191 is closed at the Utah-Wyoming border in eastern Utah due to weather conditions, according to UDOT. Eastbound I-80 also is closed at Evanston, Wyoming.
Multiple lanes in both directions of U.S. Highway 6 were blocked as of 10 a.m. by a semitruck that jackknifed just west of the Tie Fork rest stop in Utah County, UDOT reported. Authorities were at the scene and working to get the crashes cleared, according to the Utah Highway Patrol.
Highway patrol troopers reported at least 84 crashes on I-15 as of 10:40 a.m. since midnight Presidents Day.
In one of these, a 22-year-old man suffered serious injuries after his Ford Ranger pickup truck crashed about 6:45 a.m. on eastbound I-80 near 1100 East, according to the Utah Highway Patrol.
The truck hit a concrete barrier on the right side of the road, ejecting the man, who was not wearing a seatbelt. He was taken to University Hospital with a skull fracture, facial lacerations and a possible broken wrist, highway patrol officials said.
The man was not identified. An investigation determined the truck was going too fast for the icy conditions, UHP said.
Weather
Snow ended around 7 a.m. in most areas across the Wasatch Front, and conditions are expected to be sunny for the rest of the day Monday, according to KSL meteorologist Grant Weyman.
Most of the Wasatch Front into the valleys saw rain that turned into snow with colder overnight temperatures.
Powder Mountain, Kings Peak, Trial Lake and Brighton are all expecting 3 to 4 inches of snow on Monday.
The high for Monday in Salt Lake is expected to be around 39 degrees. Some snow showers are possible late Monday night, Weyman said. Temperatures will get warmer toward the end of the week, with highs expected in the 50s over the weekend, he added.
Avalanche conditions are present in all the mountain ranges in northern Utah, according to the Utah Avalanche Center.
Avalanche danger is currently high in the Wasatch Mountains in Salt Lake and Utah counties, as well as in Box Elder and Cache counties near Logan, according to the center.
Danger is rated as considerable in the Wasatch Mountains in Weber and Davis counties and the Uinta Mountains. Avalanche conditions are rated moderate on the Wasatch Plateau in central Utah.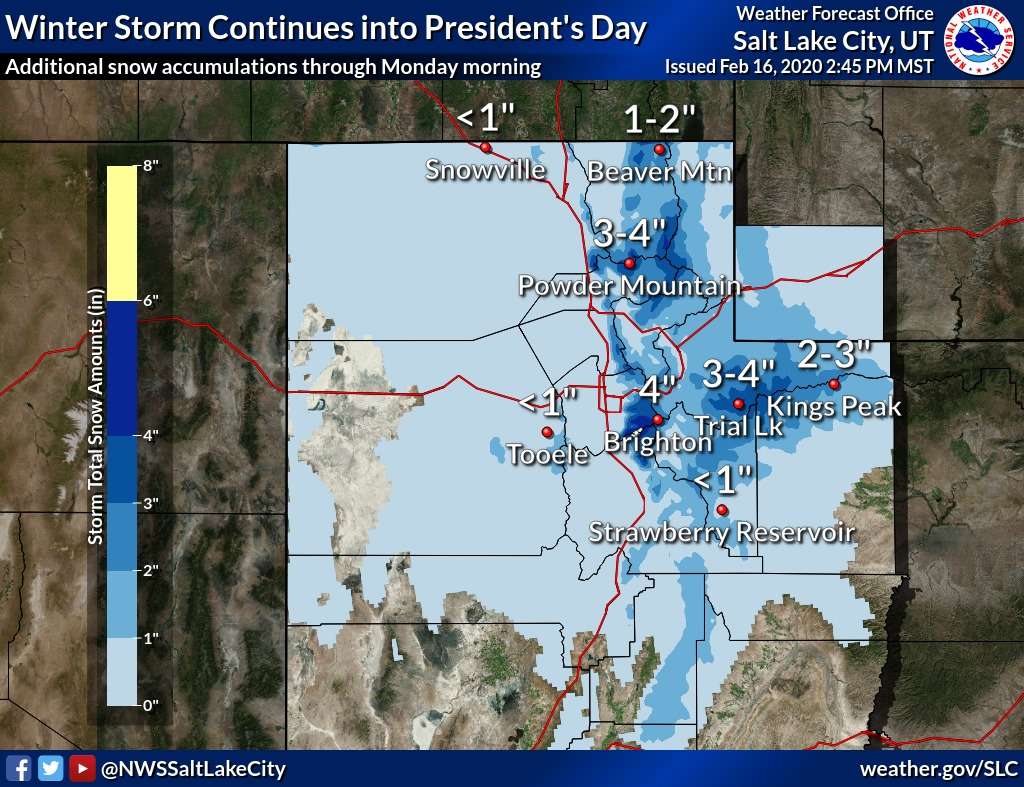 Contributing: Amanda Dickson, KSL NewsRadio
×
Most recent Utah stories