Estimated read time: 4-5 minutes
This archived news story is available only for your personal, non-commercial use. Information in the story may be outdated or superseded by additional information. Reading or replaying the story in its archived form does not constitute a republication of the story.
SALT LAKE CITY — Rudy Gobert didn't know anything about Donovan Mitchell when the Jazz traded for him during the 2017 NBA Draft. He didn't watch Mitchell during his days at Louisville and hadn't heard about his now-famous pre-draft workout in Salt Lake City. So you could say he was pleasantly surprised when he got his first glimpse of the player who is now his All-Star teammate.
"When I started watching him in summer league, I could tell that he was very competitive," Gobert said. "I really liked his mindset — trying to prove to everyone that he should have been drafted higher. It was pretty fun to watch."
It's no shock that resonated with Gobert.
This is the player who chose No. 27 to serve as a constant reminder that 26 teams had passed on him in the 2013 draft — and yes, that list includes the Jazz too. It is the player that had to fight his way through the G-League to prove that he deserved a legit NBA chance. It is a player who, last year, broke down in tears because he didn't get a chance to reward his mother by telling her he was an All-Star.
He is a player who cares. He saw the same thing in Mitchell. It's no wonder why then on Sunday, the two Utah Jazz stars will take the stage at United Center in Chicago and be introduced as All-Stars.
It's a moment that that has been a long time coming.
"(It's) showing kids you don't have to be talked about," Mitchell said. "You don't have to be highly ranked; you can just be the best if you continue to work and continue to push yourself. I think we live in a world where kids always want to be on social media and want that instant gratification but sometimes it's a process; it's not always going to come to you like that."
That helps sums up Gobert and Mitchell's paths to the All-Star game — paths that are, in many ways, similar.
Both are sons of former professional athletes. Gobert's father, Rudy Bourgarel, played on the French National team; Mitchell's father, Donovan Sr., played minor league baseball.
Both have strong bonds with their mothers. Gobert's mother, Corinne, raised three kids herself. Mitchell's mother, Nicole, taught her son the importance of education over sports.
It was a letter from his mom that Mitchell read when he first was named an All-Star. And it was his mother — not getting snubbed — that made Gobert emotional after not being named to the team last season.
Both have been overlooked. Mitchell wasn't an All-American coming out of high school. Gobert saw his once-lottery stock plummet to the end of the first round.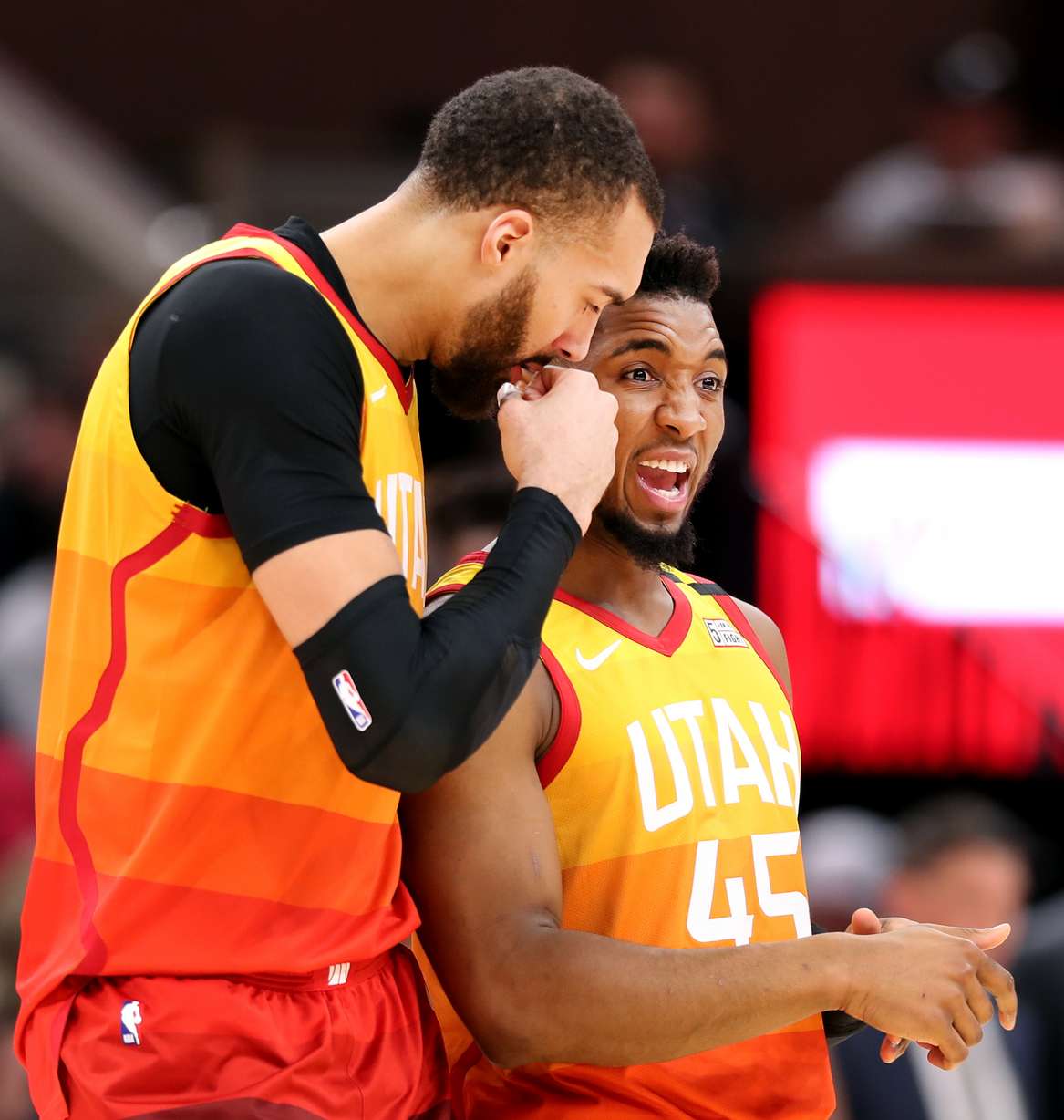 Gobert won two Defensive Player of the Year awards before being named an All-Star — and his overall impact on games still isn't widely appreciated. As for Mitchell, there was a narrative that he took a step back in his second season, despite averaging over 25 points in the final four months.
Both have also seen their greatest accomplishments come while playing alongside each other. That's not a coincidence.
"We want to help each other shine," Gobert said. "We know if we want to be a great team, we are going to need that relationship. I really like the way he has grown over the years."
This current Jazz era will be defined by how far Gobert and Mitchell can lead the team. They know this, understand it and happily accept it. It's a bond that began when Gobert first saw Mitchell on the court two summers ago and one that is continuing to get stronger as the two players share the responsibility of elevating a franchise.
"For me to go out and put on just for Utah, it is truly special," Mitchell said. "We're kind of overlooked in a lot of different things, so for us to be out here and make a name for ourselves is really cool, and hopefully do this for many years to come."
Both players see this weekend as one of many trips to the NBA's midseason showcase. Mitchell is in just his third season and Gobert is just 27 — both should only continue to get better. The Jazz, though, haven't had a player that has made more than two All-Star games since the days of Karl Malone and John Stockton.
Fitting then that Mitchell and Gobert, in some ways, see themselves as the new tandem that can push the Jazz among the league's elite again.
Because it's about so much more than representing the Jazz and the state on a weekend in February, it's about going on deep playoff runs and maybe, just maybe, winning that elusive title. That's the goal at least.
Yes, Sunday will be the fulfillment of a dream both have had for a long time, but it's not the biggest one they've had.
And they are hoping to accomplish that one together, too.
"Personally, to the organization, to the team, the fans, we're gonna go out there and be the best players that we can be," Mitchell said. "At the end of the day, we both talk about it, this (the All-Star Game) isn't the end-all."
×
Most recent Utah Jazz stories