Estimated read time: 4-5 minutes
This archived news story is available only for your personal, non-commercial use. Information in the story may be outdated or superseded by additional information. Reading or replaying the story in its archived form does not constitute a republication of the story.
SALT LAKE CITY — It's time to take a deep breath.
For the next week, the usual ruckus at Vivint Arena will be silent. While the NBA world converges onto Chicago for this weekend's All-Star break, most of the Jazz will get a chance to step back and rest (and even All-Stars Donovan Mitchell and Rudy Gobert said they will use the days following Sunday's showcase to get some downtime).
"I think the time away, naturally, is invigorating," Jazz head coach Quin Snyder said, "both as much mentally and emotionally as physically — those things are tied together."
The season is long. It's full of countless narratives, stretches of poor play, winning streaks and everything in between.
How you feel about the Jazz's chances to go on a deep playoff run this season likely depends on what part of the season you are currently remembering.
When Bojan Bogdanovic hit a game-winner to beat the mighty Milwaukee Bucks in early November, anything felt possible.
When Utah followed up a 1-4 road trip with a dispiriting loss to the Oklahoma City Thunder, hope was just about diminished.
When the Jazz traded for Jordan Clarkson during a run where they won 19 of 21 games, the Jazz looked like world-beaters.
When they lost five in a row, it looked like they couldn't hang with playoff teams.
But now they get a long break after winning four in a row. And, well, they're feeling pretty good.
With 28 games to go, the Jazz sit at 36-18. They are just a half-game out of the third seed and just 1.5 games back from the second.
"I really like where we are right now," Gobert said. "I feel like we have a lot of room to get better and to grow. But I just love the way we had some ups and downs and, no matter what, we kept working hard. We kept going."
Snyder knows it sounds boring — knows that it sounds cliche — but it's the same message he has preached since arriving in Utah: his team is simply trying to improve.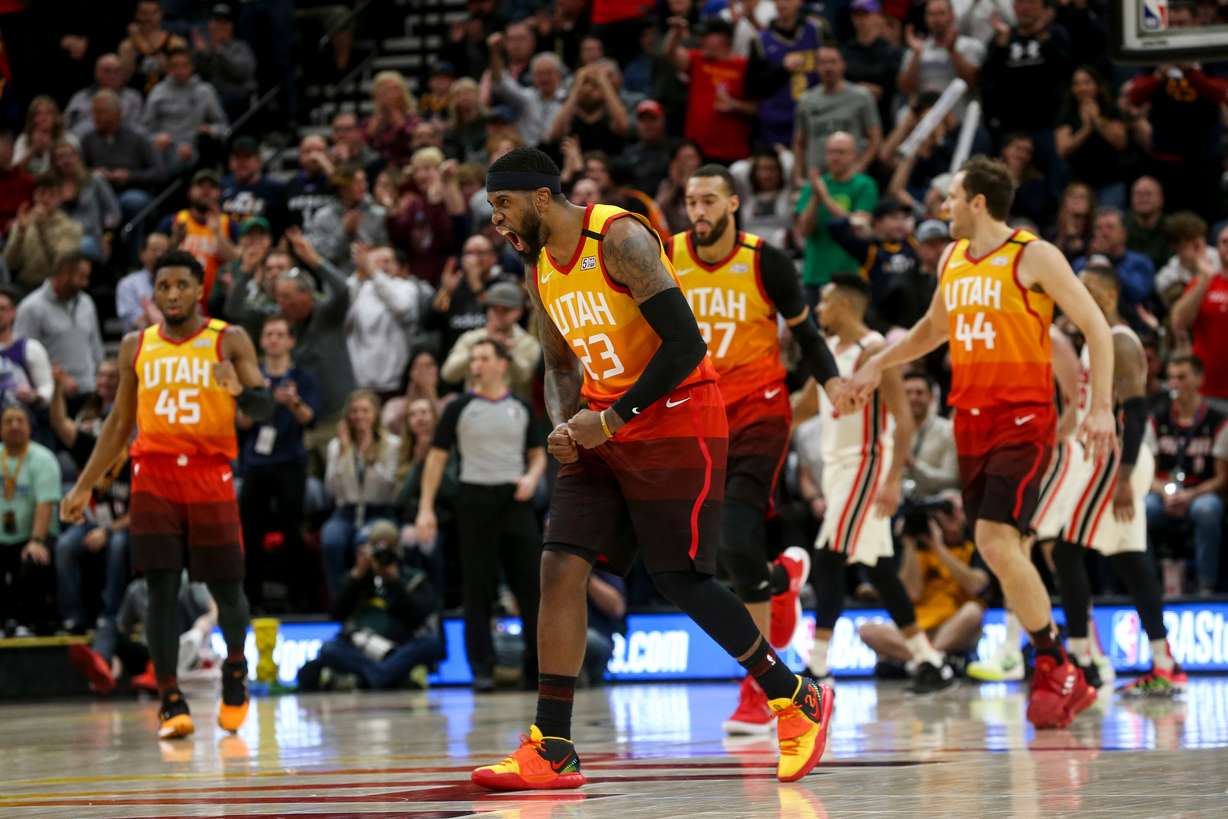 To him, it's that simple. He hasn't overreacted to cold spells, hot streaks or anything else. He wasn't worried when Bogdanovic struggled to shoot in the preseason; he didn't get too low when the Jazz struggled through the beginning of December; he didn't get too high when his team's offense was the best in the league for a six-week span.
He tried to use all those experiences to help his team and players grow.
"There's always going to be ups and downs, but I think these guys have been willing to be honest with themselves about where we need to be better," Snyder said.
So, who honestly are the Jazz? Are they a mid-level playoff team? A contender? Something worse?
The optimistic outlook shows a team in the top 10 in both offensive and defensive rating, the top 3-point shooting team in the league, and one that appears to be rounding into form.
Over the last two weeks, Clarkson has been one of the league's premier bench scorers. In the last eight games, he is averaging 21.8 points — second in the NBA in bench scoring.
Related:
In the four games since returning to the starting lineup, Mike Conley is averaging 20.3 points, 5.0 rebounds, 4.8 assists and is shooting 50% from three — looking like his old Memphis self.
On Wednesday, Mitchell and Gobert dominated one of the best teams in the Eastern Conference, reminding everyone why they are headed to Chicago this weekend.
"I think we're feeling very confident," Mitchell said. "Obviously, we had a great, great stretch (in December and January). We have things that we can definitely capitalize on. And on top of that, look at how Mike's played since he's been back. He's been phenomenal. Jordan Clarkson's been phenomenal."
But there have been lasting negatives — the Jazz's struggles on the road against premier teams, complacency, and still ironing out how to best share the ball between Mitchell, Conley, and Joe Ingles.
To Snyder, though, those issues just provide opportunities for growth.
"I thought, and think, that we should feel good about the fact that when we hit bumps in the road, we run into walls, and we can figure it out," he said.
Snyder liked how his team turned things around in the middle of a tough schedule. Yes, the Jazz suffered some inexplicable losses to thin teams on little rest in recent weeks, but how they responded to a five-game losing skid by winning their last four games heading into the break was a testament to the growth of the club.
And that has got the players eager to find out what they can accomplish this season.
"I'm excited to see where we're going to be after the break," Gobert said. "The goal is to keep getting better and better, and be ready to make the deepest run possible in the playoffs."
But first, some rest.
×
Related stories
Most recent Utah Jazz stories