Estimated read time: 3-4 minutes
This archived news story is available only for your personal, non-commercial use. Information in the story may be outdated or superseded by additional information. Reading or replaying the story in its archived form does not constitute a republication of the story.
SALT LAKE CITY — Thanks to a good Samaritan and two Utah Highway Patrol troopers, a young woman's life was saved on Wednesday after they caught her trying to jump off of a bridge.
The harrowing incident was a close call, according to UHP trooper Jim Miller, one of the men who helped save the woman.
"It was extremely close," he said. "Thank heavens that she's OK."
Miller was driving home on Wednesday evening when he saw a large police presence near the 600 North on-ramp to I-15.
In an unrelated incident, Salt Lake City police were working to find two wanted individuals in the area who had fled from officers on the ramp.
Miller noticed the woman up on the bridge and initially didn't know what she was doing — he thought she might be trying to take photos of the other incident.
Then, she began to climb over the fence.
Soon after, Miller could hear desperate cries for help from a citizen trying to hold the woman back.
Miller quickly joined the man on the bridge and grabbed onto the other side of the woman, her body now dangling above busy traffic.
"People don't realize that those bridges are very high," he said.
Luckily, another trooper was nearby; Miller got his attention and all three men pulled the woman safely to the other side.
Had the civilian not been there, things could have ended very differently, Miller said.
"There was nothing to stop her," he said. "It just would've been straight down into traffic."
The man left shortly after the incident and Miller didn't know his name.
"Thankfully, there are people who are willing to jump in and help," Miller added. "If he hadn't been there, I'm not sure that this would've been the same outcome … what a great soul to do that."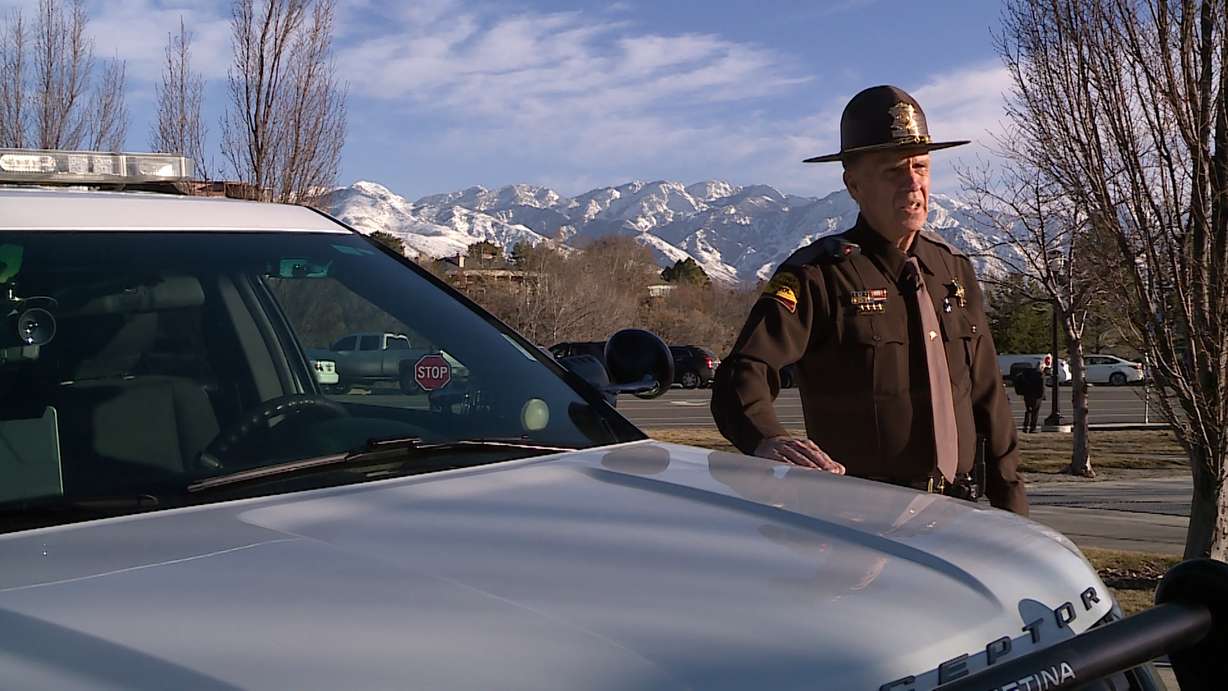 Seeing the woman in distress was hard for Miller, he said.
"You want to do something, to put your arm around people and love them and tell them that there's a better way," he said.
On Thursday, Rep. Steve Eliason, R-Sandy honored Miller as part of Suicide Prevention Day at the state Capitol.
"Hopefully, more people become aware of the signs that are given there, the red flags when people are in distress, and see if you can take the initiative to jump in and help," Miller said. "You'd rather jump in and help before it's too late."
Eliason spoke at an event hosted by the American Foundation for Suicide Prevention on Thursday and stressed the importance of the work.
"Your efforts are saving lives," he told attendees.
In 2018, suicide rates in the U.S. increased, according to statistics released by the Centers for Disease Control and Prevention.
"We still lose far too many lives," Eliason said. "We have a lot of work left to do."
Scott Langenecker, professor of psychiatry at the University of Utah, has only lived in the Beehive State for a year and a half, but he said he can tell "things that are happening here in Utah are special."
"I have never seen so much unified effort, and it makes me proud, and it fills my heart to see all of you here to do this," Langenecker said at the event. "There are stakeholders at all levels of government and community who are committed to preventing suicide."
One such stakeholder is Miller, who has 21 years of experience with UHP. Miller has a history investigating freeway suicides for the State Bureau of Investigation.
For those struggling with suicidal thoughts, Miller said he wants to tell them: "There's hope. There's a way to get through this."
Suicide Prevention Resources
If you or someone you know is struggling with thoughts of suicide, call the suicide prevention hotline at 1-800-273-TALK.

Crisis Hotlines
National Suicide Prevention Lifeline: 1-800-273-TALK (8255)
Statewide/Salt Lake County Crisis Line: 801-587-3000
Utah County Crisis Line: 801-691-5433
Wasatch Mental Health Crisis Line: 801-373-7393
Trevor Project Hotline for LGBTQ teens: 1-866-488-7386
Online Resources
Contributing: Derek Petersen, Jay Hancock and Matt Rascon, KSL TV
×
Photos
Most recent News stories