Estimated read time: 2-3 minutes
This archived news story is available only for your personal, non-commercial use. Information in the story may be outdated or superseded by additional information. Reading or replaying the story in its archived form does not constitute a republication of the story.
SALT LAKE CITY — Could electric firetrucks be coming to Utah?
Firefighters from across northern Utah met at the Sugar House fire station for their first look at an electric option for their fleets, taking rides and exploring the features of the concept truck recently unveiled by Rosenbauer, a global firetruck manufacturer.
New LED light configurations, adjustable suspension, four-wheel drive, reduced noise and a number of wireless features were among the bells and whistles that Steve John, head of Rosenbauer's special projects, touted.
But by far the biggest selling point was the reduced emissions. Besides having an ancillary diesel engine called a "range extender" to charge the truck's battery, the concept firetruck is completely electric.
"The nice thing about electric vehicles is you have no emissions, which is really big," said Salt Lake City Fire Capt. Anthony Burton.
"We've actually converted most of our light fleet to either 100% electric or hybrid," Burton said. "But of course, we're always concerned with how long will it operate and will it meet our needs."
Cities along the Wasatch Front have already begun integrating electric vehicles into their fleets — the Salt Lake City Police Department has 100 electric police cruisers, Park City has electric buses and West Valley City has hybrid public works cars. A number of firefighters at the station Wednesday said the truck could be a feasible addition to their departments.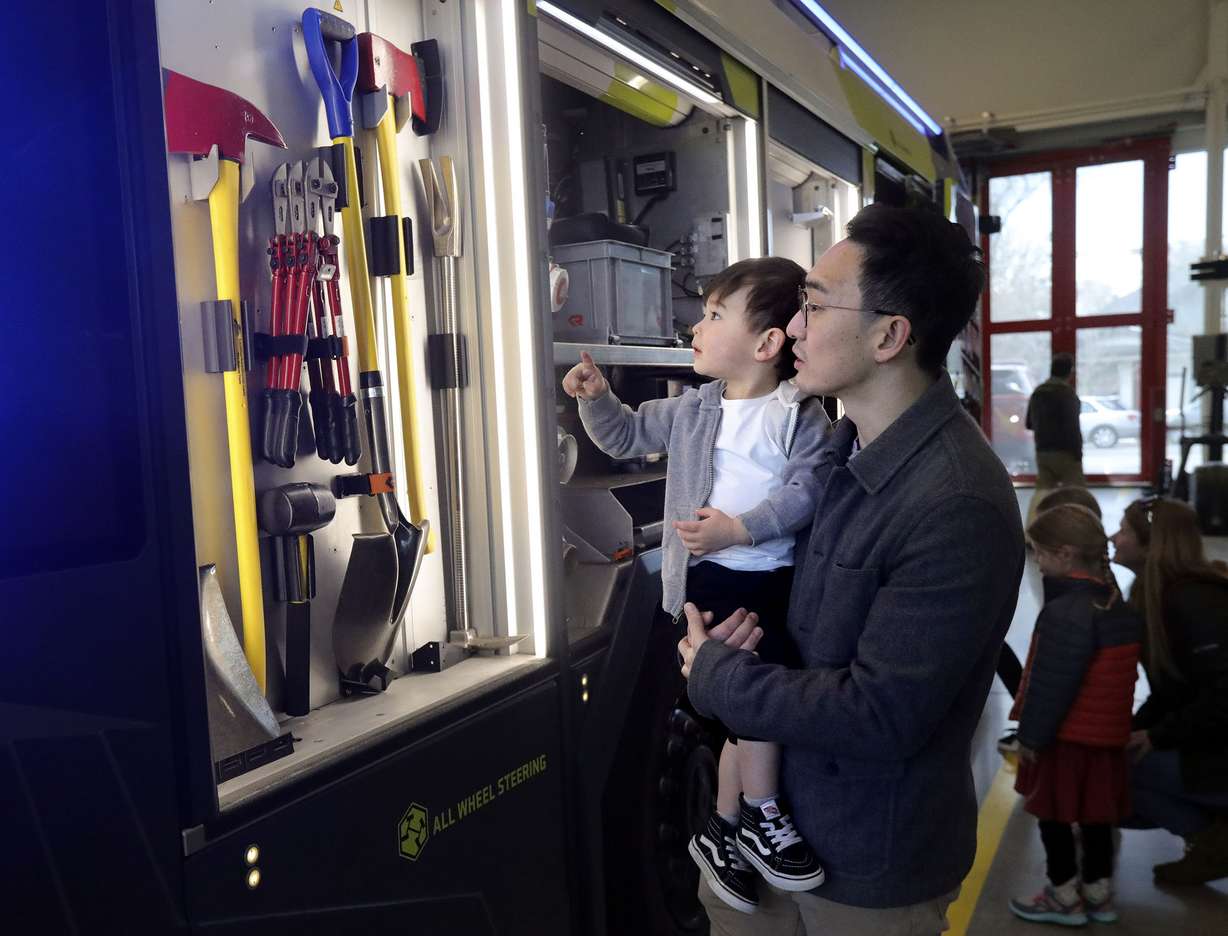 "I'm definitely open-minded," said Jeremiah Jones, deputy fire chief for the North View Fire District. "But sometimes it takes one place to get it before everybody else starts to follow suit."
"It turns on a dime," said Salt Lake City firefighter and paramedic Matt Peel. "A lot of our engines can't turn like that."
The primary concern was cost — the truck itself runs $1.2 million, which exceeds anything smaller departments like the Weber or North View districts could afford.
Other firefighters had reservations about how long the electric battery could last. Rosenbauer America's CEO John Slawson pushed back on those concerns.
"We're capable of pumping for at least four hours," he said. "But the range extender will be able to have those batteries charged for at least a total of eight and a half, nine hours."
Salt Lake City is the latest stop on the electric firetruck's North American tour.
Last week the Los Angeles Fire Department became the first department in North America to incorporate the electric firetruck into its fleet. Slawson told the KSL that Rosenbauer is finalizing contracts with six other American departments.
×
Photos
Most recent Features stories