Estimated read time: 4-5 minutes
This archived news story is available only for your personal, non-commercial use. Information in the story may be outdated or superseded by additional information. Reading or replaying the story in its archived form does not constitute a republication of the story.
PROVO — With 4:16 left in the first half and a 14-point lead on San Francisco, BYU coach Mark Pope finally didn't second-guess his gut.
For the first time this season, the first-year BYU coach sent sophomore forward Gavin Baxter into a game.
And the crowd crescendoed louder than anything preceding it as BYU built up a 37-23 lead on the visiting Dons.
For all intents of the final box score, Baxter didn't leave much of an impact in BYU's 90-76 win over USF late Saturday night, a closer game than the 14-point margin might indicate, at first glance.
The Timpview High grad had just one offensive rebound, an assist and a foul drawn on 2 minutes, 34 seconds of work. But it may have been the most praised, applauded and welcomed 2:34 of a BYU scholarship athlete in program history.
Saturday was Baxter's first playing time of the 2019-20 season, a crucial step in a long journey back from when he underwent shoulder surgery in the opening weeks of preseason practices.
"The dude has worked so hard," said teammate Yoeli Childs, moments after posting 32 points, six rebounds and two assists. "You can't imagine the work he's been putting in every single day, doing sprints on the court, agility, lifting; every day, he's worked his butt off. His determination to bring 100 percent effort every day has been incredible.
"It's going to show, as he gets more comfortable and more minutes, it's going to show and he's going to be great for us."
Baxter's return against the Dons won't be noticed outside of the slightest note in the box score. But his teammates, coaches and BYU fans are excited for his return — not for what it means now, but what it could mean in the future.
The Cougars (19-7, 8-3 WCC) have high expectations, with or without the 6-foot-9 shot-blocking forward who averaged 4.5 points, 3.0 rebounds and 1.1 blocks per game as a freshman. In large part, Baxter represents the future of the program — not just for the day when Childs, TJ Haws, Jake Toolson, Dalton Nixon and other seniors graduate, but a month or so into the future, when BYU hopes to snap a four-year drought without an NCAA Tournament bid.
Those are scary expectations, ones that Pope doesn't even like addressing openly, that the players are too scared to mention except in hushed tones, that no one wants to focus on outside of the day-to-day, one-game-at-a-time grind.
But they're there. And if Baxter can return to even a portion of what he was as a freshman, those expectations seem even more likely.
"These guys have a lot invested, and they've gotten better," Pope said. "We are a really freaking dangerous team right now; we are dangerous. But we can't be satisfied. Every team is going to make a decision in February, and probably have to keep making that decision every day, whether they are done, whether it's been too hard or too much, or whether they are going to come every single minute of every single day and fight.
"This team can actually do it."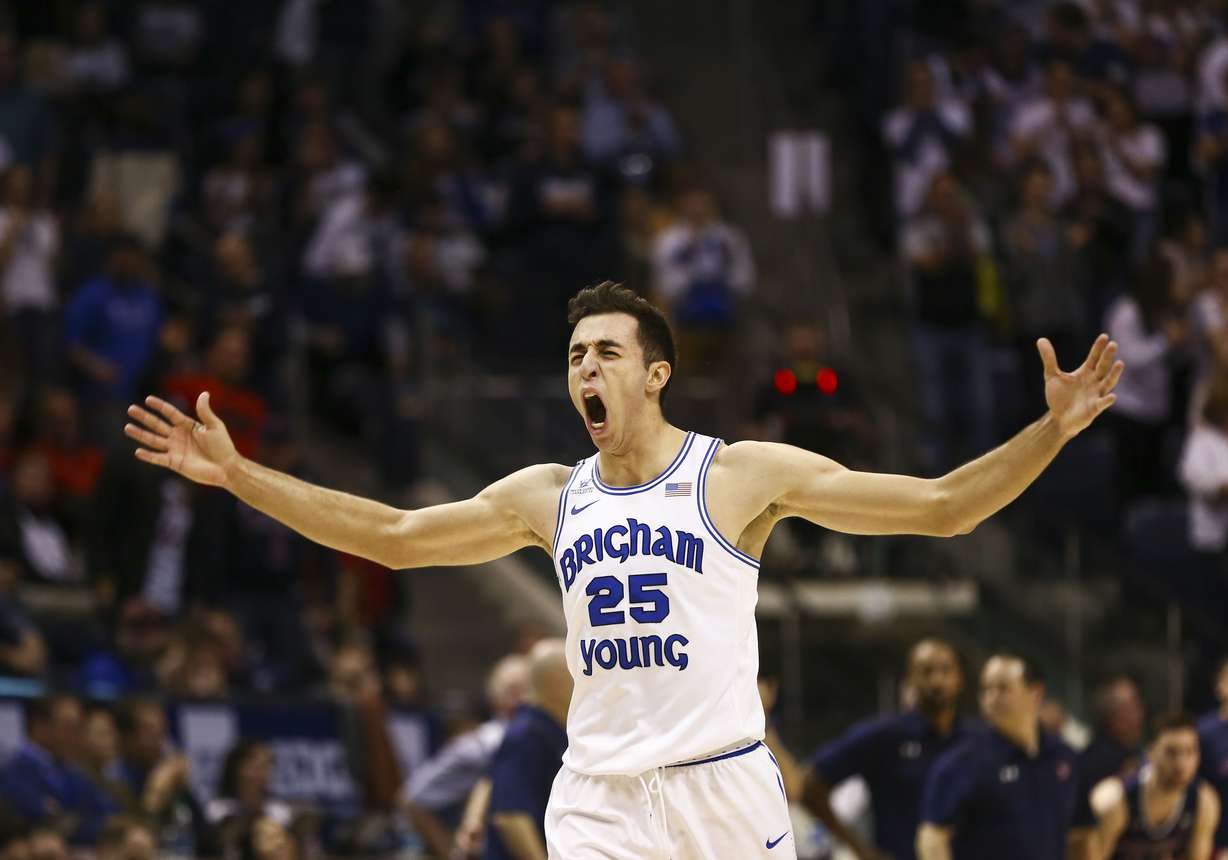 One of those key February decisions for Pope was whether to play Baxter, or try to preserve a redshirt with the hopes of earning three more years of eligibility out of his prized post.
But if the youngster can help the team — even the slightest amount — he wants to be on the court. His parents want him to be there. His teammates and coaches all want him to be there. Pope almost gave Baxter a few minutes of playing time in Thursday's rout at Portland, but declined. He chickened out.
The first-year BYU head coach won't do that again.
His players are glad he won't.
"I feel for him, because I had a similar operation on my shoulder two years ago, and I know how hard it is to come back," Nixon said of Baxter. "It's really hard to overcome the mental part of it, to go out there and go 100 percent.
"But Gavin's doing a great job, and he's going to be a huge key as we bring this puzzle together towards the end of the season."
×
Related stories
Most recent BYU Cougars stories