Estimated read time: 4-5 minutes
This archived news story is available only for your personal, non-commercial use. Information in the story may be outdated or superseded by additional information. Reading or replaying the story in its archived form does not constitute a republication of the story.
PROVO — BYU figured out a good way to not throw away a 14-point second half lead, which it had done in the Cougars' previous two games against San Francisco.
Simply lead by more than 14.
Yoeli Childs poured in 32 points and six rebounds to help BYU basketball build up a big lead and hold off San Francisco, 90-76, Saturday night in the Marriott Center.
Jake Toolson added 13 points, five rebounds and seven assists for the Cougars (19-7, 8-3 WCC), and TJ Haws got 13 points and seven assists for a BYU team that assisted on 26 of 35 made baskets.
Jimbo Lull had 22 points and six rebounds to lead USF (16-10, 5-6 WCC), which had won three-in-a-row against BYU — including an 83-82 win this season on the Hilltop when Khalil Shabazz shot 10-for-10 from the field with six 3-pointers to extend the Cougars' misery.
Shabazz scored 14 of his 16 points and added four assists in the second half in the Marriott Center.
So there was no jubilant spirit after Saturday night's game, no "hyped" locker room or postgame hollers.
"Honestly, it feels really good, but I've got a little pit in my stomach about that comeback they made," said Childs, who shot 14-of-23 from the field with a pair of 3-pointers. "They did it twice in a row and won. I think we grew a lot from those past two, but I feel like we want more.
"We're obviously happy with the win, but we're not satisfied."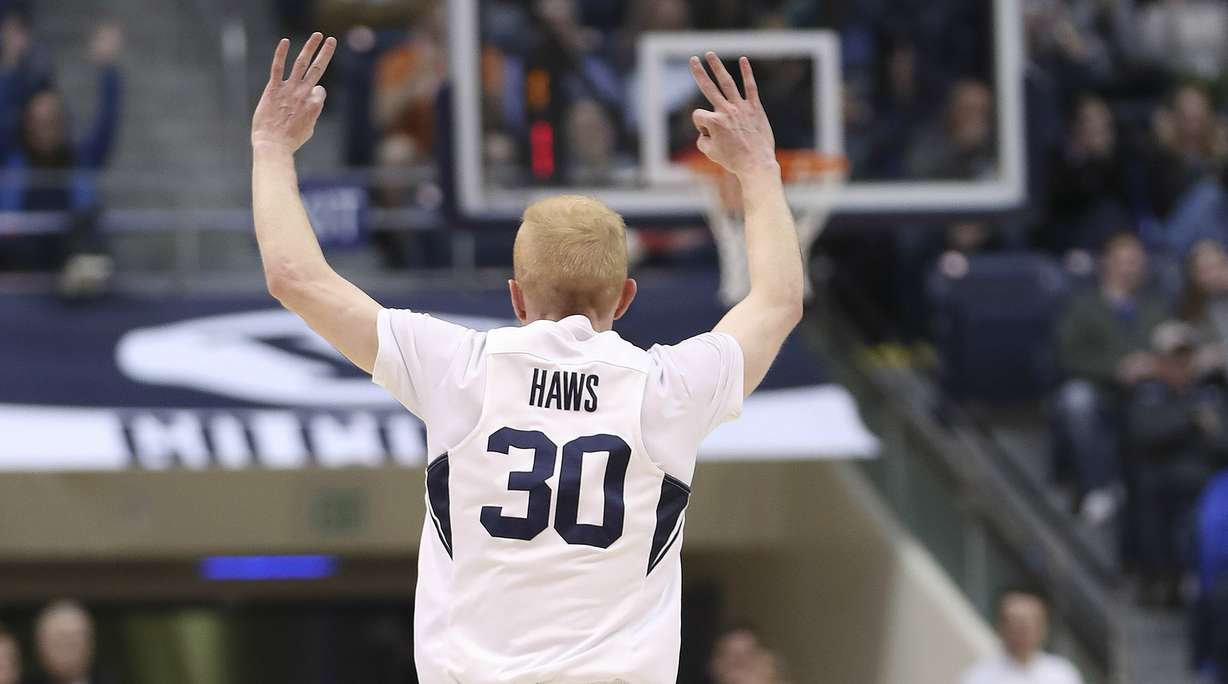 Haws hit a pair of triples midway through the second half, breaking a tie with Jackson Emery for third on BYU's all-time 3-pointer list, to pace a 19-2 run that turned a 10-8 deficit into a 27-12 lead.
After opening with 4-of-5 makes, USF went cold by shooting just 4-of-11 en route to a 35-16 deficit with six minutes left in the half.
Haws took a charge on one end, then immediately dribbled down court and dropped his third three of the night to cap a 7-0 run that put BYU up 44-25 at the break. The Cougars shot 6-of-14 from three, assisted on 13 of 18 made baskets, and forced 12 turnovers while giving up 5 en route to their 19-point halftime advantage.
BYU was well on its way to snapping a three-game skid against San Francisco, and improving to 20-9 all-time against the Dons.
Then, they were on the verge of the same old story.
"I thought we played 25 minutes of extraordinary basketball, 25 minutes of high-level basketball on both ends of the floor," BYU coach Mark Pope said. "I'm greedy right now. I want us to play 40 minutes, and I think this team can do — and I think we can do it against really good teams.
"But you do it by doing it, not by doing it for 25 minutes."
BYU did not lead by fewer than 15 points in the second half until Jamaree Bouyea drained a pair of free throws with 4:48 remaining to pull within 76-63. Shabazz cut the deficit to 10, 78-68 a few moments later with a triple with 3:52 to go.
USF trailed by as little as seven in the final moments. But Childs and Toolson hit back-to-back threes to go up 89-75 with 1:12 to go, and the Dons never threatened again.
In a moment, the Cougars' big lead was gone.
And another moment later, it was back.
"Our help defense was really strong in the first half, but when they went on that run, we just broke down. All it takes is 1-2 guys being out of position to have those breakdowns," said Dalton Nixon, who had 9 points, two rebounds and two assists to lead BYU's bench. "Throughout the whole second half, we knew this wasn't going to happen again. This is a team that's beat us the last three times we've played them, and it had a similar feel to last year's game here.
"I thought we did a really good job of getting rebounds down the stretch, executing offensively and having the will on defense to get stops."
BYU shot 55.6% from the field, its ninth-straight game shooting at least 50% — which is tied for a school record. They defended for long spurts of the game, too, holding the Dons to 30 points in 25 minutes, and assisted on 26-of-35 made baskets.
But then there were lapses. Imperfections. Moments of weakness that, while it did not cost them a win in the standings, it might cost them a loss down the road.
The Cougars shot just 8 of 14 from the free-throw line, were outrebounded 36-29 and allowed San Francisco to shoot 40% from 3-point range after holding them to just 1 of 14 from deep in the first half.
Appreciate the win. But BYU has plenty to work on as the first week of February passes.
"The story has stayed the same for us all year: we trust each other on offense, we play really hard, and we share the ball. It's a fun way to play offense," Nixon said.
"But we need to keep getting better defensively, and I think that we can be successful in the next few weeks as we approach the conference tournament."
×
Related stories
Most recent BYU Cougars stories