Estimated read time: 7-8 minutes
This archived news story is available only for your personal, non-commercial use. Information in the story may be outdated or superseded by additional information. Reading or replaying the story in its archived form does not constitute a republication of the story.
SALT LAKE CITY — President Donald Trump has been found not guilty.
The U.S. Senate voted Wednesday to acquit the president on charges of abuse of power and obstruction of Congress. While 67 votes were needed to remove the president from office, only 48 Senators — including Utah Republican Mitt Romney — voted to oust Trump.
Romney, who voted to convict the president on the abuse of power charge but not the obstruction charge, became the only Republican in the House or Senate to vote for impeachment or removal.
KSL.com hit the streets of downtown Salt Lake City Wednesday just hours before the final Senate vote, asking Utahns how they felt about the expected outcome. In December, we divided the respondents by generation, as nationally there are big age differences in the president's approval numbers.
But there's also a significant gap between genders; national polls suggest men are more likely than women to approve of Trump's job performance and oppose his removal. We asked 10 Utahns about the president — five men and five women. Did our small sample comport with the national narrative?
Romney's announcement came in the middle of the interviews, and we were able to ask a handful of participants about his decision. Our thanks to everyone who agreed to speak with us.
The men
Timothy A., Salt Lake City
"The way I feel about this whole thing that's going on with Trump is, I feel like he's done more than any other president has ever done. The fact that they're trying to impeach him, I think, is a joke. I mean, how many United States presidents have you heard of that have actually gone to North Korea and actually almost gotten a complete nuclear stand down? How many? He's done more than Obama, Bush, anybody's ever done. Why impeach the guy?"
Carson B., Syracuse
"I figured he would be (acquitted) eventually, just with the backing that he had. It couldn't pass Congress because he had the one side covered. I think — he'll be up for reelection, and I think he's got a good shot of winning. I think, you know, the economy's OK, and people are liking the outcome. They might not like him because of his social media, but I think, for the most part, he does what he can with the talents that he has."
Steven S., Salt Lake City
"I think it's good that it happened since it pushed a lot of things to light. It's good that we at least went through due process. But I just think that it makes it pretty clear that impeachment is not really effective when we're in such a partisan system. Because, you know, if the Senate and the president are the same political party, it's not going to happen unless it's some ridiculously obvious, horrible, horrible crime. I think it shows both the cracks in our system, but also the strengths in our system; that, at least, even though we all knew what was going to happen with the Senate, we still went through it. We still got everything exposed. I think it's kind of — there's good and bad to what it's revealed.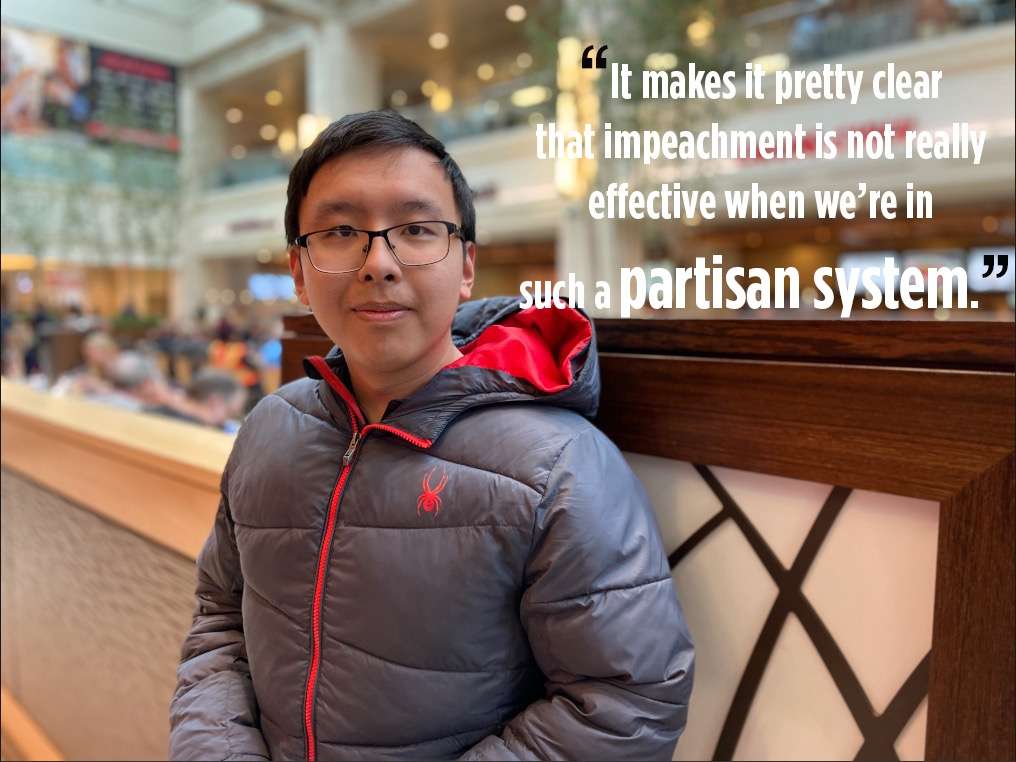 "I think (Romney's decision) is great. I think it's good that, basically, Mitt Romney is one of the only Republican senators that's actually able to do that because Utah is one of the few Republican states where we're not all extreme Trump supporters. And so, I think it's nice that actually he was able to show off some of his morals without just losing the election immediately in this next reelection cycle. So I think it's great."
Taylor S., Springville
"It would have been nice to have a full trial with witnesses. That would've been great. But the outcome was sort of known from the beginning, given who was in charge. So I feel like maybe we learned something, but not too much valuable came from it.
"I'm proud of (Romney). I mean, to split with everyone from your party is a big deal. I guess that means something about his constituents, that maybe that's what they wanted."
Jerry G., Murray
"I think it's great he was impeached. I just wish the Senate would do their job. It was so flagrant. But again, it's controlled by Republicans, the Senate, so nothing's going to happen.
"I sent (Romney) a note, to all of them, that they should be voting to remove him. I tried to encourage them, went onto their websites, emails. That's what happens when you're retired, you have time to get involved."
The women
Carly T., Holladay
"I'm excited to have (the trial) wrapped up. It's been, I think, really exhausting for most people to have to worry about that, plus their day-to-day lives. So it will be nice, no matter what the result is, to just kind of get it wrapped up, and then hopefully this next election will be a lot more positive and forward-focused instead of what we have been in the last few years."
Karlee K., Salt Lake City
Karlee said she hasn't been following the president's impeachment "at all."
"I'm not really interested, and I didn't really have time. His term ends this year, so I almost feel like (impeachment) was a little bit of a waste of time."
Jennifer F., Tooele
"I don't think he should be impeached. I feel strongly if that's the way they're going, then they should do that across the board with Obama and Hillary. I wasn't going to plan on voting for him, but I am going to vote for him now. I like the way the country is right now. I like the economy, I like what he's doing. I like the fact that he speaks his mind and doesn't care what others think, necessarily.
"I feel (impeachment) was all political, all one-sided. I didn't vote for him last time, but I think I'm going to be voting for him this time. I don't like how political it got and what the Democrats have done to him. I mean, where they've taken this, I think, it's just a whole new level, and I don't like that. I don't necessarily agree with everything that comes out of his mouth, but overall I think he's done great. The last four years have been up instead of down, I think — the economy, just where we are economically."
Michelle E., Holladay
"I can't handle it. It makes me too angry, the politics stuff, so I just can't even. It just gets me too worked up. It's like when I had to stop following the Jazz when I was in high school. You know, I just couldn't take any more. Too invested.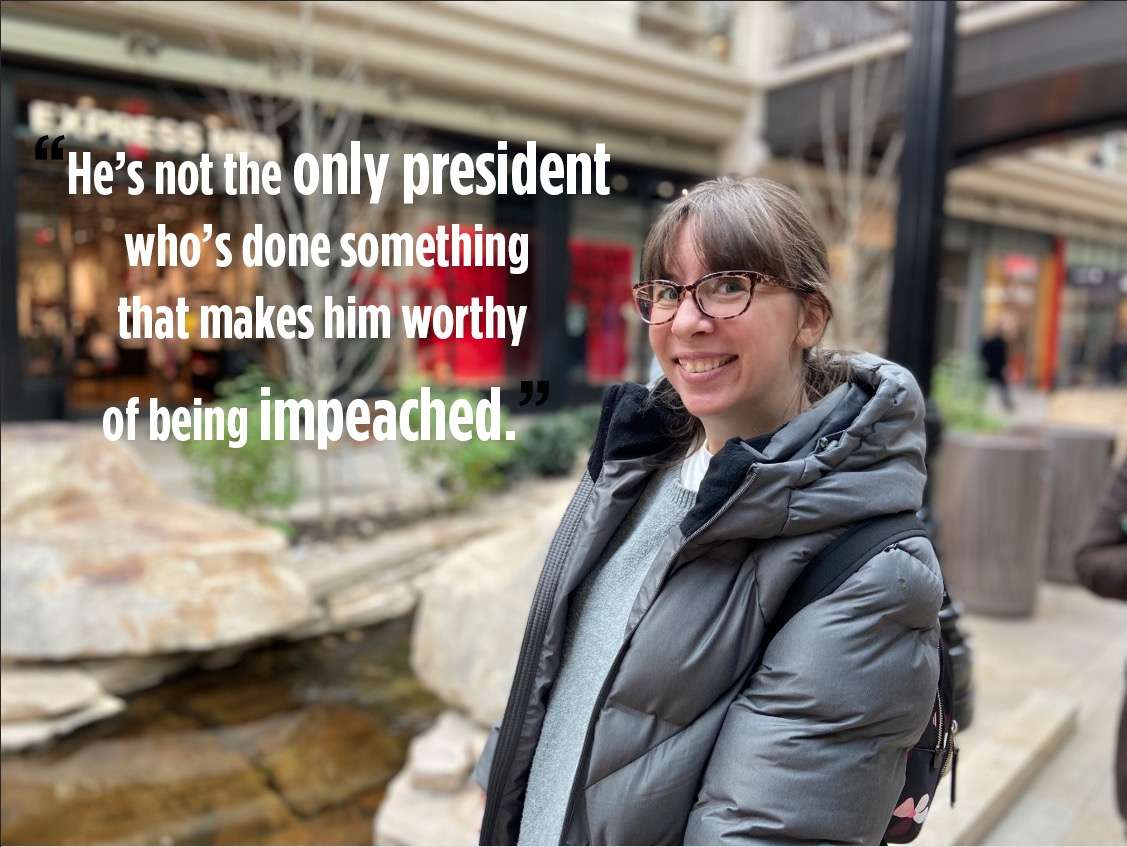 "I don't know. I'm hopeful, but I just — I think that there's just, in general, too much corruption on both sides. I just watched a documentary about Ronald Reagan and the '80s. And you're just watching it and you're like, he was such a beloved president, and there's a lot of things he did that I like, because I'm a Republican. But he still did shady stuff, too. So (Trump)'s not the only president who's done something that makes him worthy of being impeached. I just don't think there's ever going to be an end to — there's no accountability. I just don't know if there's any way to become that powerful without pandering to people with money and pandering to businesses. It's just not something I like to think about. I'm always hopeful, but I don't know."
Lindsey L., Bountiful
"I honestly don't know, at this point, if it's going to change much. I think that people are hoping for a big change, but in my mind I don't think that much really is going to happen in the next little bit.
"I think (Romney's decision) is great. I'm proud of him for standing up for what he believes in and doing what he felt was the right thing."
Related Story
×
Most recent Utah stories