Estimated read time: 3-4 minutes
This archived news story is available only for your personal, non-commercial use. Information in the story may be outdated or superseded by additional information. Reading or replaying the story in its archived form does not constitute a republication of the story.
OREM — After a year with BYU basketball, Colby Leifson is sticking around town.
The 6-foot-4, 190-pound guard from Suwanee, Georgia has transferred to Utah Valley University, he told KSL.com.
The sophomore will sit out the remainder of the 2019-20 season, per NCAA transfer rules, and hopes to be eligible to play for head coach Mark Madsen in 2020-21.
But Madsen, the first-year Utah Valley coach and former Lakers star who spent a decade in the NBA, didn't promise Leifson anything in committing to the Wolverines (9-14, 3-5 Western Athletic). That, in fact, was something that appealed to Leifson.
"He was very honest and very blunt; he didn't tell you what you want to hear," Leifson said. "He's so transparent, almost to a fault. But I know he was excited to have me, and he has big plans for the future.
"Every college guys dream is to play in the league, and being around somebody with that kind of experience is big."
Leifson, who averaged 1.6 points, 0.3 rebounds and 0.2 assists per game in 4.2 minutes off the bench as a freshman in 2016-17, left BYU to serve a two-year mission for The Church of Jesus Christ of Latter-day Saints in Brazil. When he returned, the coach who recruited him to Provo, Dave Rose, was retiring and replaced by former Utah Valley coach Mark Pope.
Still, Leifson returned to BYU, enrolled in classes and joined the team for offseason workouts before announcing his departure last October.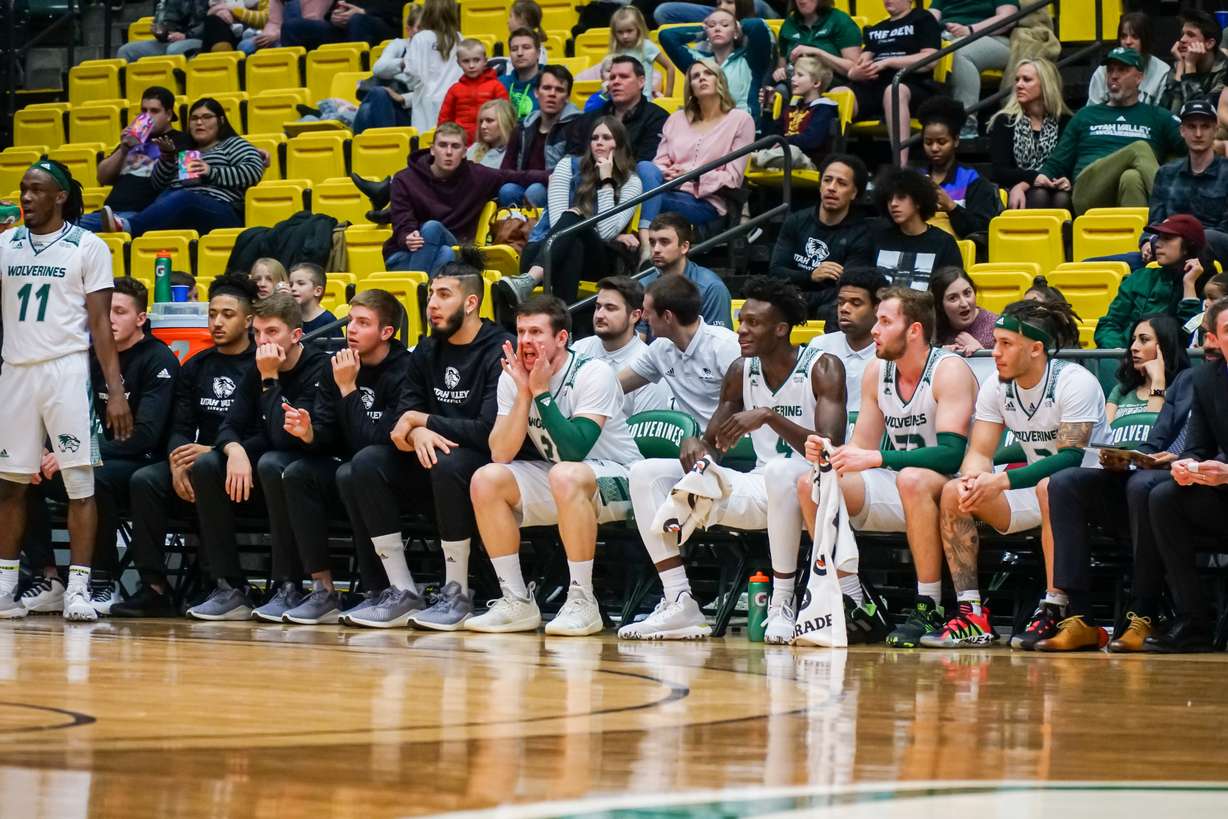 But he didn't go far, eventually enrolling in classes at UVU with three years of eligibility remaining (plus a redshirt season), and taking his shooting stroke to the basketball team after meeting Madsen with the help of his cousin Colton, a manager for the team.
"My family is super important to me, and my dad's whole family is here," said Leifson, whose father was born and raised in Spanish Fork and whose older sister Reagan lives in Provo. "They were very honest with me, very transparent, and I knew they were genuine from the start. Being around other members of the church, around so many temples, played a big factor."
Leifson was recruited by High Point, Wofford, Gardner Webb and Tennessee Tech as a senior at North Gwinnett High School before ultimately signing with BYU. He averaged 17 points on 41% 3-point shooting as a senior for the Bulldogs, earning all-Gwinnett County first-team honors and scoring 93 3-pointers, the second-most in the history of the county located just outside Atlanta.
He checked around to several schools closer to home, but Madsen — the man who replaced Pope — reached out. A former Stanford star who played nine seasons in the NBA, Madsen forged a unique bond with another returned missionary in Leifson.
Leifson liked what he saw in UVU — and staying close to his girlfriend, BYU guard Maria Albiero, didn't hurt, either, he admits.
Regardless of the reason, Leifson is confident that a move to Orem is just what he — and the program — needs.
"I know they've struggled shooting the ball at times, and it's not for lack of confidence — but that's what I do," he said. "Coach Madsen gives his guys a lot of freedom, and I can fill a niche as somebody who can consistently knock down the three."
×
Related stories
Most recent Sports stories