Estimated read time: 4-5 minutes
This archived news story is available only for your personal, non-commercial use. Information in the story may be outdated or superseded by additional information. Reading or replaying the story in its archived form does not constitute a republication of the story.
PARK CITY — With hundreds of films and thousands of cinema fans flocking to Park City, the 10 days of the Sundance Film Festival are undoubtedly some of the busiest of the year for the area.
Even though it packs the city with people and takes place right outside their front doors, many business owners welcome the festival.
"This is such a fun time of year," said Kristen Doyon, co-owner of Flight Boutique in Park City. "We feel really lucky that Sundance has continued to stay here and have their festival here. It's two weeks, it's a totally different energy, it's awesome."
Doyon said she purchases things well in advance of the festival to be prepared for the week. A wide variety of people come into her store, which focuses on women's and kids' clothing.
The upscale shop sees its fair share of celebrity guests during Sundance, too, Doyon said. They sometimes wear big hats or coats in an effort to be more incognito, so they're difficult to recognize at first, she said.
Notable Flight shoppers on Saturday included actress Toni Collette and TV personality Martha Stewart, Doyon said.
With many people coming to Sundance from southern California, there are some people who aren't prepared for Park City's snowy mountain weather, she said.
"They just don't come as prepared and don't know what it's like to trudge through the snow all day," Doyon said. "It's a good mix. There's a lot of locals too that come and are well prepared for Sundance, but just want something special to take home from the festival."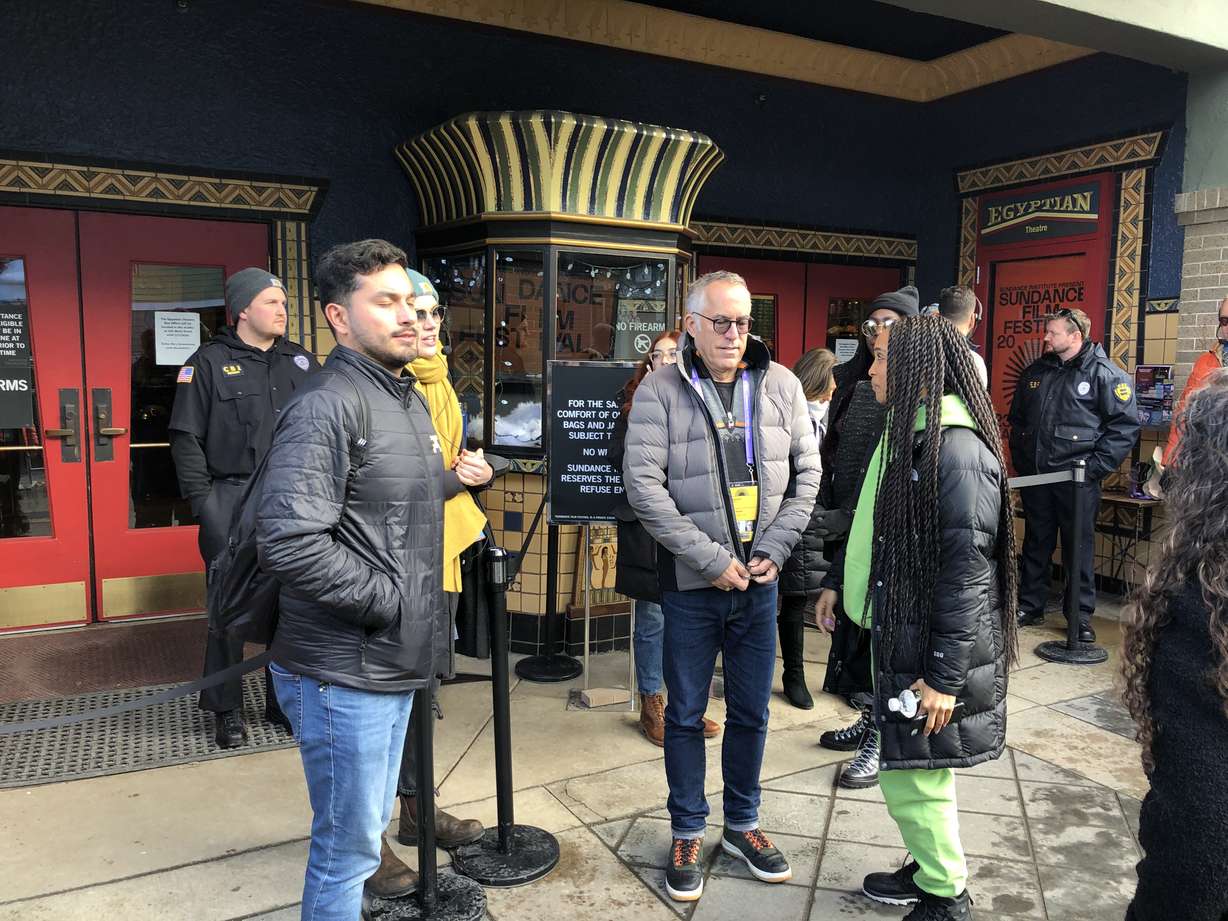 Many businesses in town rent their space out for Sundance festival events, such as lounges or studios, according to Park City Chamber President and CEO William Malone.
For some businesses in the lodging, restaurant or transportation sectors, Sundance can be like a "second Christmas," Malone said.
Others, though, might not fare as well during the festival, he said. For instance, retail businesses that sell or rent ski equipment don't typically do much business during Sundance, since the majority of visitors are there to see films, not to hit the slopes.
"It really depends on the business," Malone said.
Park City traffic during Sundance can be a major hassle. The city provides free shuttle buses to all the main festival locations and encourages festival visitors to ride the buses instead of driving their own cars. But it's common to spend 45 minutes to an hour on a bus stuck in traffic between destinations.
This year, though, the city altered parts of the transit plan to reduce traffic impacts, said Park City special events and economic development program manager Jenny Diersen.
The city partnered with the Sundance Institute to significantly increase the amount of transit in town, she said. Buses run from 7 a.m. to 3 a.m. each day of the festival.
Park Avenue, the main street in downtown Park City, has been converted to a one-way street so people can only use that road to go north out of town, Diersen said. Parking on either side of Park Avenue also is prohibited in order to widen the street for more cars.
Several other side streets in the downtown area, including Hillside Avenue, have been converted to one-way streets during the festival to reduce traffic, she said.
"Visitors are an important part of Park City," Diersen said. "We are just doing everything we can do to encourage people to really reduce single-occupant cars. … We're really looking to get people out of those single-occupant cars and carpooling or taking transit or ultimately modes of transportation to reduce those traffic impacts."
The city also put together a community guide for residents, businesses and visitors that includes information on transportation, parking and where to get further information from the city.
Most people in the city make preparations knowing that Sundance will bring big crowds, Diersen said.
"I think the community, in general, knows that this is a busy and a peak time and I think … together we prepare for the visitors to come in," she said. "Most people visiting just want to be part of the community and part of Sundance Film Festival, which is an incredible opportunity culturally, to our community, and it's a great way to experience it."
Parker Kvinge, assistant manager at Park City clothing store Roots, said she doesn't get bogged down by the crowds either.
She sees Sundance as a networking opportunity and a way to grow the business. Kvinge and store manager Liv Parker attend some of the Sundance events and parties to try and spread the word about their store, she said.
"This business for me and my manager — this store is our life. We really care about it," Kvinge said. "Here's an opportunity for us to spread the word about Roots and just get more people in so they're more familiar."
×
Related stories
Most recent Arts & Entertainment stories