This story is sponsored by Honda.
Over the past few years, circumstances allowed me to drive lots of different cars. They included several kinds of domestic and foreign makes. The only major brand I didn't get to drive in that span was a Honda. So I was interested and intrigued by the opportunity to drive a 2020 Honda CR-V.
Over a four-day span, in addition to my normal Wasatch Front commute, I drove to Provo a couple of times and made a spin around Heber City, Midway and Charleston. The CR-V was amazing. It was easy to see why Edmunds wrote: "No other small SUV offers a better overall combination of utility, fuel efficiency, comfort and performance."
Here are some reasons you might want to find space for it in your garage. (And make sure to take the quiz at the bottom for a chance to win a $50 Maverik gas card.)
Luxury at a great price
My wife's taste in cars leans toward high-end — think horsepower, leather, wood trim and power everything. The Honda CR-V EX-L model we tested checked all her boxes. In fact, she said she liked it more than any of the cars we've driven or owned in the past several years. She doesn't make such comments lightly.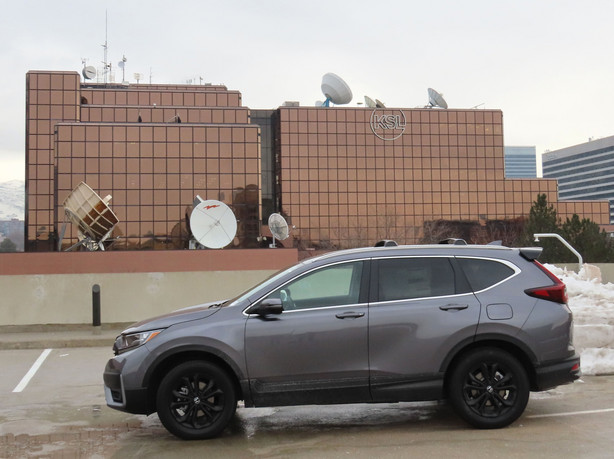 In addition to the high-grade leather and the faux-wood trim, the CR-V features included 7-inch touchscreen infotainment with Apple CarPlay and Android Auto capability, heated front seats, a sunroof, dual-zone automatic climate control, push-button start, and a 12-way power-adjustable driver's seat.
The sticker price on the loaded model we drove was $31,550.
Abundant safety features included
I don't care much about sunroofs and glossy trim, but I'm all about safety features. This is a car I would want my loved ones to drive. Best of all, you don't have to buy the higher-end versions to get the safety features. They come standard.
Car and Driver reports, "The CR-V has just about the best crash-test ratings possible. The National Highway Traffic Safety Administration gave it five stars and the Insurance Institute for Highway Safety (IIHS) named it a Top Safety Pick for 2019; Honda says the refreshed model should qualify for IIHS's Top Safety Pick+ award for 2020, but that testing has not yet been completed."
The CR-V has several driver-assistance features to help prevent collisions. They include blind-spot monitoring, standard automated emergency braking with pedestrian detection, lane-keeping assist with lane-departure warning, rear collision warning and adaptive cruise control.
The lane departure warning shows up as a light on the display and it also sends a slight shimmy to the steering wheel. It's hard to miss and there is no annoying beep.
Comfort, cargo and more
The center consoles on most cars frustrate me. They become catch-alls for phones, papers, sunglasses, pens, drinks and more. Usually, the shifter is also in the center console, so all that clutter can interfere with the ability to shift. The Honda CR-V solved this problem by placing the shifter above the center console at the front of the dash. I'd be thrilled if every vehicle manufacturer did the same.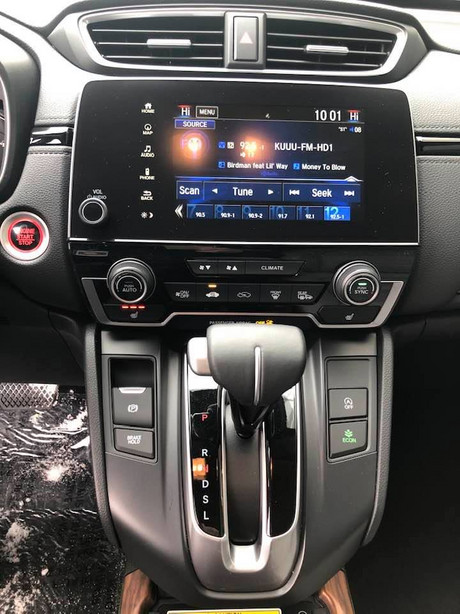 My wife and I like to go on adventures, which means we need to be able to take lots of stuff. When I opened the rear hatch of the CR-V, my initial impression was that space was tight, even though it ranks as best-in-class among small SUVs for cargo room.
I decided to check it out by taking it to a farm store and loading up on animal feed. The CR-V handled a half-dozen 50-pound bags of feed with plenty of room to spare, which convinced me it would easily accommodate most people's travel luggage needs. The back seat also folds flat, which provides a huge amount of cargo space.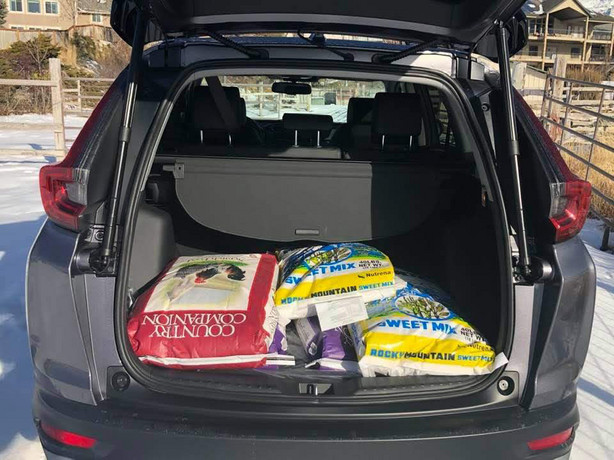 By the way, at the time my back pasture had 10 inches of crusty snow and the all-wheel-drive on the CR-V carved through it with ease. Afterward, it easily climbed the steep, snow-covered gravel drive to make it back to the pavement.
Legroom for back seat passengers was more than ample. And both front and back seats were supportive and comfortable.
Engine upgrade for 2020
Beginning in 2020, all versions of the 2020 CR-V feature a 1.5-liter turbocharged four-cylinder engine that produces 190 hp and 179 lb-ft of torque. One of the prior knocks on the CR-V was that it seemed underpowered. That did not seem to be the case with the new turbocharged power plant. It had plenty of zip on the highway and handled the climb up Provo Canyon with power to spare.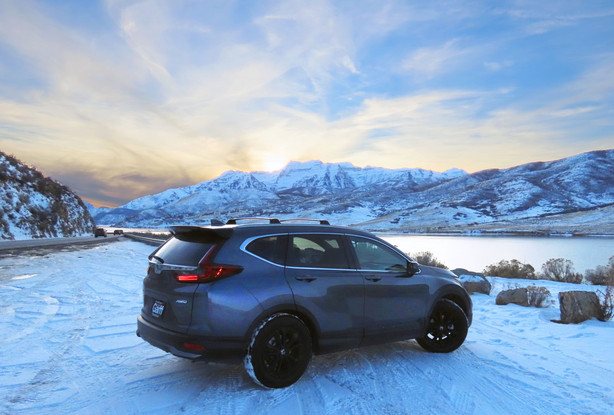 Other things to like
It's been a few years since I owned a car with remote start and I'd forgotten what a nice feature that is during cold Utah winters. I love being able to start the vehicle from inside my house and letting it warm up before getting in.
Fuel economy for the all-wheel-drive version is rated at 27/33 mpg city/highway. If you opt for just the front-wheel-drive version (not something I would recommend in Utah) you can expect an additional mile per gallon.
For those who want even more fuel efficiency, a hybrid CR-V is scheduled to be available sometime in early 2020.
The Honda brand has a reputation for reliability and for high residual value when and if you decide to sell. So if you are in the market for a five-passenger SUV, you really need to visit a local Honda dealer to check out the 2020 Honda CR-V.
Make sure and take the quiz below to see how much you know about Honda and for a chance to win a $50 Maverik gas card!
×
Photos