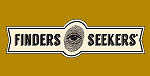 This story is sponsored by Finders Seekers.
Coming off of the holiday season, it may seem like a brain strain to figure out what to get your loved one for Valentine's Day. Didn't we just do this? If you're stuck on what to get your sweetheart this February, consider thinking inside the box. Yes, inside.
A subscription box is a great idea for your loved ones — especially because it can be a monthly reoccurrence if you choose. They get a package in the mail and you both get to solve a mystery together. You can make your time together memorable and interactive with these escape-room-like puzzles.
Now shipping for Valentine's Day — for only $20
Order now and you can get $10 off and free shipping when you use the code KSL5. That means you'll be able to get this new game for only $20 and you'll be the clever partner who doesn't just pick out a chocolate box for your loved one. Visit FindersSeekers.com to order and use the coupon code KSL5.
A unique gift for everyone on your list
Finders Seekers is a unique gift that appeals to a wide range of people — because not everyone that needs a Valentine's gift is a spouse or partner. Their mysteries are family-friendly but challenging, so everyone can participate and feel the satisfaction of cracking the code and saving the day.
Each box has a unique theme that explores different cities and cultures throughout the world, so players may even learn something while having fun. Finders Seekers is the perfect gift for:
• Significant other
• Grown children who don't want anything
• Teens and tweens who need to get off their phones
• The intellectual who doesn't need another book
• Yourself, because you deserve a Valentine!
Buy local first
Finders Seekers is a small Utah business that started when three friends who share a love of mystery and puzzles wanted to combine their passions and create an experience that can be enjoyed at home and costs a lot less than going to an escape room.
"We want to bring friends and family together for collaboration and mystery while also learning about world cultures," said co-founder Cody Dingus. "Now after shipping over 30,000 boxes around the country, we've been able to hear some amazing stories from gamers. My favorite is from a customer who read Dr. Martin Luther King Jr.'s 'I Have A Dream' speech for the first time as part of one of our puzzles and the inspiration she gained from it."
Outstanding reviews
With more than 160 reviews on Cratejoy, Finders Seekers is tried and tested and boasts a 5 out of 5 stars rating. One customer, Brooke B., posted "I love this game! It can really make you think. My favorite is that they have it interactive where you have to wash your hands with soap or use a flashlight to see the answer on a wall. This game is incredible."
Another review, from Shauna Z., said "My daughter and I LOVED doing this box together! We are spending quality time with each other, having fun, and learning awesome things. Now we both want to go to Petra!"
Enter to win a 6-month subscription
Enter your email below and you could win a six-month subscription for Finders Seekers mystery boxes.
×