SAN ANTONIO — You'd be hard-pressed to go anywhere in Texas and not have anyone know the name Vince Young.
The former University of Texas quarterback came in second to USC's Reggie Bush in the 2005 Heisman voting, but had the upper hand weeks later when he led Texas to a BCS National Championship over the Trojans in a come-from-behind victory in the Rose Bowl in one of the most memorable finishes in college football history.
Young's determination on the field and overall athletic ability inspired more than just Texas fans; he inspired impressionable young fans around the country who hoped to someday have a similar impact on the sport. Several of those kids included current Utah players, who were about 7 or 8 years old when Young escaped the pocket and ran the ball into the end zone to beat the Trojans 41-38 and claim the crystal football trophy.
The former Texas quarterback's name has been mentioned by several Utah players as one of the reasons why the Texas name means something in college football.
The Texas name, a program with four national championships dating back to the 1960s, is synonymous with winning at a high level and being involved in some of the most high-profile games. The 2019 season wasn't what Texas hoped for — a 7-5 record and third-place finish in the Big 12 — particularly as a preseason No. 10 team. Still, the name still holds its weight as Utah prepares for a New Year's Eve tilt in the Alamo Bowl.
"Texas is Texas, what can you say? They have talented players, class program, a lot of history," Utah head coach Kyle Whittingham said Monday. "Just one of those programs in the country that is kind of iconic. It's great for our guys to be able to line up and play a team like that, program like that. We're excited."
And though the Texas name carries a lot of history with it, Utah players say they'll be ready for the challenge. For them, it's a combination of recognizing the impact Texas has had on the sport while knowing they're just another team standing in the way of Utah earning its 12th win of the season.
"I don't play for Texas, so I can't be remembered for something great over there. But I can be remembered as one of the better players that played against Texas and did some damage to them," Utah running back Zack Moss said Sunday. "That's my mindset, and I'm sure that's a lot of our guys' mindset. We understand that Texas is a great school, great program and things like that, so we just want to go out there and make Utah more noise at the same time."
Moss, who modeled his game after former Texas running back Ricky Williams, said he's watched the Texas highlights of Williams many times, and that Tuesday's matchup against the Longhorns will be "very special" to him. But just like playing a storied program like USC each season, where the history can sometimes lead players to be "starstruck," it's all about how the players want to be remembered.
Moss said his experience frequently playing a team like USC, one of the most storied programs in college football, makes it easier for the team to not overthink their opponent, even though there will be a tendency to get caught up on the name of the opponent's jersey.
"It can definitely impact you in a negative way, or it can impact you in a positive way," he said. "It all depends on your mindset and how you want to make sure you go out."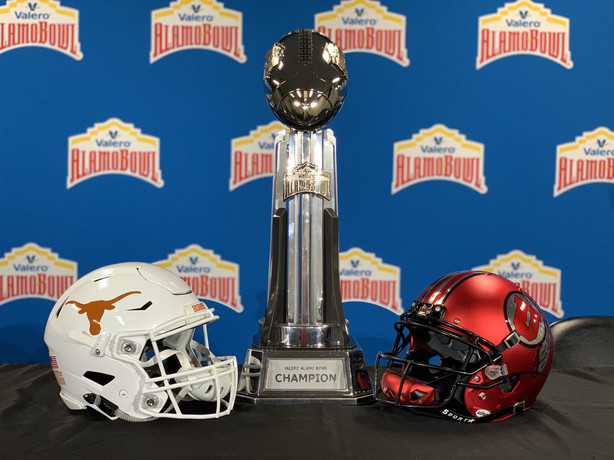 More than anything, it's another opportunity to add to the team's resume of quality opponents Utah can say they've played, and potentially beat.
"Not everyone in the country gets to play against Texas, you're playing those storied programs," senior linebacker Francis Bernard said. "I've been blessed and fortunate to have experienced those experiences, and so have my teammates; we're just excited to do that and to play against Texas."
Texas may be unranked coming into the game, but they have won their last two bowl games — including one over Georgia last year in the Sugar Bowl — and will be looking to close out the season on a strong note. Utah is looking to finish the season ranked in the top 10 and get their 12th win of the season, which would be only the third time in program history.
"There's a myriad of reasons for winning the game, not that you need anything more than being a competitor, but those are carrots out there we have talked about," Whittingham said. "That would mean a lot to our program, bottom line, to finish out in the top 10. That's definitely something in the forefront of our guys' minds."
"If that doesn't hype you up also, with all the other things that this team can accomplish, I don't know what really can," Moss said.
And with the Alamodome, which has averaged 62,519 fans in attendance in the last decade, is likely to be a sea of burnt orange with the University of Texas campus about 80 miles away. Utah will have its hands full in what should be a road environment in the last game of the season.
"It's gonna be tough. It's gonna be loud, gonna be very, very loud, especially being inside the dome. We have our fans there, but it's gonna be a lot more Texas fans there booing and things like that," Moss said. "I'm pretty sure it gets a little rowdy down here, but that's just motivation and more fuel for us to feed upon. There's nothing better than shutting up a crowd in any sport. So that's going to be our goal, is to try and make sure that we also keep the fans out of the game, take the life away from them, and that makes the game a lot more easy for us as a team."
"We just kind of block all that noise out, and ultimately we just know Texas is a good program," Bernard said. "I think people should be excited; we're excited. We're just excited playing against Texas, playing in this bowl game."
Utah kicks off against Texas at 6:30 p.m. MST in the Alamodome in San Antonio, Texas, on Dec. 31. The game will be broadcast on ESPN and on ESPN 700.
×
Related Stories