SAN ANTONIO — In the back of a room underneath the Alamodome, a TV broadcast the first game of the College Football Playoff — the exact game where No. 11 Utah would have likely landed had it won the Pac-12 Championship — as Morgan Scalley and a few of his defensive players answered questions from the media ahead of the Alamo Bowl.
It was another reminder, albeit subtle, of what Utah missed out on by losing to Oregon in the championship game earlier in the month. In the playoff game, LSU's Joe Burrow threw for seven touchdowns in the first half and torched Oklahoma to reach the national championship, but could Utah's defense have done better against the Heisman winner?
It's a fruitless question because Utah missed its opportunity, but there's still the thought somewhere in the recesses of the mind.
What if?
On Saturday, as part of the official press conferences leading up to Tuesday's game, it didn't take long for media members to remind the players and their coach about the loss — as if they'd somehow forgotten the game existed or what would have been at stake had they won.
Did Utah have to dig deep to find motivation to get up for Texas? Will this game be similar to one Texas played last season where Georgia narrowly missed out on the playoff and lost to the Longhorns in the Sugar Bowl because "they didn't really want to be there," as one media member posited?
Senior defensive end Bradlee Anae offered the best response he could: "We're just ready to go. We have one more shot as a group of seniors here to leave the program better than we found it, and so we're fired up and ready to go."
"We're on to Texas now," senior safety Terrell Burgess added. "But I think we just learned that we've got to make tackles. We've got to win — it sucks to lose, but it happens. Anybody can lose on any given day. They had a great scheme. They played a great game. But we're on to Texas now."
Scalley controlled the narrative and took command of the press conference, similar to how he dictates Utah's defense: with authority but with a tone of excitement sprinkled in. Football is a serious sport, but it's meant to be enjoyed, and Scalley made all those in attendance believe Utah was excited to play Texas.
"Fired up to be here," he started. "I've recruited Texas for 12 years, and always — everything is bigger in Texas. Football is big. It's big time. So to play Texas here in this setting in a great bowl game, we're fired up."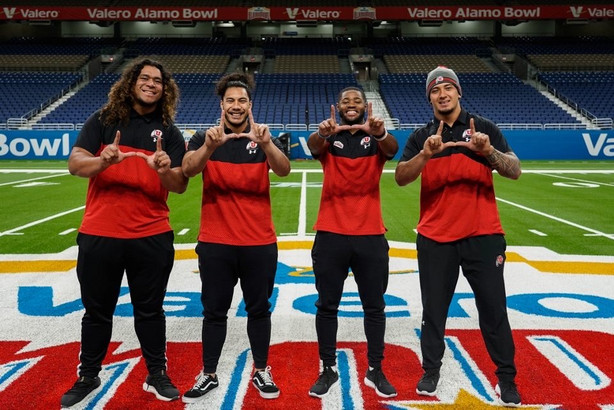 His players seemed to agree.
"I think people should be more excited about the game because Texas are a couple points away from being pretty much an undefeated team this year," senior linebacker Francis Bernard said. "Had they had a lot of guys not go down, the tables would have been a lot different in the Big 12 for Texas and Oklahoma. But I think people should be excited; we're excited."
So while the Oregon loss stings and is a letdown to the coaches, players and fan base as a whole in an otherwise successful season, Utah is ready to close the season out on a high note. None of the seniors chose to forego the bowl game because as defensive tackle Leki Fotu put it, "I feel like I owe it to the program. I've never been the type of guy to miss a game for anything, and also I just want to play with everyone one last time."
"It's been the best four years of my life, playing for Coach Whittingham and this team," Fotu added. "But to me, I've never been that type of kid growing up taking the easy way out. I feel like it's one more game: why not finish it with the guys that I came in here and started with? All these four years that I've been here, there's no reason for me to sit out one game."
For guys like Bernard, it's an opportunity to show the nation again that Utah football is real, a team that was a legitimate contender for the playoff before letting the spotlight overshadow them in the Pac-12 title game.
"We're excited to reprove ourselves in this game going against such a good program like Texas," Bernard said, noting that the nation will be watching because the game involves Texas' storied program. "Once we come back here and play in the game on Tuesday, it's gonna be fun to show everyone in the country that we are the Utah team that we've established ourselves throughout the whole season; it's gonna be a good environment — I hope everyone's watching."
As the nation tunes in on New Year's Eve (5:30 p.m. MST, ESPN) to once again see if Texas is "back" — back to its winning ways — Utah is hoping to show it, too, is back to being a team that can make opposing teams suffer; back to being the team that won its games by an average of 27.3 points; back to being a team with a diverse offense; and back to being a team that featured the No. 1 rush defense and held opposing teams to single-digit scores.
So while the Oregon game will always be the elusive "what if" game, it serves as a reminder to a team hungry to play for each other and for a program that has given them opportunities to be successful. It's a game where Utah gets a chance at beating a Blue Blood program in its own state and claim a valuable win.
"We know that it's a big game for us, especially for us seniors," Anae said.
×