This archived news story is available only for your personal, non-commercial use. Information in the story may be outdated or superseded by additional information. Reading or replaying the story in its archived form does not constitute a republication of the story.
When Jill Hayes found out she was pregnant, she and her husband were thrilled at the prospect of their first child. They went in for a scan, only to learn that "it was fifty-fifty if the baby would survive," Jill recalls. She went into labor early on November 15, 2017, but the infant was stillborn.
As the Thanksgiving holiday bore down upon the couple, instead of celebrating the birth of her son, Jill tried to figure how to pay hospital bills and get medical tests done.
"It's hard to want to celebrate anything during the holidays when you've just buried your child," Jill says. "It's hard to be happy, excited and positive when you feel you want to hibernate and let life pass you by so you can grieve."
They nevertheless went to relatives' Thanksgiving, an experience she found traumatizing and stressful. "I do wish I'd been strong enough to say 'I love you, but I can't do this.'"
Therapists see a spike in depression and anxiety in the time running up to the holidays due to a variety of stressors, says University Neuropsychiatric Institute outpatient clinical manager, Jamie Hales.
Often times, people are concerned about managing family dynamics when they face seeing people they usually don't or even prefer not to interact with. Others don't have something positive to look forward to at the holidays, or a celebration to be involved with.
As Christmas approached, Jill and her husband struggled with their family. "When you're grieving, it's hard to speak up and say what you need," Jill says. Relatives suggested seeing the ZooLights! to cheer her up, "but that's the last place I wanted. It would be full of kids."
Once they shared their feelings, their family wanted to know what they needed. The answer for Jill and her husband, ultimately, was to do what they felt they needed at specific moments for their own mental health. "The best thing anybody has done for us is offering specific things, like "Want me to come over and play a game?'" By contrast, the phrase, "Can I do anything for you?" Jill says, creates too much pressure for the person who is grieving.
Women who have experienced traumatic losses like Jill, find the holidays particularly difficult. "Whether it's somebody who has had a pregnancy terminate or a baby die or someone experiencing infertility, they are both grief processes and it's not a tidy or orderly process," Hales says.
In the face of pressure from relatives or friends to move beyond their grief, or self-censorship by those grieving so as not to broadcast their struggles, Hales stresses the need for support. "It's important for loved ones to ask how can we help, how can we support you to get through this, rather than offering platitudes or ill-conceived advice."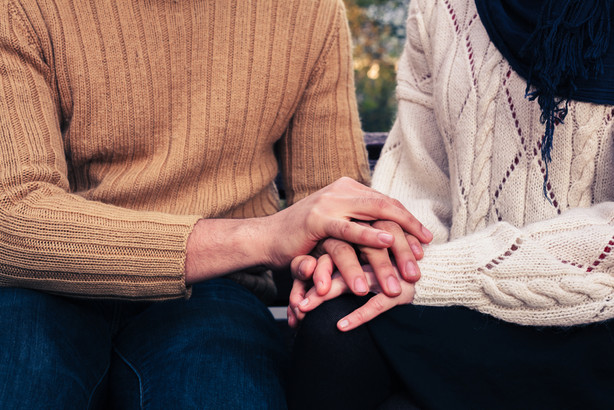 Kathie Supiano is the director of the University of Utah Health's Caring Connections, which provides multiple-location grief support groups in the new year. "It's not that anybody's trying to be hurtful," she says, but sometimes insensitivity can also be painful. "When death happens, people rally round; but then they're gone in a couple of days."
Think outside the box to provide support, Supiano urges. "Everybody brings noodles and red sauce casseroles. Why not ask the bereaved, 'How about if I brought over a meal? What might you be hungry for? You can have it for dinner or just put it in the freezer.' But make sure you give people the space to refuse too."
Under treatment for a decade for anxiety, Jill displayed PTSD symptoms with flashbacks of the birth. An infertility doctor at U of U Health told Jill, "he could help with the infertility and future pregnancies, but he couldn't help heal me mentally." He recommended Jamie Hales at UNI.
Christmas is, in many senses, the most challenging of the holidays. "It does have so much emotional loading as far as expectations for spending time with family and children," Hales says.
Hales stresses the importance of those who are grieving being able to say no to activities or obligations without guilt or pressure from loved ones so they can take care of themselves in ways that make sense to them.
Since Christmas is, as Hales says, "such a child-focused holiday, those grieving may need to start their own tradition of what the holidays look like." That's what Jill and her husband did when it came to New Year. They stayed at home, ordered-in pizza and watch movies. "It's become my favorite holiday," Jill says. Now, Jill says, "I just don't feel the need to explain anything or be any way I don't feel. And I don't."
When Hales' clients are grieving the passing of an infant or child, it's about more than just passing. "It's not only the physical loss but the loss of a future with their child," she says. "They have few or no memories with their child, like they may with adults and they are left with grief about the future they were hoping for."
For those who are grieving, Supiano says, it's important to plan ahead for the holidays, to acknowledge your own needs and allow yourself to be flexible and set expectations in a realistic framework that meets both time and place.
In the end, Hales echoes, the most important thing is to give yourself time and space for whatever comes next to evolve, "and not feel pressured to have it be a successful transition in a certain amount of time. It may never completely go back to what it felt like prior to this experience. But you can look forward to a future where you create new traditions for yourself and look forward to this time of year, even if it's not the picture you thought you'd have."
×