Salt Lake City — With Thanksgiving over and the holiday season in full swing, many are taking the opportunity to show their appreciation and love for their communities.
The KSL.com "Make Your Week" column features uplifting stories sent in from people outside the newsroom.
This edition features local high school alumni who refuse to let their favorite way to give back, a family who is thankful to have saved what is important when their home burst into flames, and a local fire department displays their newest addition to the station from an appreciative and crafty community member.
To share the stories that have made your day better, email them, preferably in 100 words or less, to jriess@ksl.com. Photos and videos are encouraged. Stories may be edited for clarity.
More Make Your Week:
Local alumni carry on Christmas tradition of giving
Carbon High School alumni were upset when they discovered that the school district decided to discontinue their annual Carbon Christmas fundraiser.
"(The) Carbon Christmas fundraiser ... benefits low-income families in our own community," said Whitney, a Carbon High School alumni. "This month-long fundraiser not only provides Christmas for over 25 families, but provides assistance with gas and light utilities so our community members have heat during the winter months, as well as providing some assistance for cancer travel expenses."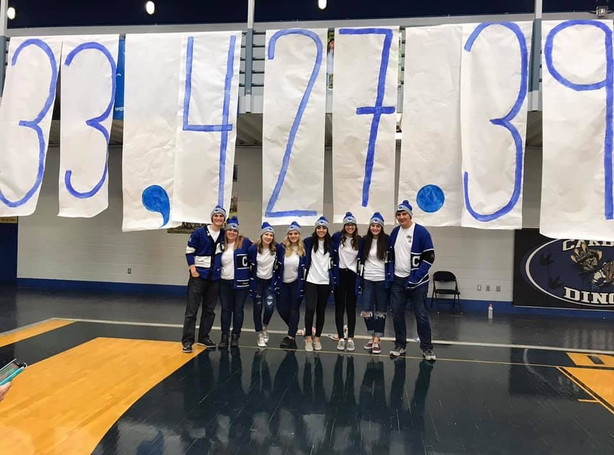 "This was the most influential experience I have ever been a part of," she added. "It has truly shaped me into the person I am today by teaching me how to put others' needs in front of my own, as well as how to be humble and grateful for what I have. I have witnessed families cry as we hand them garbage bags filled with clothes, food, school supplies, and Christmas gifts that they couldn't afford without us."
The school felt students were "begging for donations" and it was unprofessional to carol in front of local grocery stores, according to Whitney.
The group of student government alumni is filling out paperwork to form a new nonprofit, Coal Country Christmas, with the same "values and dedication to our community."
Thanksgiving gratitude
"My brother-in-law and his family's home caught fire while they were inside on Saturday, November 23, but the family all got out safely," said Sterling. "The local volunteer fire department was able to get the family's prized possession, a family piano and family scrapbooks out before the fire spread from the garage to the rest of the house."
"The family stayed in a hotel this week and just moved into an apartment," he continued. "This would be a great Thanksgiving story to highlight the community effort to help this family and the fact that they have so much to be grateful despite losing their home."
Giving thanks to local fire stations
"This quilt was delivered to Fire Station #23, and similar quilts were delivered to our other stations," Provo Fire and Rescue posted on Facebook.
"These were made by a thoughtful citizen who wanted to thank us for what we do. She spent months working on them," the post said. "Thank you An! They are a very nice addition to our stations!"
×
Related Stories