SALT LAKE CITY — No. 6 Utah started out the game slow Saturday night, but the end result was the same as the 10 before it: another W in the win column.
Utah (11-1, 8-1), closed out the regular season with a 45-15 win over the visiting Colorado Buffaloes to claim its second-straight Pac-12 South Division title and stay afloat in the College Football Playoff race.
The game didn't start out pretty, but Utah remained composed against a Colorado team that needed a win to become bowl eligible for the season.
Senior night sendoff
There's little that can actually be said to recount how much this year's senior class has meant to the program. The defense is littered with guys that will go to the NFL, and quarterback Tyler Huntley and running back Zack Moss have transformed the offense to one that can seemingly score at will.
"Great way for our senior class to go out on their last home game here at Rice-Eccles," Utah head coach Kyle Whittingham said. "I've been talking about them, really, since last spring ball. I just couldn't be prouder of a group. They've meant so much to our program and had such a big impact on our program, and they're special — they're a special group.
"It's great to see them go out with this win — go out back-to-back Pac-12 South champs; that's something to be very proud of. And so that's where it starts with those seniors."
Many of the seniors had an opportunity to leave the program early to pursue an NFL career, but the team knew they'd have something special if they all came back and gave it one more shot in trying to win the Pac-12 title. As a collective, it's hard to argue this is Utah's best senior class of all time.
🔥 Brant Kuithe 🔥
It's not every day that a tight end becomes a difference-maker for a team. Sure, the NFL has a few of those guys that do it consistently at the highest level, but at the college level, it's hard to get a big guy to be an explosive weapon on the offensive side of the ball.
But not with Brant Kuithe.
The sophomore tight end can seemingly do anything in Andy Ludwig's offense, and it's been a game-changer for Utah. The Utes struggled early on to get any push in the run game, but Kuithe opened things up after he caught a 38-yard touchdown pass from Huntley to give Utah its first score of the game.
Kuithe then managed another 7-yard receiving touchdown in the second quarter and then a closing game score on a 15-yard rushing touchdown with five minutes left in the game. With Kuithe in the lineup, Utah has a myriad of options available to move the chains.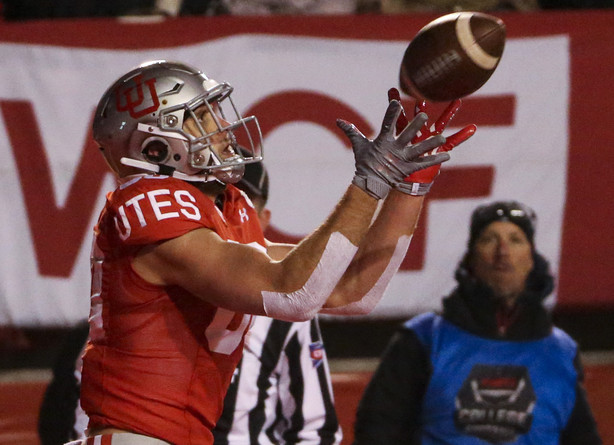 Pac-12 South Division Champs!
As previously mentioned, several seniors this year skipped out on the NFL to get back to the Pac-12 Championship game — to complete some unfinished business. The team becomes the first program in the South Division since the conference expanded to claim back-to-back division titles.
Utah was picked to win the conference title in the preseason Pac-12 media poll, and they're one win away from accomplishing a goal that has been in their sights since the team lost to Washington in the championship game last season. The focus is there for the team to take it all.
Regardless of the result next week, Utah has been consistent all season and has played together with a singular focus. With one more win needed to potentially claim one of the coveted four spots in the College Football Playoff, Utah has some extra motivation in play to finish the season strong.
Back-to-back trips to the 'ship!
Join us:https://t.co/8ZGFqYNRKO#goutes#Pac12FBpic.twitter.com/VEUQi1KpdU

— Utah Athletics (@utahathletics) December 1, 2019
×