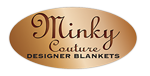 This story is sponsored by Minky Couture.
Minky Couture began in 2009 when owner Sandi Hendry's daughter became very ill and was hospitalized for several months. Her daughter asked for a "big baby blanket." Hendry looked everywhere for a fashionable, cozy blanket but was unable to find one, so she created the first-ever adult size Minky Couture blanket.
Caretakers helping with her daughter's recovery swooned over the incredibly soft blanket. Hendry created two more, then 10 more, then 100 more — all as a result of personal requests.
She gave them to those in need and sold them out of her trunk to people seeking luxurious comfort.
Now on a mission to blanket the world, Minky Couture donates thousands of blankets to charities, hospitals, and fundraisers.
"We feel very blessed to have this opportunity to help others and know it wouldn't be possible without our amazing customers and supporters," Hendry says.
In honor of Minky Couture's gratitude, take this quiz to see what you know about Thanksgiving! One entrant will be selected to win a Minky blanket as part of the ongoing "Heart of Minky" promotion.
×