This archived news story is available only for your personal, non-commercial use. Information in the story may be outdated or superseded by additional information. Reading or replaying the story in its archived form does not constitute a republication of the story.
AROUND THE SHIELD — Marcus Williams took a lot of heat and criticism after a crucial mistake led to the New Orleans Saints' elimination in last year's NFC divisional round via a 29-24 loss to the Minnesota Vikings.
The former Utah safety never hid from it, either, taking responsibility upon himself for his error and owning up to it in a way perhaps unbecoming of a rookie.
"The play happened how it happened. But if the play happened any different, I was going to be ready to attack the ball and make that play," Williams said after the game in a despondent Saints locker room.
"I'm going to take it upon myself to do all that I can to never let it happen again. If it happens again, I shouldn't be playing."
Through 11 weeks of the 2019 season, Williams is proving he still belongs in the league.
Williams had three tackles and two pass breakups, including the game-sealing 55-yard pick-six, to help the Saints to a 34-17 win Sunday over Tampa Bay.
"Any time you get takeaways, those are momentum changers — especially when you get one returned at the end. That was great for the whole defense, especially Marcus," Saints quarterback Drew Brees said of the starting free safety's first career interception returned for a touchdown. "Those are momentum-changing plays.
"Those are big plays."
Perhaps the best part of the win for the Saints, who improved to 8-2 on the year, is that it wasn't perfect. It took Williams' late-game pick-six with five minutes remaining to clinch the victory.
"There were enough good things in this game to get us the win," Brees said. "But I think we can be better in a lot of areas."
Former BYU quarterback Taysom Hill had a 2-yard rush, one reception for 2 yards, and took a sack as a Wildcat quarterback for the Saints.
Here's how other former high school and college football standouts from Utah did in Week 11 of the National Football League.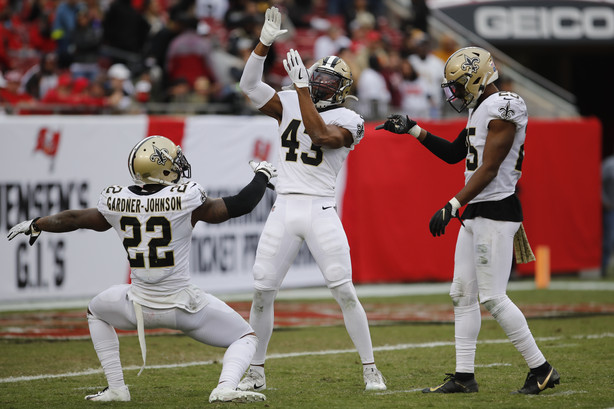 Buffalo 37, Miami 20
Former Weber State defensive back Taron Johnson had six tackles in the Bills' win over the Dolphins.
Former Utah pass rusher Star Lotulelei notched three tackles, including a 3-yard sack, for the Bills (7-3).
Utah graduate Eric Rowe made four tackles for the Dolphins (2-8).
New England 17, Philadelphia 10
Former BYU linebacker Kyle Van Noy had five tackles, including a 7-yard sack and two quarterback hurries to help the Patriots (9-1) by the Eagles.
San Francisco 36, Arizona 26
Former BYU linebacker Fred Warner had a team-high 12 tackles, including a tackle for loss, in the Niners' ninth win over the season.
Former Utah punter Mitch Wishnowsky punted twice for 101 yards, including a punt downed inside the 20, for San Francisco (9-1).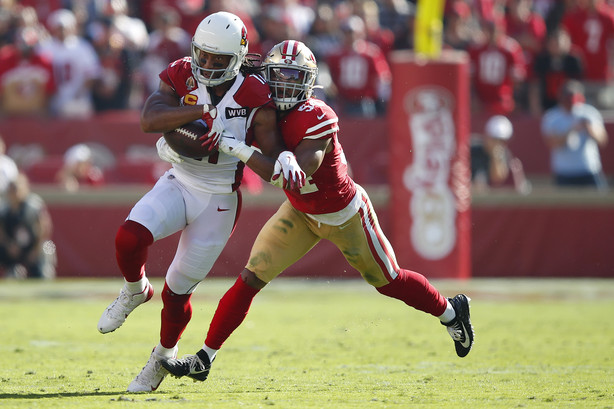 Oakland 17, Cincinnati 10
Former Utah State Aggie and starting cornerback Nevin Lawson made two tackles in the Raiders' win over the Bengals.
Former BYU and Utah State safety Dallin Leavitt played sparingly for the Raiders (6-4), who were without former Herriman High offensive lineman Andre James.
Former Utah State linebacker Nick Vigil boasted a team-high 12 tackles and a fumble recovery for the winless Bengals (0-10).
NY Jets 34, Washington 17
Former BYU and Bingham High linebacker Harvey Langi came off the bench for the Jets (3-7) in a win over Washington.
Former Utah State offensive lineman Donald Penn started at left tackle for Washington (1-9), and former Utah and Skyline High alum Tony Bergstrom also rotated on the offensive line.
LA Rams 17, Chicago 7
Utah grad Eric Weddle had six tackles and ran out the pregame American flag in the Rams' win over the Bears.
Former Utah State receiver JoJo Natson went to return three punts for the Rams, all called for fair catches.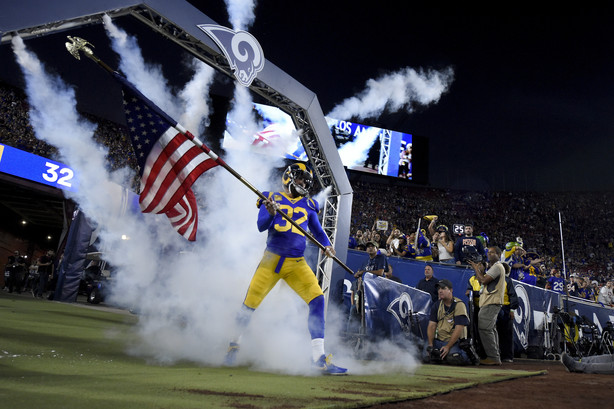 Minnesota 27, Denver 23
Former Westlake High, Snow College and Utah offensive lineman Garret Bolles started at left tackle in the Broncos' loss to the Vikings.
Former Utah running back Devontae Booker had one carry for 4 yards for the Broncos (3-7) and added a tackle on special teams.
Dallas 35, Detroit 27
Former Timpview High offensive lineman XavierSu'a-Filo started at left guard for the Cowboys (6-4) in a win over the Lions.
Former Southern Utah safety Miles Killebrew had one special-teams tackle for Detroit (3-6-1).
Cleveland 21, Pittsburgh 7
Former BYU linebacker Sione Takitaki played six defensive snaps and 19 snaps on special teams to help the Browns (4-6) top the Steelers.
×
Related Stories