Estimated read time: 4-5 minutes
This archived news story is available only for your personal, non-commercial use. Information in the story may be outdated or superseded by additional information. Reading or replaying the story in its archived form does not constitute a republication of the story.
This story is sponsored by MountainStar Healthcare. Our hospitals and outpatient centers deliver high-quality, cost-effective patient care – when and where it's needed.
Although the nerve pain and numbness in your hand and wrist can be alarming, carpal tunnel is a very common syndrome. In fact, 4-10 million Americans are affected by it, according to the American College of Rheumatology.
If you're unfamiliar with the symptoms and risks associated with carpal tunnel syndrome, it's time to brush up on your knowledge — and hopefully cut down on your pain.
What is carpal tunnel syndrome?
When it comes to nerves, a little pinch can translate to a whole lot of pain. According to the National Institute of Neurological Disorders and Stroke (NINDS), carpal tunnel syndrome is essentially a little pinch, twist, or squeeze of the median nerve. This nerve runs down the forearm into the palm of the hand.
When the carpal tunnel that encases the median nerve becomes swollen, it can pinch or place pressure on the nerve. The resulting pain and tingling can be bothersome at best or debilitating at worst.
If you thought you had to spend a big chunk of your day typing on a non-ergonomic keyboard to develop carpal tunnel, you're wrong. In fact, according to Medline Plus, studies have not proven that typing, using a mouse, playing a musical instrument or playing sports actually cause carpal tunnel syndrome.
That said, these activities can cause tendinitis or bursitis, both of which may cause the carpal tunnel to become narrowed and swollen. This overuse is often chalked up to a root cause for the pain, numbness and swelling associated with the condition.
"Overuse, as well as a family history of carpal tunnel syndrome, are definite risk factors for carpal tunnel syndrome," said Dr. R. Brian Mackey at Peak Orthopaedics Clinic in Draper. "It can be associated with diabetes, thyroid issues and arthritis of the hand or wrist."
Other factors that could put you at risk of carpal tunnel syndrome include high blood pressure, autoimmune disorders, fluid retention and fractures, according to Healthline. And if you're female, you're at even greater risk. Women are three times more likely to develop the condition since the carpal tunnel itself is slimmer in women than it is in men, according to NINDS.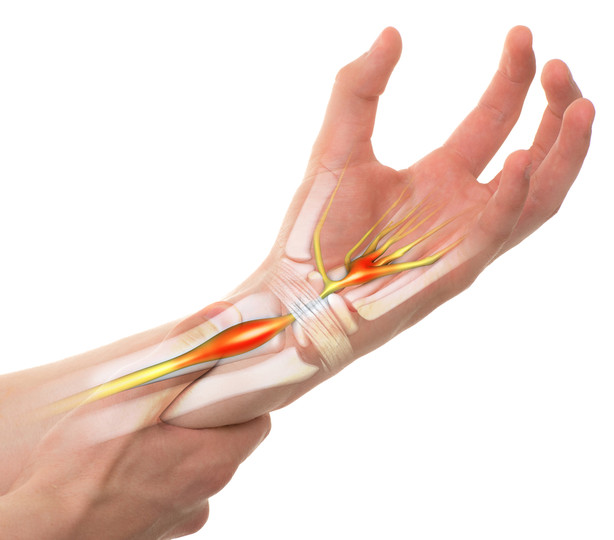 Symptoms of carpal tunnel syndrome
Yes, it hurts. But pain is not the only symptom associated with carpal tunnel syndrome, not to mention that not all wrist and hand pain indicates a carpal tunnel issue. However, according to Mackey, there are a couple of specific symptoms that are calling cards for carpal tunnel.
"If you are experiencing numbness, tingling or pain up your arm or in your thumb and fingers, it's probably time to come and see a specialist," he said. "I would say especially if the pain starts interfering with your sleep."
This pain and numbness during sleep are common for those with carpal tunnel syndrome since people often sleep with their wrists flexed. Other symptoms you might notice include a weakened grip, or difficultly grasping objects or making a fist, fingers that feel swollen (even if they are not), and even the inability to discern between hot and cold temperatures by touch.
How to get help
If you think you may have carpal tunnel syndrome, don't despair — but don't ignore it either! According to Harvard Medical School, leaving carpal tunnel syndrome untreated can lead to permanent nerve damage. Additionally, compensating for the pain and numbness associated with the condition can result in muscle weakness, making difficult tasks even more difficult and exacerbating nerve compression.
While surgery to relieve pressure within the carpal tunnel is quick and easy — according to Harvard it can be completed within 10 minutes under a local anesthetic — going under the knife isn't always necessary.
"There are surgical and non-surgical options available, including endoscopic procedures that allow for a quicker recovery time for patients," Mackey said. "For example, an endo procedure can have a recovery time of two to four weeks, getting the patient back to normal life quickly without interfering too much with day-to-day activities. It is less painful, and we don't have to use a cast, which limits their functionality."
If you are experiencing symptoms of carpal tunnel, get help today! Contact Peak Orthopaedics for more information and to learn your treatment options.
×