SALT LAKE CITY — Donovan Mitchell went around a Rudy Gobert screen, dribbled twice and pulled up. Instead of trying to beat a backpedaling Joel Embiid at the rim, Mitchell calmly hit a wide-open mid-range jumper from the left elbow instead.
On Utah's next possession, he did it again. Gobert freed Mitchell up and he rose and fired from near the top of the key.
Mitchell made it three possessions in a row when he again used a Gobert screen to get an open jumper from the right elbow.
In just over a minute, Mitchell had erased what had been a slow start offensively for the Jazz in their win over the Philadelphia 76ers on Wednesday with the very shot often deemed as the worst one to take.
"Yeah, we know the math, and, particularly, that's the way we try to defend," Jazz coach Quin Snyder said of the midrange jumper.
But that math is getting a little fuzzier this season with Mitchell. That's what happens when you're hitting on 53.8% of your mid-range shots — the best in the league among players with 4.0 or more attempts per game.
In recent years, the mid-range jumper has almost become a dirty word in NBA circles. It's inefficient and usually just settled for. Mitchell, though, has used just that shot to become even more dangerous.
"I'm not really opposed to them," Mitchell said. "I think now I'm way more comfortable taking them. I think last year I kind of got either a three or a contested floater. I think I'm just taking what's open. And those are the shots they're giving me, so I gotta be able to make them."
Mitchell's highlight plays are easily remembered. Like when he elevated and dunked on two Dallas Mavericks last season. Or when he posterized Javale McGee. Or when he somehow wrapped his arm around DeAndre Jordan for a scooping layup. But there were plenty of other off-balance layup attempts or floaters in traffic that didn't fall.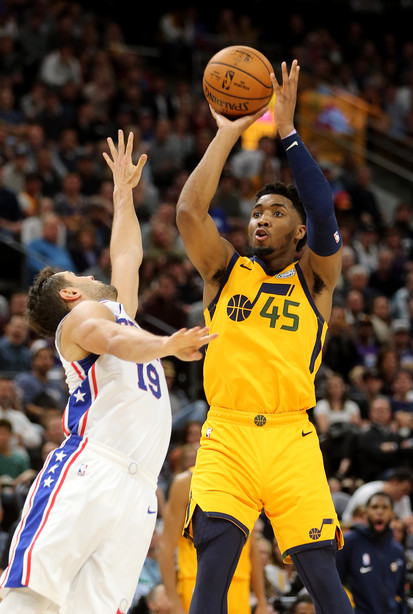 Last season after Jan. 1, Mitchell shot 41.4% from three, but just 44.6% overall. He could finish; he could shoot from deep. But even during his best stretch of the season, he was just 37.3% on shots inside the paint but outside the restricted area and 36.3% from mid-range. Teams had a clear shot to force Mitchell into.
In the playoffs, the Rockets limited Mitchell to just 25% shooting on non-restricted area shots in the paint. Mitchell needed a counter.
This season through the first eight games, Mitchell has kept up his 3-point shooting (42% on 3.9 attempts per game), but his overall shooting has jumped to 50.7%. Why?
Mitchell's percentages are up across the board. He's shooting 62.5% in the restricted area (about 3% better than last year's final stretch) and he's shooting 42.5% (up from 37.3%) on shots in the paint, but the biggest increase has been his use of the mid-range jumper.
He's taking the shot more often — about two times more per game — and hitting it at a much higher clip.
Before each game, Mitchell can be seen going around the court practicing his mid-range shot. That's a continuum of what his summer looked like.
"Countless — countless amount of reps," Mitchell said. "Thousands upon thousands of reps and I took a lot of those in FIBA. Just got that confidence in it. It's different when you have confidence in the shot and you have the willingness and ability to do it. I just got to be able to keep continue building. ... I've had success with it, but I gotta be able to that for a full 82."
Mitchell is seeing how it's opening up everything else for him, too. It's a shot that Philadelphia had to start defending, and that pulled defenders out of the paint, opening up lanes for him and everyone else. So even if it's not the shot the Jazz technically want, it's one that might help lead to those.
"Kind of opening up in the range, then finding Bojan (Bogdanovic)," Mitchell said. "Bojan got going now it opens the game and then Joe (Ingles) gets going, Rudy (Gobert) gets to the rim and gets lobs."
But Mitchell doesn't want to become too reliant on the shot, either.
"The biggest thing is not just settling," Mitchell said. "You look at a guy like Bojan could take the same shots but he's getting to the rim, so I gotta find ways to do that. I think I did that late. But I gotta do that throughout the course of the game."
Because regardless of how well Mitchell has been hitting on the mid-range, the fact remains that layups are still easier and threes are still worth more. And Snyder would still prefer those.
"If we can get dunks, we'll take them," Snyder said. "If we can get wide-open threes, we'll take them. But the other team, they're playing too."
And those other teams are running out of options to limit Mitchell.
×
Related Stories