SALT LAKE CITY — Kyle Whittingham couldn't contain his smile.
The head coach who has long preached about not getting too excited about one win opened up for a brief moment Saturday — a rare glimpse into how he was feeling after his team used a fourth quarter rally to defeat Washington 33-28 on the road.
"It's very, very satisfying, especially in the circumstance: coming up to their place, they're coming off a bye, and, what are they, 900 and 0 after a bye with Chris Peterson," Whittingham said. "So now 900 and one, I guess, after that. Just to battle and battle and battle and never relent and never give in and just find a way; it was great."
In the immediacy of the final whistle blown, Whittingham walked around the field in an almost dazed state of mind, though conscious enough to soak in the gravity of the situation; his team actually beat Washington.
As Whittingham made his way off the field, the raucous Utah crowd in attendance appeared to only be background noise as he contemplated it all. He seemingly hadn't soaked it all up yet and muttered mostly to himself but in my direction: "What an incredible win."
Surrounding Whittingham along his route to the locker room were Utah players ecstatically feeding off the fans who needed no help to cheer on its team. It was a scene few in attendance — coaches, players, fans and media alike — could ever forget; a long-awaited result after years of progress in the Pac-12.
It was just one win — a season-defining one at that — but it was the completion of what has been a difficult road traveled against the Huskies the last few years. It came with some theatrics sprinkled in — as is customary for the series — in a game many had circled before the season started.
Even with Utah as the perceived favorite entering the game, it was seemingly penciled in as a loss on paper. Optimistic fans even had their doubts Utah could come away with a win — not because Utah wasn't good enough, but because Washington has played spoiler to Utah many times before. Add to the scenario that nobody beats a Petersen-coached team after a bye — a 16-0 record entering Saturday — and the odds looked slim.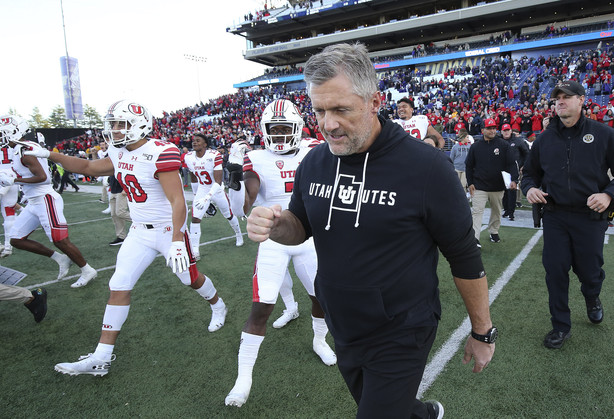 Washington started out the game aggressive and punched Utah in the mouth, which made the preconceived feelings about the game basically a reality to those watching. You could almost hear Utah fans collectively sigh: "Great, another Washington win" as the Huskies took an early 14-3 lead.
But in gritty fashion, a collective Utah program — offense, defense and special teams — all worked in unison to stay in the game and battle back. By the fourth quarter, Utah was in charge and there was little Washington could do to stop a Jaylon Johnson pick-six touchdown and Tyler Huntley leading the offense to two scores to claim the win.
"They flipped the script on us," Petersen told media after the game. "They controlled the clock, that is their game, and they did it better than us."
So when the final scoreboard showed a Utah victory, it was a testament to the hard work the team has put in all season to be in a position to potentially claim the South Division for the second consecutive season and be in the College Football Playoff discussion. It's a special team that many consider to be Whittingham's best in his 15-year tenure as the program's coach.
"Absolutely," Whittingham said when asked whether the team was one of his best ever. "This is a tough ... we've had tough groups come through here before, that's not to be disparaging against any other groups that have come through here. But these guys, there's something special in their chemistry, in the culture.
"This team is enjoying, they're enjoying what they're doing, they're having fun. They're enjoying what they're doing, they enjoy hanging around each other, spending time together, and it's just a good feel."
So while it may have only been one win in a season where near perfection is required to attain the highest goals for the university, it was a major hurdle to finally clear for a football program that joined the Pac-12 eight years ago. Utah proved Saturday it can play as a top program, even when every opponent brings its best effort to dethrone the Utes.
No longer does Utah need to play the underdog mentality.
×