Estimated read time: 5-6 minutes
This archived news story is available only for your personal, non-commercial use. Information in the story may be outdated or superseded by additional information. Reading or replaying the story in its archived form does not constitute a republication of the story.
SALT LAKE CITY — Donovan Mitchell was trying to be careful.
The third-year guard was praising how the Jazz are currently constructed but didn't want to sound like he was criticizing any of his former teammates. (Disclaimer: He loved his old teammates and they won a lot of games together.)
But ...
"It's just Bojan (Bogdanovic) shot (42%) from three," Mitchell said.
And when it comes to spacing, that does tend to help. Mitchell has had more room to work than he's ever had in his young NBA career, and that's led to his best start to a season.
In five games, Mitchell is averaging 24 points on 53% shooting. He has a career-high 61% true shooting percentage, despite him taking about half as many 3-point shots than last year and shooting more than half of his shots from midrange.
That's not usually the formula for peak efficiency, but when those midrange shots are open they aren't bad to take. And with Bogdanovic (not too mention Mike Conley) sharing the floor with him, a lot of them have been open.
"Donovan is doing a great job, Mike is involving everybody in the game, and then Rudy (Gobert) rolling through the paint has allowed us to have a lot of wide-open jump shots," Bogdanovic said.
If he did nothing else this season but provide Mitchell more space, signing Bogdanovic would have been worth it. But he happens to be doing much more.
So far this season, Bogdanovic is shooting 44.4% from deep on 6.8 attempts (currently a career-high). But don't think of him as just a shooter, because Devin Booker and Kelly Oubre Jr. will tell you otherwise.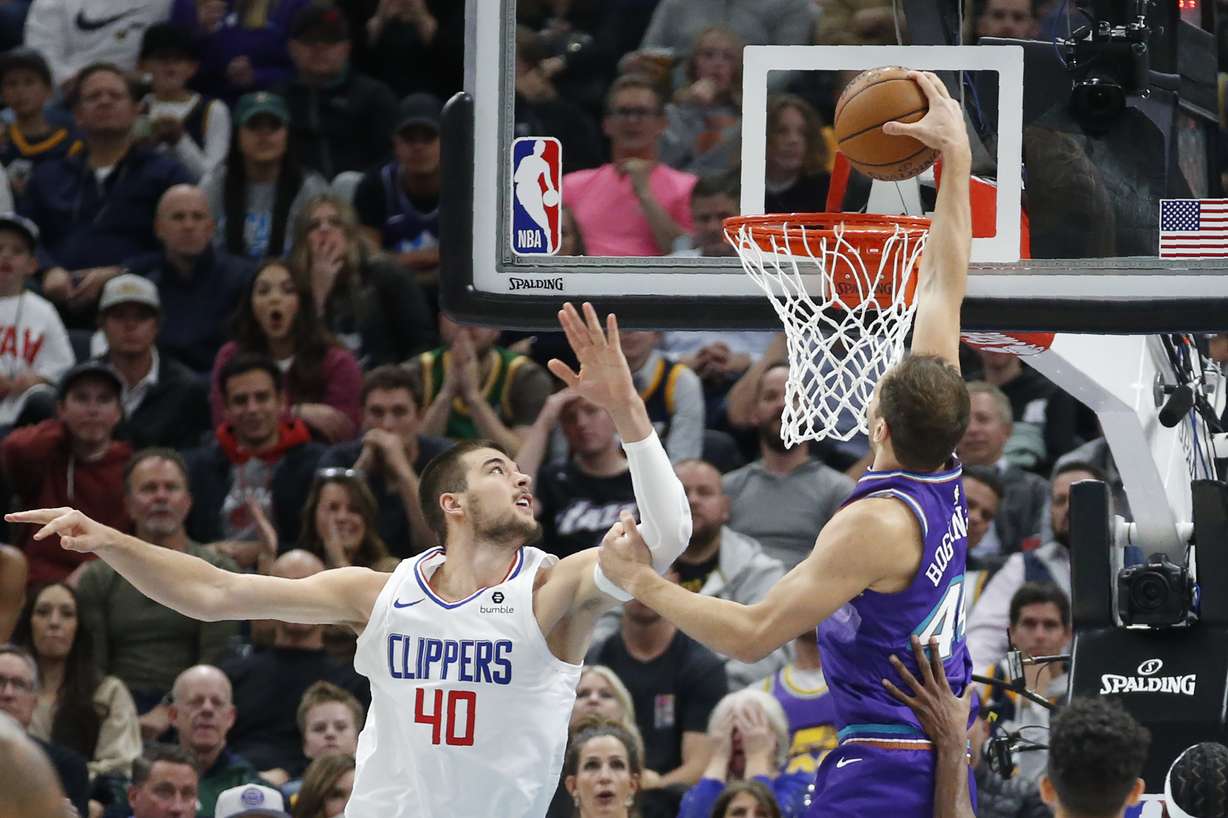 In the fourth quarter of Utah's win over the Phoenix Suns on Monday, Bogdanovic drove right past Booker and then flew in for a one-handed dunk over Oubre. While that finish might have been uncommon for Bogdanovic (though he did something similar in Wednesday's win over the Los Angeles Clippers, too), the drive itself wasn't. With how tight opponents have to guard him, Bogdanovic can open up a driving lane with nothing but a shot fake or a quick first step.
"I think it's been a perfect complement to Donovan," Joe Ingles said, "to not have to have the ball in Donovan's hands all the time. We've obviously got a guy who can score 29, or whatever he had (against Phoenix). He can really score for us."
Bogdanovic is averaging 21.4 points for the Jazz in the four games he has played. Utah just so happens to be 4-0 in those games, too. Coincidence? Probably not.
It's not like the Jazz haven't seen these types of performances from the Croatian forward before. They were just always on the wrong end.
"He killed us last year both times we played them," Ingles said.
Bogdanovic averaged 18 points on 60% shooting (he was a combined 5-of-7 from the 3-point line) in his two games against the Jazz last season — two blowout wins for the Indiana Pacers.
"He's always been a tough matchup," Ingles said. "I think we've always prepared for him pretty in-depth when we've played him. But I guess just being around him day to day, you just see more of why he's so good because you see how hard he works and what he does every day."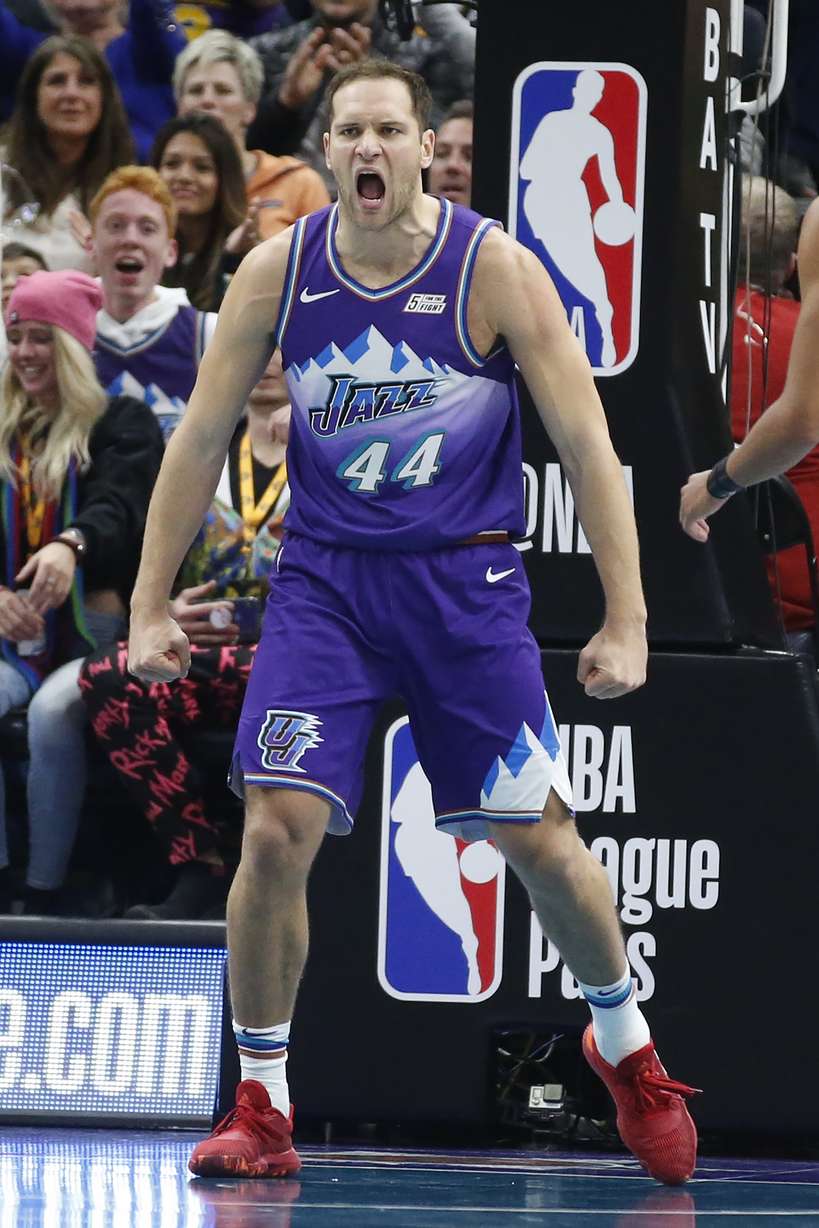 In the lead-up of the 2011 NBA Draft, where Bogdanovic was selected No. 31 by the Brooklyn Nets (he didn't come over to the NBA until 2014), Draft Express pointed out that he ran the second-most pick and rolls of any wing in the class and had the most isolation plays. They summed up, "If he were able to make more than 34% of the 6.6 jumpers he took per game, he'd surely be drawing more draft buzz."
Bogdanovic's shooting improved so much that it overshadowed the rest of his game, but he improved everywhere else, too. And when Victor Oladipo went down last season, it allowed Bogdanovic, who is more than happy to defer to better players, a chance to show off what he could really do as the centerpiece of an offense.
"I mean, I used to play like this in Europe for my whole life," Bogdanovic said. "So I can kind of back off of my game because I know that there's a better player than me before on my teams, so I just tried to fit in my role. And then when Victor went down last season, I showed what I'm capable of."
The Jazz play in such a way that even though they have a clear No. 1 option in Mitchell, everyone will still get touches, get looks, and get to use their full skill set. That's allowed Bogdanovic to play with the same type of aggression as last season.
"I'm just trying to bring that confidence to the Jazz as well," Bogdanovic said.
As Quin Snyder was being asked a question about Bogdanovic's array of strengths, the Jazz head coach politely interrupted.
"So, why is he good?" Snyder asked smiling.
"He loves to play," he went on to say. "I think what we've seen is a guy who is quietly and sometimes more overtly just really competitive. So not just somebody who's going to make shots, but a guy that's capable of scoring and really wants to make the right play."
And a guy who is making life easier for his teammates.
×
Related stories
Most recent Utah Jazz stories