SALT LAKE CITY — Here are 10 stories you may have missed over the weekend. As always, click on the headline to read the full story.
1. UVU basketball player accused of sexually abusing woman at party
A Utah Valley University basketball recruit was arrested Saturday and accused of sexually abusing a woman at a party and punching a man who confronted him.
2. One-stop-shop center for veterans is first of its kind in Utah
Tim Gagnon's life is pretty good right now.
But it hasn't always been that way. In the years since the Army veteran returned from serving in Afghanistan, he's experienced — like many veterans — homelessness, joblessness, and the overwhelming confusion and headaches that accompany medical bills.
3. Photos: Walking in an autumn-winter wonderland
Utah's first substantial snowfall hits in mid-October.
4. Trump drops plan to host G-7 at Doral
Responding to stinging criticism, President Donald Trump on Saturday abruptly reversed his plan to hold the next Group of Seven world leaders' meeting at his Doral, Florida, golf resort next year.
5. Farmer moves 2,200 sheep through Brigham City in annual tradition
Dozens of people lined up outside a neighborhood park Friday morning, all of them waiting for what has become an annual tradition for many — the moving of 2,200 sheep through town.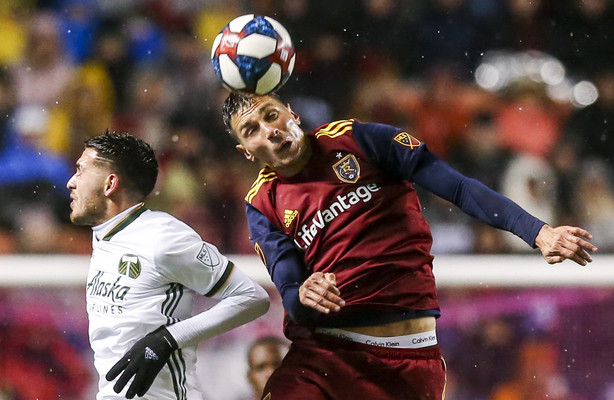 Sports
1. Savarino's late goal gives Real Salt Lake a 2-1 victory in first round of playoffs
In the 87th minute, Jefferson Savarino's snuck by the outstretched hand of Portland goalkeeper Steve Clark and into the back of the net to give Real Salt Lake a 2-1 win over the Timbers in the first round of the MLS Cup Playoffs.
2. Finau, Romney pace 21-point 3rd quarter in BYU's upset over No. 14 Boise State
The 5-foot-11, 185-pound redshirt freshman took a pitch from backup quarterback Baylor Romney, drove a seam 47 yards into the end zone, and finished with 89 yards and a touchdown as the Cougars held on to a 28-25 win Saturday night over No. 14 Boise State.
3. Zack Moss breaks No. 13 Utah's all-time rushing record in 21-3 win over No. 17 Arizona State
With just over five minutes remaining in the game, No. 13 Utah's senior running back Zack Moss escaped for a breakaway 32-yard rushing touchdown to seal a 21-3 victory over No. 17 Arizona State Saturday and to become the all-time leading rusher in program history.
4. Josh Davis has record breaking night as Weber State beats Northern Arizona, 51-28
Josh Davis etched his way into Weber State history books on Saturday afternoon as he led the Wildcats to a 51-28 victory over the visiting Northern Arizona Lumberjacks.
5. Bracket reveal: UHSAA unveils pairings for first-ever RPI-based football tournament
6A Corner Canyon, 5A Salem Hills, 4A Park City, 3A North Sanpete and 2A Beaver all claimed top seeds for the upcoming playoffs, which start Oct. 25.
×