SALT LAKE CITY — More than a decade of legal wrangling culminated in an anti-government rally and a raucous federal court hearing, including U.S. marshals dragging a man from the courtroom, where a Utah real estate investor who billed himself as the "Free Capitalist" learned Tuesday he'll spend more than a decade behind bars.
A U.S. District Court judge sentenced Claud R. "Rick" Koerber to 170 months — which adds up to 14 years and two months — in prison after a jury convicted him of 15 counts of wire fraud, fraud in the offer and sale of securities, and money laundering in September 2018. The jury acquitted him on two tax evasion charges.
Koerber intends to appeal his conviction.
Prosecutors say Koerber's $100 million Ponzi scheme was one of the largest ever in the state.
U.S. District Judge Frederic Block said Koerber has never acknowledged that maybe he did something wrong.
"Bernie Madoff may have been proud of him himself," the judge said.
The yearslong court battle included a dismissal, a mistrial and proceedings before several judges, who all ultimately removed themselves from the case. Block was called in from the federal bench in New York to oversee the trial that ended in Koerber's conviction.
During his chance to address the judge, Koerber said he didn't care for the Madoff comparison but said, "I'm a big boy."
Koerber ran a massive, calculated Ponzi scheme that targeted his fellow members of The Church of Jesus Christ of Latter-day Saints, said assistant U.S. attorney Tyler Murray. He knew exactly what to say and do to get Latter-day Saints to invest in his real estate program. He created an elaborate scam that he claimed was inspired by God and based on church principles, Murray said.
Koerber, he said, feigned piety but was a hypocrite and a fraudster. He said Koerber was motivated by vanity and ego.
"He liked to posture success," said Murray.
Prosecutors argued for a 20-year prison term "because the devastating extent of the harm caused by Koerber and the calculating and egregious nature of conduct is not adequately captured" in a lesser sentence.
Koerber told the judge that he never believed he had committed crime when he first came under legal scrutiny years ago.
"My original idea was not to prey on Mormons or anyone. My idea was to make a difference," he said, before explaining his real estate investment model. No one at the trial testified that he used his religion to get them to invest, he said.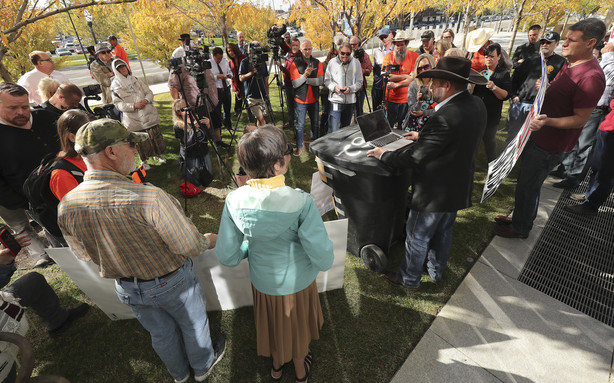 Koerber's attorney argued in court that prosecutors are trying to punish him more harshly because of his religious affiliation.
"Further, the implication is that government prosecutors can protect members of The Church of Jesus Christ of Latter-day Saints by chastising, shaming and mocking members like Mr. Koerber in addition to what the law commands," attorney Kathryn Nester wrote. "After conviction, the government's position is essentially, Mr. Koerber is not only a fraudster — he is a Mormon fraudster — and this fact, according to the government, makes Mr. Koerber someone who should be punished more severely."
In court, Nester said it was offensive for prosecutors to say Koerber was not a "real Mormon" and that he just used the church to exploit people.
Block called Utah the fraud capital of the world and said trusting Latter-day Saints easily fall for scams.
Koerber "has preyed upon his fellow Mormons in ways that are somewhat troublesome. ... We had a good Mormon jury who convicted Mr. Koerber," the judge said.
Koerber, 46, used his businesses — Founders Capital, and related companies Franklin Squires Investments and Franklin Squires Cos. — as a $100 million Ponzi scheme from 2004 to 2008. Prosecutors say investors lost a total of $45.2 million.
"From the minute I couldn't pay, I didn't run and hide. I didn't lie," he said.
While investors believed their money would be used in secure real estate investments, Koerber spent it instead on luxury sports cars, producing a low-budget horror movie and his own lavish lifestyle, according to federal prosecutors.
Koerber, who profusely proclaimed his innocence throughout the long-running case, maintained he defrauded no one but ran a profitable business and was singled out by bureaucrats angered by his radio show, "The Free Capitalist."
Related:
Block, who described Koerber as "destitute," said it's clear that those who invested their life savings with Koerber won't get their money back, "but sometimes miracles happen."
Several people identified as victims in the court documents lined up to address the judge. But instead of talking about money they had lost — more than $1.5 million in some cases — they asked Block to go easy on Koerber.
"You're a disciple of the good Lord to be so forgiving," the judge told one man.
Another man caused a stir in the courtroom when he told Block, "I am a victim of these fraudulent prosecutors." When the man persisted along those lines and didn't heed the judge's warning to stop, U.S marshals forcefully removed him from the courtroom amid shouts of "hear him out" from Koerber supporters.
"I'm sorry we went down that rabbit hole. We don't need disorder in my courtroom," Block said, after cutting off testimony from other "victims."
Brad and Mary Colovich, wearing Latter-day Saint missionary nametags, said afterward that they were "disturbed" about not being allowed to speak in court and that it violated their constitutional rights. Though the Midway couple lost money, they said Koerber has been punished enough and the prison sentence was excessive.
Mary Colovich, who said she has lived in New York, said she took offense at Block suggesting Latter-day Saints are gullible.
"If he had said that about Jews, would that have flown? It would have been inappropriate," she said.
Before the hearing, Ammon Bundy, who led the 2016 occupation of the Malheur National Wildlife Refuge in Oregon, organized a rally outside the courthouse to protest Koerber's conviction.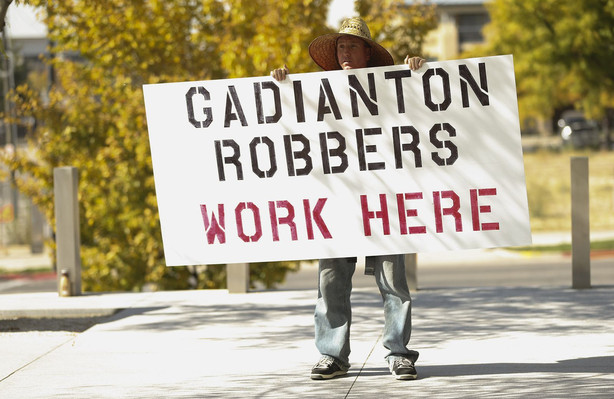 Bundy and other protesters wore orange T-shirts reading "Free Rick Koerber" on the front and "political prisoner" on the back. One held a sign saying "Gadianton robbers live here," a reference to an ancient organized crime group described in the Book of Mormon.
Koerber is the victim of a "political prosecution" because he angered Utah Republican leaders starting with his support of a public school voucher initiative 15 years ago, Bundy said, speaking behind a garbage can from which a cardboard sign reading, "Bill of Rights?" dangled.
Between his trials, Koerber helped Bundy's attorney defend him against charges related to the wildlife refuge takeover. Though not a lawyer, Koerber wrote court briefs and did research for the case, according to Bundy.
A jury found Bundy, his brother Ryan Bundy, and several others not guilty of possessing a firearm in a federal facility and conspiring to impede federal workers from their jobs in October 2016.
The charges that led to Koerber's conviction were "gross retaliation" for the work Koerber did in the Oregon case, Bundy said.
Bundy said Koerber is only guilty of not telling the story of the "witch hunt" against him and letting federal authorities "spew" their narrative of the case.
The sentencing hearing had been postponed several times since Koerber's conviction last fall, as his attorneys disputed prosecutors' recommendation for how much time he should spend in prison.
The case against Koerber started nearly a decade ago.
One federal judge dismissed the case before it reached a jury in 2014, citing a "pattern of widespread and continuous misconduct" and violations of the Speedy Trial Act by the prosecution.
Prosecutors filed charges against Koerber a second time, but after weeks of testimony and seven days of deliberations in 2017, the jury couldn't reach a unanimous decision. The judge declared a mistrial, leaving the door open for prosecutors to file the case that ultimately ended with Koerber's conviction.
×
Photos
Related Stories