KAYSVILLE — Shortly after 8:30 Tuesday morning, Columbia Elementary School's drop-off area is lined with idling cars and traffic jams as parents come and go in the bustling Kaysville neighborhood.
However, Trishelle Duncan and her kids remain unaffected by the delays caused by the morning rush as they participate in the Utah Department of Transportation Safe Routes Utah's "Walk & Roll Challenge."
The program allows children grades K-8 who walk or bike to school to enter the contest and some are selected to win prizes like bikes, scooters and helmets at the end of each month.
Since receiving an epilepsy diagnosis that has prevented her from driving, Duncan has walked her children to school each morning for the last three years. The mother of six currently walks her 10-year-old daughter and 6-year-old son to school. Her 3-year-old son tags along, too.
This is the first year where the contest occurs each month from September to May "to continually encourage kids to walk or bike to school," according to Allyse Christensen, a public relations manager for Safe Routes Utah. Previously, the contest occurred twice a school year.
For the month of September, she said, 1,112 participants had enrolled in the challenge.
She said Safe Routes Utah, formally known as the Student Neighborhood Access Program, or SNAP, has encouraged kids to walk and bike to school for over 10 years.
It's a ritual that has yielded positive results in Duncan's family. In the process, she's found the morning walks strengthen communication between her and her children and produce healthy habits.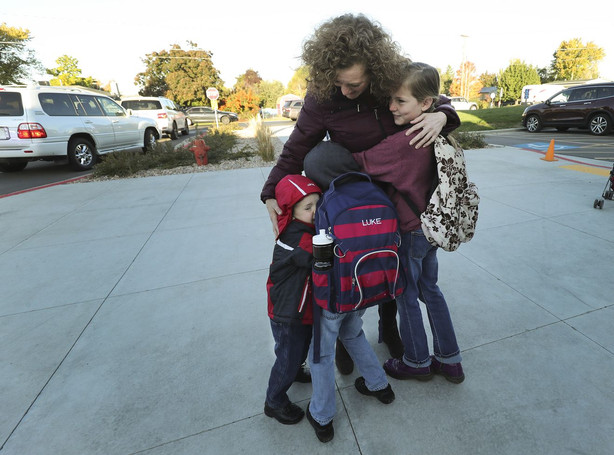 "Not only was I improving my own physical health, but I was improving my children's health," she said.
Duncan noted that walking has led her family to spend more time outdoors and less online.
"We found ourselves unplugging a lot more and having a lot more meaningful conversation," she said.
Like any real family, Duncan added, there are times when the family argues as they walk to school, but they also find themselves appreciating the different seasons and weather.
Duncan lives less than a 5-minute walk from her kids' elementary school. Before moving to Kaysville from Sandy, the walk took the family 15 minutes.
Duncan's 10-year-old daughter, Abby, said she enjoys the daily walk.
"It's good," she said. "I like walking to school because I get to talk with my mom. Sometimes, I also like it because then I have a couple of more minutes to stay with my mom."
Since she began walking her children to school, Duncan has also realized the financial and environmental impacts and spends less money on gas. Duncan predicts that if more people walk to school, it will mean fewer cars and less traffic in school zones.
"It's also been important to us to recognize that as we are reducing our drive time, we are becoming more aware of our environment and the impact that we are making on it," Duncan said.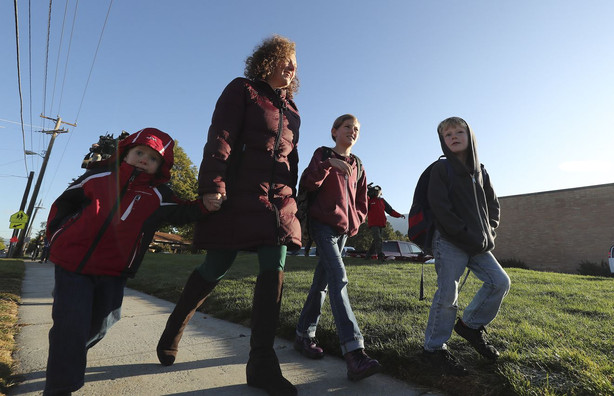 Additional benefits for students who walk or bike to school include an increase in academic performance, a decrease in tardiness or school absences, an increase in physical activity, social development and cleaner air, according to Safe Routes Utah's website.
For parents interested in walking their kids to school, Kristen Hoschouer, safety outreach administrator for UDOT, recommends planning extra time in the morning to walk to school or allowing kids to travel with larger groups of students. Additionally, she advises parents to talk to their kids about safety, such as waiting for crossing guards before crossing a street, teaching them to look both directions before crossing and wearing helmets while riding bikes.
Duncan recognizes that not everyone has "the opportunity to stop what they are doing and walk to school every day." For parents who might not have as much time on their hands, she recommends others to try to walk their children to school at least once or twice a week.
"You'll be surprised about what you find out about your kid's day and find out what's important to them. It doesn't take that much time to do," she said.
×
Photos
Related Links