SALT LAKE CITY — Coming off a 17-win season and a third-place finish in the Pac-12, the Utah men's basketball program is expected to finish ninth in the conference, according to a preseason media poll released Tuesday.
The poll, which was released as part of the Pac-12 Media Day event in San Francisco, gave the Utes 131 votes for the ninth spot, 17 points lower than No. 8 UCLA. Despite being predicted to finish in the lower half of the conference in the last three seasons, Utah has finished each season in the top half and good for a bye in the postseason conference tournament.
Last season, Utah was predicted to finish eighth in the conference but managed to close out the season with the third-best record. The last time Utah finished the season outside the top four teams in the conference was in the 2013-14 season when the Utes finished eighth, one spot higher than their preseason ranking that year.
Defending Pac-12 Tournament champion Oregon edged out Colorado for first place in this year's preseason poll. The two programs claimed nine first-place votes as part of the "closest votes" in conference preseason poll history, according to the Pac-12. The Ducks claimed 291 total votes in the poll, beating out Colorado's 288 points for second place, which is the highest ranking for the Buffaloes since the conference expanded in 2011.
The preseason poll behind the top two teams is Washington (273 votes), Arizona (263), USC (198), Arizona State (187), Oregon State (161), UCLA (148), Utah (131), Stanford (84), Washington State (47) and California (35). Five teams received first-place votes, including Oregon (nine), Colorado (nine), Washington (six), Arizona (two) and USC (one).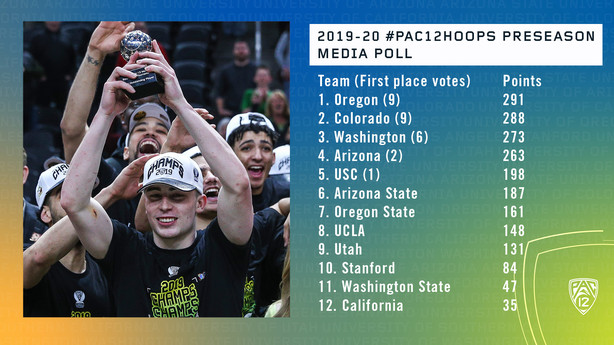 The media has correctly picked the conference winner 16 of the last 30 times, according to the Pac-12.
Utah starter Timmy Allen was named to the conference's All-Conference Second Team. The sophomore forward is the only player from Utah to be included in the preseason honor. Allen wrapped up his freshman season averaging 12.2 points, 5.1 rebounds and 2.4 assists per game.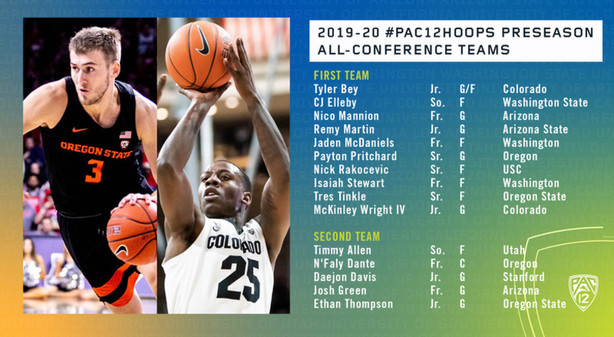 The Utes return two starters in Allen and sophomore Riley Battin, and a proven sophomore in backup Both Gach who should get significant minutes for Utah this season. Donnie Tillman, a former Utah forward who would have been a proven starter for the team, transferred to UNLV in the offseason.
Utah opens up the season with an exhibition game against Texas-Tyler on Oct. 30 at the Huntsman Center. The regular season begins for Utah on Nov. 5 as the Utes travel to Reno, Nevada, to take on last year's Mountain West Conference runner-up Nevada. The game will be played at the Lawlor Events Center at 8:30 p.m. and will be broadcast on CBS Sports Network.
×